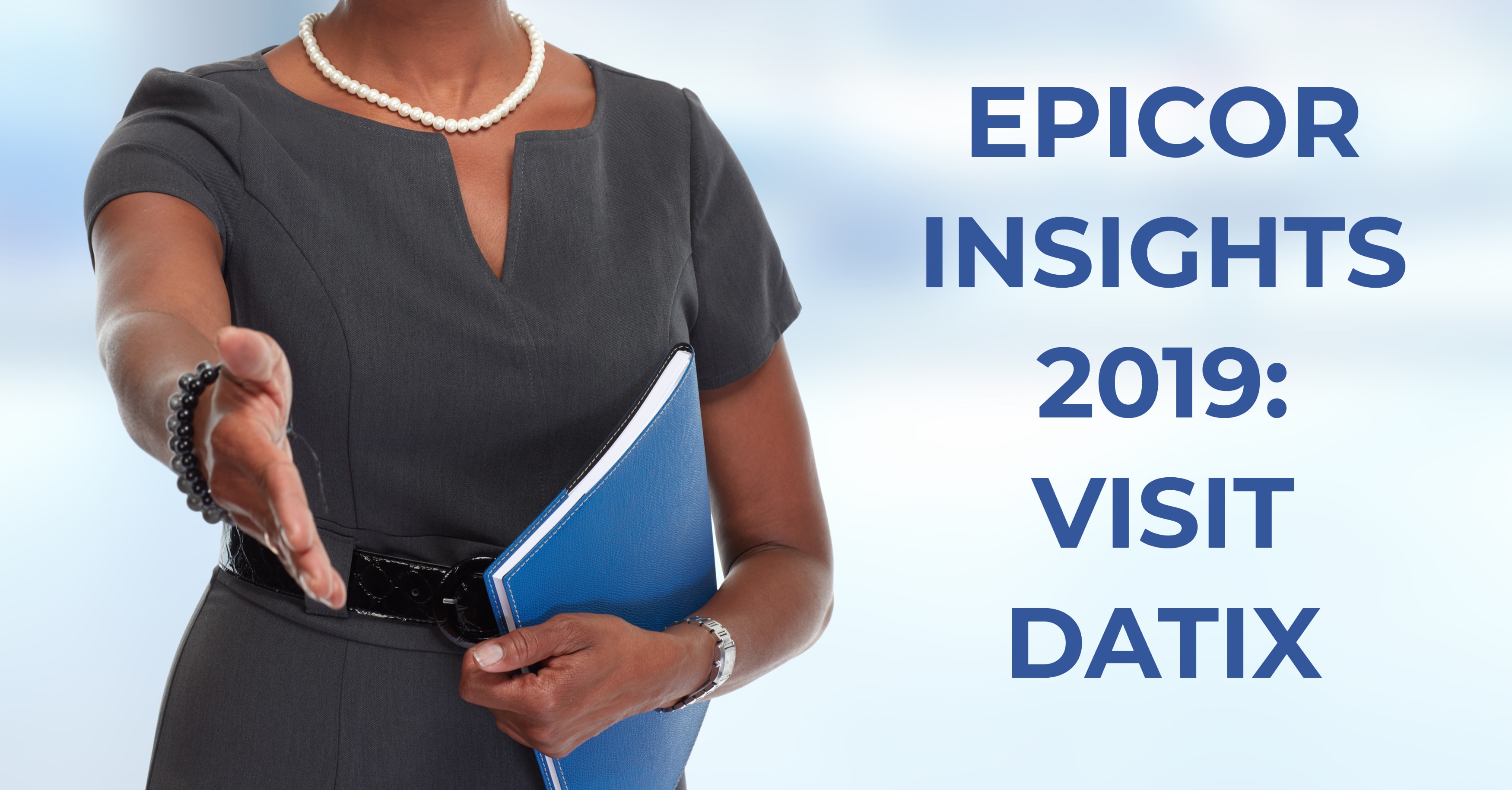 Premier Software Solutions and Services
We're about a month away from Insights, Epicor's annual customer conference. The conference brings over 4000 users from around the world together to learn what's down the line for the software vendor. Through personal meetings, sessions, hands-on labs and keynotes, customers can discover new ways to leverage their Epicor solution to optimize their business performance.
Additionally, Insights 2019 gives users the opportunity to interact with certified Epicor consulting firms. The Datix team will be at booth four to discuss our exciting software solutions and services. Our experts have worked with manufacturers and distributors for over 20 years to elevate their business success.
In the month leading up to Epicor Insights, our team will be delivering our enterprise software insights to help you grow your business. Our first post in our Epicor Insights 2019 blog series provides an overview of the solutions and services we'll be showcasing at the conference.
ERP Services
Successful ERP implementations don't just happen overnight. Getting the right solution for your unique enterprise takes a proven strategy and attention to detail. Chances are, your internal IT resources don't have deep knowledge of specific ERP systems and business processes. That's why an ERP expert is essential for implementing and maintaining a strong software solution. Datix is an Epicor Gold Partner, making us leaders in ERP consulting. Our consultants work with you at every step of your ERP journey. Here's just a few of the ERP services we provide:
ERP Selection: Epicor includes a variety of ERP systems, such as Epicor ERP, Prophet 21,

BisTrack

and Eclipse. We'll help you determine which of these

solutions

is best for your company.
ERP Upgrade: Far too many businesses are still sticking with their Epicor Enterprise, Vista or Vantage systems. We have the expertise and resources to help clients move up to

Epicor 10

and ditch their legacy software.
Business Process Modeling:

Our consultants have years of experience in various manufacturing and distribution environments.

This makes us

effective at identifying your current gaps and

revamping your strategies

through

business process modeling

.
CRM Implementations
Unlike other Epicor partners, Datix is also a certified partner of both Microsoft Dynamics 365 CRM and Salesforce, the top CRM vendors. Both solutions specialize in cutting-edge functionality and artificial intelligence (AI) to deliver 360-degree views of customers. They also offer comprehensive functionality, helping users align their sales, marketing and services operations.
The question is, which CRM is best for your business? We know both platforms inside and out, enabling us to help each client select their ideal solution. Microsoft Dynamics 365, for example, is known for its tight integration with other Microsoft products, such as Outlook and SharePoint. As a pioneer in cloud CRM and mobility, Salesforce has a reputation for forward-thinking technology. Datix will guide you to making the right choice, execute your implementation and offer ongoing support.
Unity Integration
Not all integration applications deliver on their promises, but Unity isn't like other integration applications. Our developers put decades of experience into crafting a seamless integration solution. Unity connects Epicor platforms with a range of systems, including CRM and Marketing Automation software. A pre-built solution, Unity can be installed by our consultants in no time and deliver two-way data synchronization. If you need additional sync points, our experts will provide the necessary customizations to align the integration with your business needs. After it's deployed, we'll continue to manage your solution at no extra cost.
Unity makes forming a connected enterprise simple. Hassle-free, affordable and scalable, our integration is within reach for businesses of all sizes. No more custom connectors and costly errors—Unity connects your software in no time.
EverSafe

! Backup and Disaster Recovery
Our latest addition to our software solutions is EverSafe! An all-inclusive backup and disaster recovery solution, EverSafe! offers full protection against a variety of IT issues. It stores exact copies of your data locally and online, so you can be up and running quickly no matter what besets your hardware or software. Your business can use this copied data within five minutes of a server crash, allowing you to avoid huge financial losses and catastrophic downtime.
EverSafe! was built on best practices to go above and beyond traditional backups. With EverSafe!, you can trust that your Epicor investment is safe from any IT disaster.
Wrap Up
Epicor has the power to fuel incredible business growth and improvements, but only when the ERP solution is supported by industry best practices and in line with specific company goals. Datix has the right tools and expertise to maximize the value of your Epicor investment. Our solutions and services have enabled countless manufacturers and distributors to optimize their business performance. At Insights 2019, we'll have the opportunity to show the Epicor community how Datix can drive end-to-end enterprise productivity.
Our ERP experts can't wait to show you how to transform your business with software! Epicor Insights 2019 takes place from April 15-18 at the Mandalay Bay Resort and Casino in Las Vegas. Feel free to reach out to us before then by clicking the button below.
{{cta('770c1544-d87d-4acb-9fc4-7a25e1385094′,'justifycenter')}}
Check out the rest of our Epicor Insights 2019 series:
Epicor Insights 2019, Part 2: Elevate Your Enterprise

Epicor Insights 2019, Part 3: ERP Integration

Epicor Insights 2019, Part 4: ERP Services

Epicor Insights 2019, Part 5: ERP Best Practices