Make the Most of Your Software
Align Software to Your Business
The Infor certified expert consultants at Datix possess almost 20 years of in-depth industry experience with enterprise software implementation, business process modeling, and enterprise integration. We specialize in helping mid-market businesses develop solutions that help them maximize efficiency and ROI from all of their software platforms. Our clients achieve success through proven processes, expertly devised integration solutions and effective custom designs.
Our business is tailored to those in the manufacturing, distribution, retail, and professional services industries. We've helped hundreds of businesses implement and integrate ERP systems, CRM software, and other enterprise platforms like Magento eCommerce. Our organization is recognized as an industry leader in business process modeling, custom integration applications, and custom software solutions. Our implementation process is proven, and our clients know that the solutions we implement for their business will have our full support before, during, and after going live.
As an Infor Partner, Datix understands the challenges companies face when implementing ERP. We are specialists in business process modeling, and believe that an ERP will only work as well as it is initially implemented—and that means aligning it perfectly with your business processes the first time. With almost 20 years working in the field of ERP software, we possess unique industry knowledge regarding ERP systems integration and custom development. That means we can tweak your out-of-the-box software to ensure it can support every workflow you need it to.


As both a Microsoft Dynamics 365 and Salesforce Certified partner, we can provide a balanced perspective when it comes to choosing the best CRM for your business. Widely considered two premier CRMs on the market, each system has its own strengths and challenges. Depending on your company's unique composition, industry and needs, those qualities will differ—we can guide you through the selection process. After our certified consultants help businesses select the best CRM for their processes, we then ensure that these powerful products are tailored to their business requirements. We implement a CRM system that is modeled to an organization's sales processes, metrics, and departments. At Datix our belief is that the software itself is far less important than the means by which it is implemented, and we put all of our expertise and passion into ensuring your implementation is successful.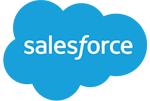 The future of the modern mid-market enterprise is total interconnectivity from the shop floor to the front office. Too many of today's businesses have unique systems that are highly specialized and confined to single department. These kind of singular systems often operate in inefficient silos. At Datix, our priority is connecting these systems through the use of our pre-built connectors and customized, managed applications. Connecting enterprise platforms will ultimately give your business a singular system that provides enterprise software synergy across all departments and single source of trustworthy, actionable data. Our exclusive, pre-built integrator Unity offers seamless and flexible integration ERP, CRM, and Marketing Automation as well as eCommerce solutions for a diverse cross-section of businesses.

The out-of-the-box functionality offered by the majority of enterprise software solutions won't likely be enough to meet the complex and unique business challenges your company faces today. That's why Datix builds customized, adaptable solutions for the specific problems your business faces and can tailor your enterprise software especially for you.
We are certified specialists in integrating and training your team on Infor, Epicor® Microsoft Dynamics 365, Salesforce, Magento and Scribe. Whether you're executing a new installation, upgrade, business process modeling or need additional customizations and training on your current platform, Datix has you covered. We've stepped in to help businesses at every stage of implementation, and can correct a project going off the rails in no time. Our process and training methods are proven and we have the testimonials to prove it.
Business process modeling is an essential component of software strategy for the retail, manufacturing and distribution industries. Our expertise in developing processes that work the way you do will help your organization create powerful new business outcomes. What a lot of companies fail to realize is that enterprise software rarely works the way you need it to "out-of-the-box". This becomes apparent after users begin engaging with the system. We can help save time and money by stepping in and molding the software to fit the user. Our refined modeling strategy will also be able to detect inefficiencies in your current operations and have them reconstructed so they go hand-in-hand with the functionality of your new software.
Our continuous improvement service plans ensure your systems, network and processes are constantly working to elevate your business. Just as your company should be growing and developing after go-live day, so too should your enterprise platform. Datix has a dedicated staff of software experts that will help maintain and work on your new software before, during and after your solution is implemented. Our service plan can include new modules, ensuring proper use and training as your company grows, automating more shop floor processes, and more. We believe that continuous improvement is the best way to prevent software failure, and we want to ensure your business is getting better every day!
Datix specializes in understanding business processes and leveraging that knowledge towards software that can transform your organization.
Email us with any inquiries, we would be happy to answer your questions.