Without accessible information, your business will fall apart. Disconnected software keeps your data separate so that no one can find what they need or communicate with customers. 
Those with an ERP often realize that they still lack the data they need to engage with customers. They try investing in a tool like HubSpot, but data remains siloed by software, so it is nearly impossible to market to the right people or achieve a proper sales funnel through the customer journey.
Operate Out of One System
Instead of struggling with information silos, a HubSpot Epicor® integration allows you to see all of your data in one place. With Unity, you can build strong relationships with your customers and grow your business by accessing a 360-degree view of your data.
You can stop the cycle of losing customers by gaining complete data visibility with Unity. Unity is a scalable, fully managed integration, meaning that you don't have to worry about your software. Using our 25 years' experience, we take care of all the behind-the-scenes work for you. If you ever have a question or issue, you can talk directly to our Unity Support Team by phone or email at no extra charge. In fact, 100% of clients said our team cares about their account and their success with Unity when surveyed!
Get Unstuck:
Talk with a Datix Expert
Talking with an expert is the first step to uncover the core issues that are keeping your organization constantly firefighting
Choose a
Best-of-Breed Solution
Our team of industry experts drill into your core issues to present options to get you out of firefighting and into full solutions
Datix guides you in the delivery of your solution. You make informed decisions and conquer your goals
Understand contacts and offer them the exceptional service they deserve
Maximize data to gain total visibility and perfect customer acquisition
Employ tailored marketing campaigns throughout the customer journey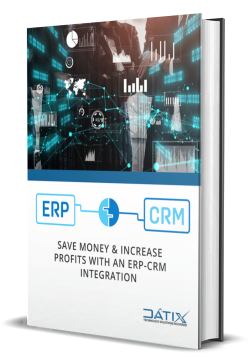 Save Money and Increase Profits
Having a disconnected ERP and CRM causes your business to lose time and money.
Utilize a Unity integration to:
Increase profitability by 21%
Cut data entry in half
Stand out from the competition