The Roles Every Software Project Needs
Just like in sports, enterprise software projects require an agile group of team players, equipped with the unique skills needed to see your strategy through. There is no exception to this rule when it comes to your digital infrastructure projects. No matter the size or scope of the project, success can only be determined by the outcomes brought about by the team you assemble for your enterprise software implementation or integration, and the project team roles they fulfill. If you've never walked through this process before, you'll need to become familiar with what you're looking for, and the exact kind of project team roles you need to be looking to fill.
Depending on the project's scope, you may find some overlap in roles and responsibilities among your crew, similar to a backup QB also working as the field goal holder in football. If your project is large in scope and budget, you may find that these roles shrink in definition, as each role becomes more and more specialized. Either way, choosing who will steer the project's deliverables and communication will require detailed analysis. So how does the process start?
Asking the Right Questions of Your Current Staff
Meet with key stakeholders to carve out a few questions of your own to ask your current staff before the beginning of any project.
Who in-house has the time and managerial experience to lead such an impactful and important project?
What about the new system will that leader be familiar with already?
What is the leader's personality like?
Does our team have the capacity to have an effect on the character, development, or behavior of someone or something, or the outcome itself?
Can team members leave their current roles to take on this project full time?
What contingency can we expect when our resources are allocated to projects outside our daily routine?
These are all valid questions an investor will need to ask of his or her people before they are picked to fill their specific project team roles. After all, people will be building the project around a proposed strategy that will evolve into a revenue driving machine and integral part of all your business processes.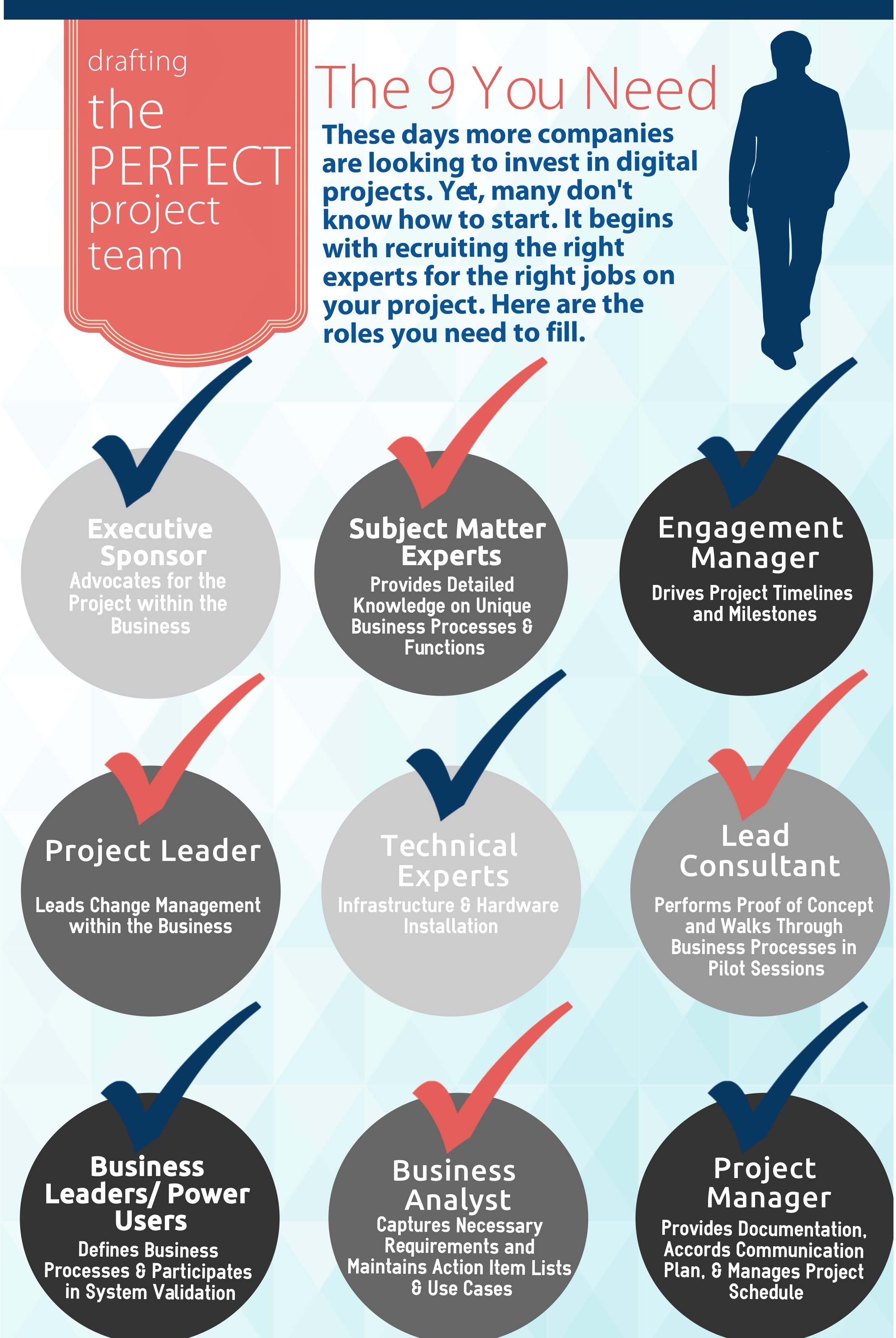 Determining Your Project Team Roles
The infographic above shows you who you'll need to build the team that can execute your enterprise software project. We'll dive into who they look like in more detail below. Compare your analysis with the ones we've put forth to determine if your company employs the most capable personnel they can. If not, it may be a wiser investment to look beyond the business for a project team or to fill certain roles that really need specific experience that you cannot find within your company.
Executive Sponsor
This is someone high on the corporate food chain within your business who will step up to advocate for the project among your entire C-suite and business leaders. This requires real buy-in and undivided support of the project. He or she will provide the required degree oversight and governance at a high level—making sure that enthusiasm for a project continues even as team members deal with the daily, nitty gritty details. The executive sponsor will also establish project goals and priorities as well as agree and sign off on any major scope changes (one of the most crucial ways to avoid scope creep).
Project Leader
The role of the project leader pretty much says it all in the title. This person will lead change management within the business at every department and serve as the main artery of communication between the business and the project manager, should the company source a third party to service the project. Additionally, the project leader will be responsible for managing project team resources and assuring your investment is getting assigned to all the proper parties and stakeholders throughout the process.
Business Leaders/Power Users
Business leaders can be a very influential party in a project. You'll need to gauge their participation in the early phases of the project. They'll define the business processes and carve out conclusive reasons behind their needs. Later in the project, these individuals will participate in the system's validation phase to experience their new processes first hand. From there, business leaders will work as advocates for the new system and train co-workers and end users.
Subject Matter Experts (SMEs)
SMEs are the cornerstones of the project. They will provide detailed knowledge on unique business processes and functionality. For example, if you're undergoing an integration project, then you'll need experts to disseminate their knowledge on software providers and the development and administration of your systems to everyone who will be using your system.
Technical Experts
This role requires a breadth of technical know how, especially if your data is moving from on-premises to cloud, or vice versa. The job requires infrastructure (the hardware or software) installation across your business. Additionally, it requires the installer to set up the server/client relationship on the back end of the system, or cloud/client and API integration if moving data to the cloud.
Engagement Manager
The role of the engagement manager is to organize the project. He or she will perform initial business process review and gap analysis of your current system/process. Most importantly this individual will drive project timelines and milestones. The engagement manager will also be a key contributor in stage reviews.
Lead Consultant
The lead consultant is responsible for deep dives into select business processes. After performing a walk through of processes during pilot sessions, he or she will provide improvement recommendations. Additionally, this person will check work performed by the BA to ensure completeness.
Business Analyst/Project Manager
The business analyst and the project manager can either be separate actors or one in the same. Essentially, the job is to participate in all implementation activities by providing documentation in the form of meeting notes and deliverables. The BA or PM will manage the project's schedule and keep actionable items up to date. Most importantly, this role will ensure every member of the project team adheres to the communication plan.
Wrap Up
Want to learn more about drafting your next project team, and the roles you'll need to fill to drive the greatest cost payback to your organization? Datix has 20 years of experience in offering ERP, CRM and eCommerce solutions, making us the ideal consultants to ensure successful enterprise software projects. We use our strategic solutions process and integration tools to meet the specific needs of each client. Contact our expert enterprise software consultants and let us share our unique insights with you!
{{cta('770c1544-d87d-4acb-9fc4-7a25e1385094′,'justifycenter')}}