---
CRM & ERP Implementation Process & Training
---
The key to a successful CRM or ERP implementation is ensuring that the ROI goals and processes established in the beginning of a project are executed upon throughout the lifetime of the project, and that those goals are met within the budget you outlined at the beginning of the operation.
We view a critical software implementation a lot like a construction project. Firstly, it's important to draw up detailed and thorough blueprints to ensure that the builders and commissioners are all on the same page. That same team needs documentation that they can use to see exactly what the finished product will look like and ensure construction stays on track with the original plan. Next, you must ensure that there is a solid foundation that can be built on. If the foundation isn't right, the whole house will fall apart eventually—even if those issues aren't noticed until after the house is occupied (and it will be even more disastrous if it is occupied.) Once the blueprints are drawn and the foundation is laid, it's time to start building the scaffolding that will hold it all together.
The Datix Strategic Solution Process
The Datix Strategic Solution Process follows that same, common sense, formula. Our process is designed to mitigate risk at every stage of your ERP or CRM project; providing transparency and direct communication between software, the project team and the entirety of your company. Our specialized solution process is divided into three parts, and helps to ensure that every ounce of ROI is milked out of the software, while also allowing you the flexibility to keep a firm grasp on your implementation the whole time.
There are 3 phases and 6 stages in the process, and each has a specific responsibility that helps us ensure that we deliver the software exactly as your business requires.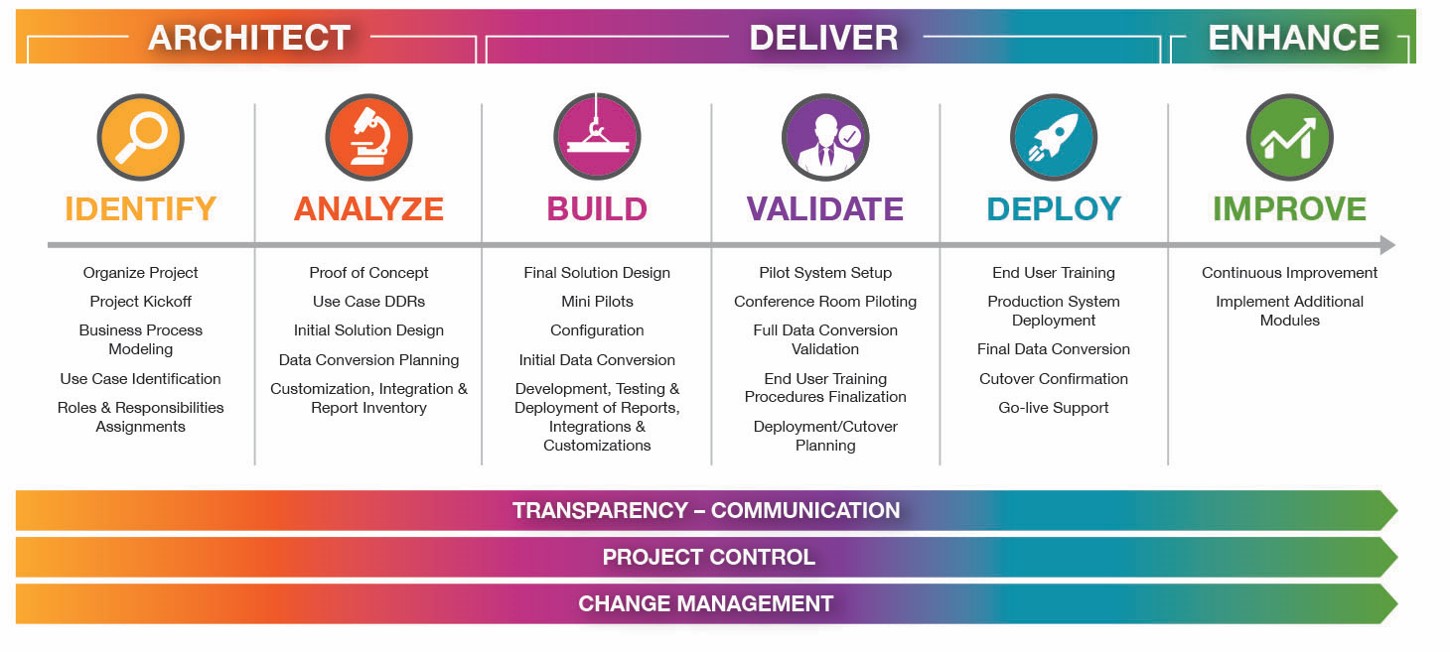 ---
CRM and ERP Implementation is Critical to the Software's Success
---
CRM or ERP implementation projects are as essential as the product selection stage itself. In fact, at Datix, we believe that the process and utilization of the software is even more important than the software vendor you end up working with. Through clearly defined objectives, an understanding of your business processes, and our industry knowledge, implementation can be easy and affordable, despite all the horror stories you may end up hearing about in the news. Take a closer look at the scary ERP headlines, and you might be surprised to see how often company objectives can be poorly executed and projects can go awry, costing everyone involved a significant expense. All of this is avoidable with a thorough modeling and planning stage, uses cases and clear communication with your implementation partner.
The bottom line is this: enterprise systems are only as efficient and intelligent as the people that are charged with operating them. Training and equipping people with the tools needed to mesh their tasks seamlessly with your enterprise systems is exactly what we do. We make it easy, engaging, and even fun. Don't let a lack of training and guidance throw your ERP implementation process off course—let the experts at Datix turn your team into software experts as well!
The Process Pyramid
To begin a successful project, we begin with the highest, top-down perspective and look at how the organization is broadly structured before diving all the way down to the ground level with our faces in the grass, inspecting every department and process to make sure they are working together as efficiently as possible. We believe that refining your business processes before selecting or implementing any enterprise software will mean a much smoother marriage between your business and its new technology.
In our initial look at your organization we inspect the departments and how they relate. We then move on to look at the business context, the highest level macro processes at the application level and how they fit in each department or area of the business. Our pyramid allows us to capture, document, and review the scope of the project like no one else can. This give us the ability to empower your business to make decisions about the project as things move forward and keep the entire timeline on track and on budget.
---
Training for Real Scenarios
---
Our experts are on hand and can be available on-site when you need them  to provide your team the training they need in real-life scenarios. Our hands-on approach to ERP implementation and training guarantee successful, company-wide software adoption; meaning minimal downtime and maximum usage even after your go-live date. Our experts have seen it all, and can bring this knowledge to your business and whatever challenges your project might face. We mitigate your project risk and can ensure your implementation is cost effective.
---
The Datix Process: Business Process Modeling
---
Is followed: Playing the jump-to-conclusions and reach-for-the-stars game when it comes to software implementation is a recipe for scope creep. Our team remains disciplined throughout the engagement, and has the courage to ensure that our process is followed to the letter – protecting your assets, resources and time.
Is based on reality: Rather than improvise toward high-level, distant process goals, Datix discovers and plans reasonable goals that act as a step-by-step map to success. We expertly drill down to the lowest meaningful level of process definition. The result is a powerful use case catalog, a document which becomes the backbone of the project's resource allocation, data collection, engagement timing, QA, training and more.
Is based on realistic estimates – When it comes to enterprise software–technology your company will rely upon for many years–doing the bare minimum is a recipe for disaster. Our estimates encompass the analysis, planning, execution, testing and support that will truly deliver the value of an enterprise system. At Datix we view each project as a chance to learn, and we bring all of past experiences with businesses of varying sizes and from different industries to our estimating process. We fold retrospectives from years of engagements into our operations and estimating. Moreover, we are constantly updating our standards and tools to help us estimate your project on both the typical dimensions that define your company—size, industry, employees, as well as the more unique aspects: level of project support, systems, processes, modules, data, etc. Just as important, we plan for the unexpected. Based on experience, we establish realistic contingencies such that when the unknown presents itself, we have the budget and process to address it.
Reduces project risk: By building in project contingency into estimates, employee training and participation, weekly status reports, reliance on the use case catalog, progressive testing, we are constantly monitoring and addressing key risks.
Provides protection: Regular, open communication holds everyone in the partnership accountable and shows all stakeholders where the project stands.
Is a partnership: Two partners working in parallel silos cannot match the synergy of a true partnership. We promote openness, transparency and communication as means to bring vital knowledge, experience and critical thinking to bear on your mission-critical implementation.
Is trackable and measurable: The use case catalog generates practical, discrete packets of effort by which to measure progress. It is the framework for continual monitoring and transparency.
Uses only what's needed: The use case catalog approach is flexible and intelligent enough to identify the optimum level of detail, resources and effort required in each process.
Optimizes project resources: We strive to be stewards of your resources. Our approach can be tailored to deliver the optimum amount of face-to-face engagement between periods of budget-saving offsite work. Fact-finding and collaboration with your employees is scheduled to minimize impact and opportunity cost.
Allows project flexibility: Planning for every nuance, undiscovered learning and unknown is impossible. Things will become difficult and may veer off track at some point during the process. When they do, the transparency and flexibility of our process allows for scope changes and resource reallocation at your discretion. You'll receive clear recommendations on options and we work together to put the project on a new vector.