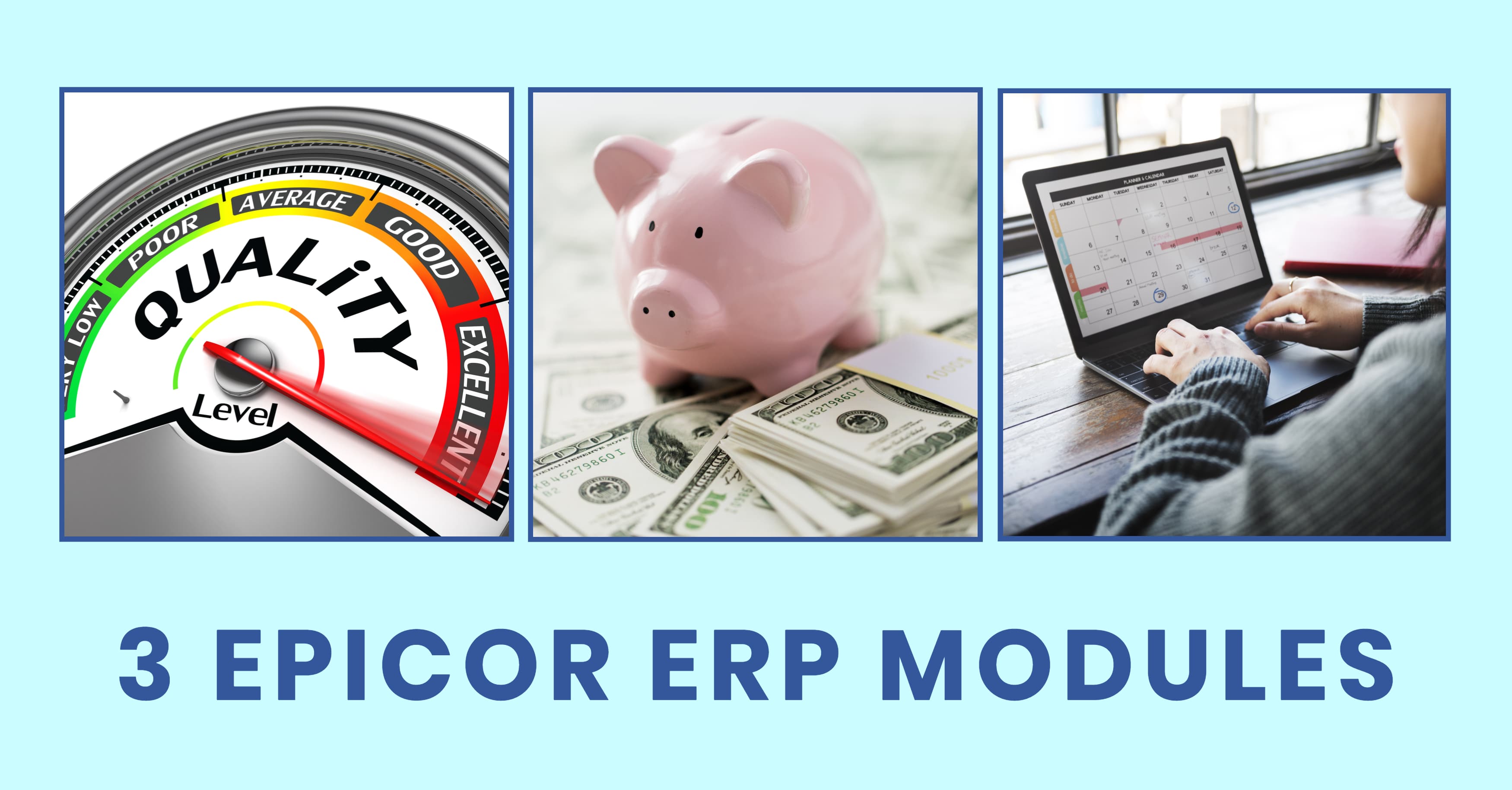 Epicor's Superior Modules
Modern enterprise resource planning (ERP) systems often consist of modules which each focus on a specific aspect of business management, such as inventory control or supply chain operations. Many ERP vendors will include multiple interconnected modules out of the box, serving as a single solution for back-end operations. Additional modules can be added or modified to tailor your system to your unique processes.
So what are the modules that you need to run a successful manufacturing or distribution enterprise? We'll run through three of the modules available in Epicor ERP, a leading software provider for over 45 years, and explain why you'll be thankful to have these tools at your disposal.
1. Quality Management
According to a 2017 survey, 92 percent of manufacturers claim that quality defines their success in the eyes of their customers. But with growing customer standards and stricter regulations, businesses have a harder time keeping their products up to par. A leader in quality management, Epicor ERP helps companies create top-notch products. Technology Evaluation Centers (TEC) found in their product capabilities report that Epicor covered 98 percent of quality management characteristics, surpassing the average 82 percent.
Epicor ensures that manufacturers leave no stone unturned in their quality process. The solution tracks parts and products at multiple levels of your supply chain. To improve visibility and productivity, the module ties together various quality functions, such as inspections, flags for nonconformant parts and raw material rejection.
Epicor also maintains audit trails and compliance documentation, so users can fully adhere to regulations. It's uniquely equipped to support a large variety of industry standards, such as ISO, automotive (TS), aerospace (AS) and FDA requirements. The comprehensive quality management module supports local, national and global mandates while also giving businesses a distinct advantage in providing premier products.
2. Financial Management
No matter your size or industry, accurate financial management (FM) is essential for success. When users rely on QuickBooks or spreadsheets, they lose out on critical insights, become more susceptible to errors and waste time on manual tasks. Epicor offers an agile FM module to give businesses flexibility and efficiency. The system allows users to monitor transactions based on multiple criteria and establish unlimited financial books, making it a scalable solution to accommodate complex fiscal needs.
Epicor has earned top rankings for the tools inside its financial management module. Its general ledger (GL) stands out from other vendors by providing intuitive reporting and accounting features that put users in the driver's seat, so they can easily manage budgets, forecasts, comprehensive consolidations and more from one solution. Its Accounts Payable (AP) and Accounts Receivable (AR) tools automate processes and allow users to index large volumes of information and drill into data.
Unlike many ERP solutions on the market, Epicor's FM module is built around global engines that enable you to meet financial and legal compliance requirements at local, national and international levels. The comprehensive global legal numbering engine and tax engine maintain complex fiscal needs. Its multicurrency engine also supports an unlimited number of currencies and exchange rate combinations. Epicor's financial management module is unparalleled in its scalability and intuitive design.
3. Planning and Scheduling
Staying on top of customer demands requires flexible planning and responsiveness without interrupting your processes. That means that the planning and scheduling tools inside your ERP software must be nimble to support both short and long-term projects. With Epicor's planning and scheduling module, you can leverage comprehensive data and sophisticated analytics to increase your enterprise's agility.
Epicor offers several forecasting methods to support the way you do business. By leveraging an array of historical data, such as inventory usage or invoices, it generates accurate forecasts for a number of variables. With the intuitive production scheduling board, users can easily modify schedules through drag-and-drop features and view comprehensive scheduling resources and production details to instantly analyze both short and long-running operations.
For many businesses, the most important asset inside this module is the material requirements planning (MRP) system. Epicor's MRP tools enable users to efficiently manage supply and demand across plants and companies. It automatically adjusts jobs to account for changes in orders and forecasts. Epicor also manages inventory alongside MRP to help you maintain accurate stock levels. This wealth of planning and scheduling functionality permits businesses to smoothly run their operations, no matter how expansive or complex.
Wrap Up
These are just a few of the sophisticated modules available from Epicor. Epicor modules work seamlessly together to power end-to-end visibility and process automation. With flexibility and nuanced control built into each feature, the ERP solution can increase the agility of your enterprise performance.
To fully leverage these superior modules in your manufacturing or distribution processes, team up with one of our experts at Datix. An Epicor Gold Partner, we've assisted businesses with ERP implementations, customizations and upgrades for over 20 years. Our consultants have extensive experience in multiple business platforms and projects, making us a one-stop shop for all your software needs. Additionally, we designed our Unity integration solution to connect your Epicor instance with an array of other systems to enhance enterprise efficiency and transparency.
See what makes us a premier ERP consulting firm—contact Datix today!
{{cta('770c1544-d87d-4acb-9fc4-7a25e1385094′,'justifycenter')}}