Epicor Upgrade vs. Reimplementation Infographic
When businesses consider migrating to a later version of their ERP software, they often think about the upgrade process. However, what many businesses don't realize is that an upgrade isn't the only—or always the best—method of moving up to the newest release. Depending on your current system version, data quality and number of customizations, you might be better off reimplementing your ERP solution.
While an upgrade entails transferring current customizations and data into the most recent release, a reimplementation requires installing the latest system and setting up a new database. Though companies often dread performing either task, it's important to operate on a current system to receive full protection against cybersecurity threats and maintain strong software performance.
For Epicor users, an upgrade also means exciting new modules and capabilities. Epicor 10 introduced robust features and improvements designed to optimize the user experience and promote greater efficiency.
We know that choosing whether to upgrade or reimplement your Epicor ERP instance isn't easy. To point you in the right direction, we've provided the following infographic as well as three critical questions to ask before beginning your project.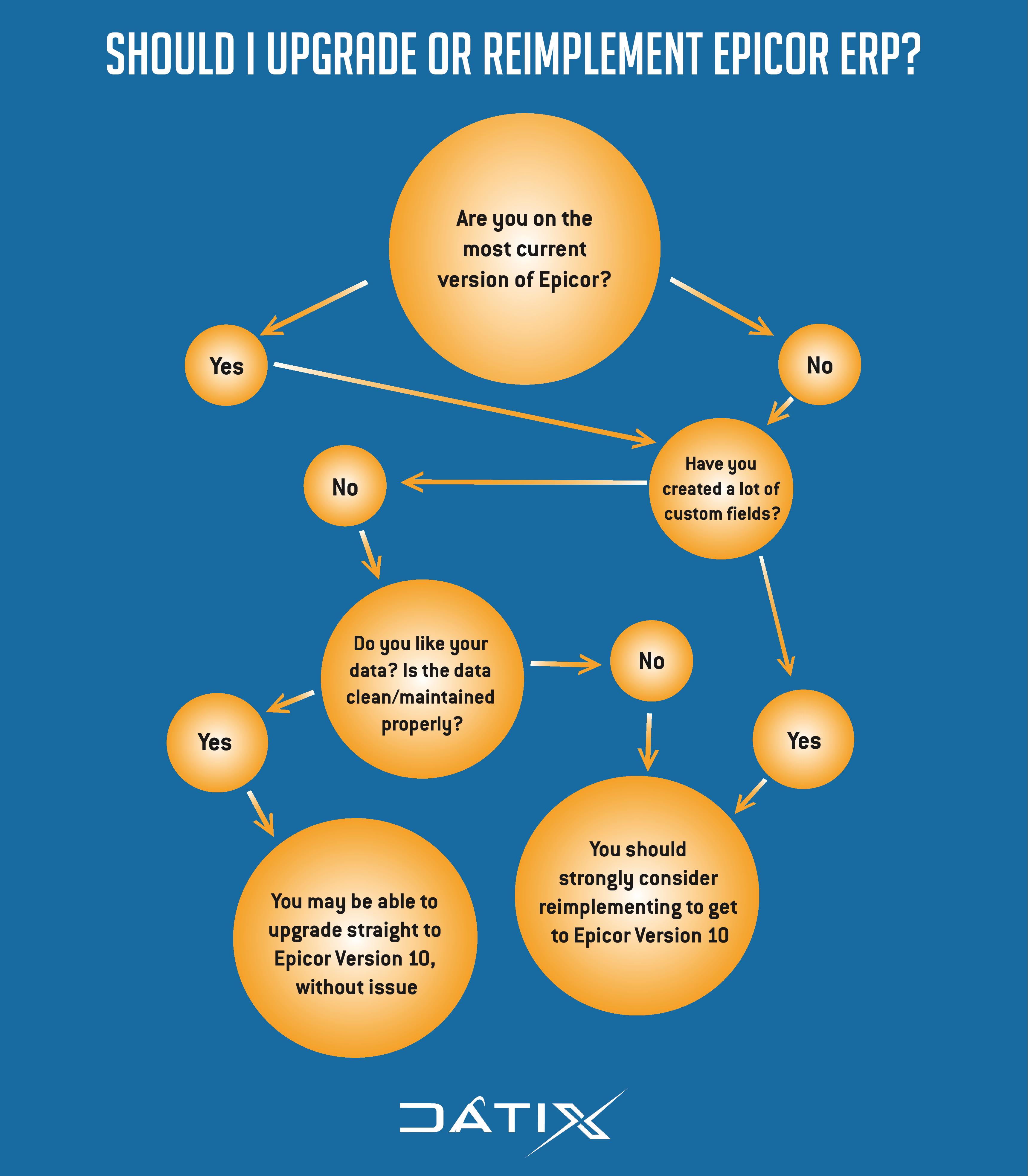 3 Critical Questions
1. What

is your current version of Epicor

?
If you're operating on a recent version of Epicor (Epicor 9, for example), then upgrading to E10 should be pretty straightforward. However, for those on Enterprise, Vista or Vantage, an upgrade is not so simple.
Legacy systems are hosted on completely different architectural frameworks and include outdated features, such as old-fashioned reporting structures. This makes the upgrade process expensive and complex. Plus, since users of legacy systems have gone off maintenance, they lack vendor support if data gets lost or other issues occur during the upgrade.
Businesses operating on old systems should start completely fresh, using the reimplementation as an opportunity to adopt modern best practices supported by a state-of-the-art interface.
2. How happy are you with your current data?
An ERP upgrade doesn't require re-entering master data, often making this process faster and easier than reimplementation. But when an upgrade transfers corrupted and outdated data, you risk faulty analytics and major errors, making the upgrade worthless. Therefore, it's important to clean data before embarking on an upgrade.
For enterprises with massive amounts of outdated data, a reimplementation might be your best bet. With a reimplementation, you can keep old data on your existing system, only loading clean, mission-critical data into the most recent solution. Additionally, reporting tools such as Jet Reports allow users to maintain a single platform that populates data from both ERP solutions.
With a reimplementation, you can keep older data for compliance purposes, while other datasets are constantly updated and analyzed using the innovative technology of your new system.
3. Do you

need

your current ERP

customizations

?
Though most ERP systems require some form of customization, customizations can add a great deal of complexity to software projects and upkeep. With an upgrade, customizations can be transferred from one system to the other, but a reimplementation requires building customizations from the ground up. For companies that want to keep current customizations, an upgrade often serves as the most streamlined approach to migrating to Epicor 10.
But other businesses need a change. As your business develops, your software should too. That means the customizations that were once necessary to execute business processes might now be irrelevant. Furthermore, features introduced in the newest software release could render your customizations pointless. An upgrade isn't the best option in this situation. Undoing customizations isn't so simple. An easier approach is often to undergo a reimplementation, only adding the customizations that add value to your enterprise.
To find out whether to retain your current customizations, undergo business process modeling and assess the latest version of Epicor. What process improvements should you pursue, and which ERP functions are required to make that happen? This will help you determine the relevance of current customizations and the extent to which Epicor 10 functions will fulfill your business goals.
Wrap Up
We hope our infographic serves as a useful roadmap for determining whether to pursue an Epicor upgrade or reimplementation, but we understand that your answers to these questions might be more complicated than "yes" or "no." Several factors go into making any decision about your business, including your software investments.
Count on the premier consultants at Datix to help you evaluate your options. A certified Epicor partner, we've managed an array of ERP projects for over 20 years. With our extensive experience, we can help you make the best decisions to promote greater business success.
Don't move to Epicor 10 without the guidance of ERP experts. Reach out to Datix today!
{{cta('770c1544-d87d-4acb-9fc4-7a25e1385094′,'justifycenter')}}