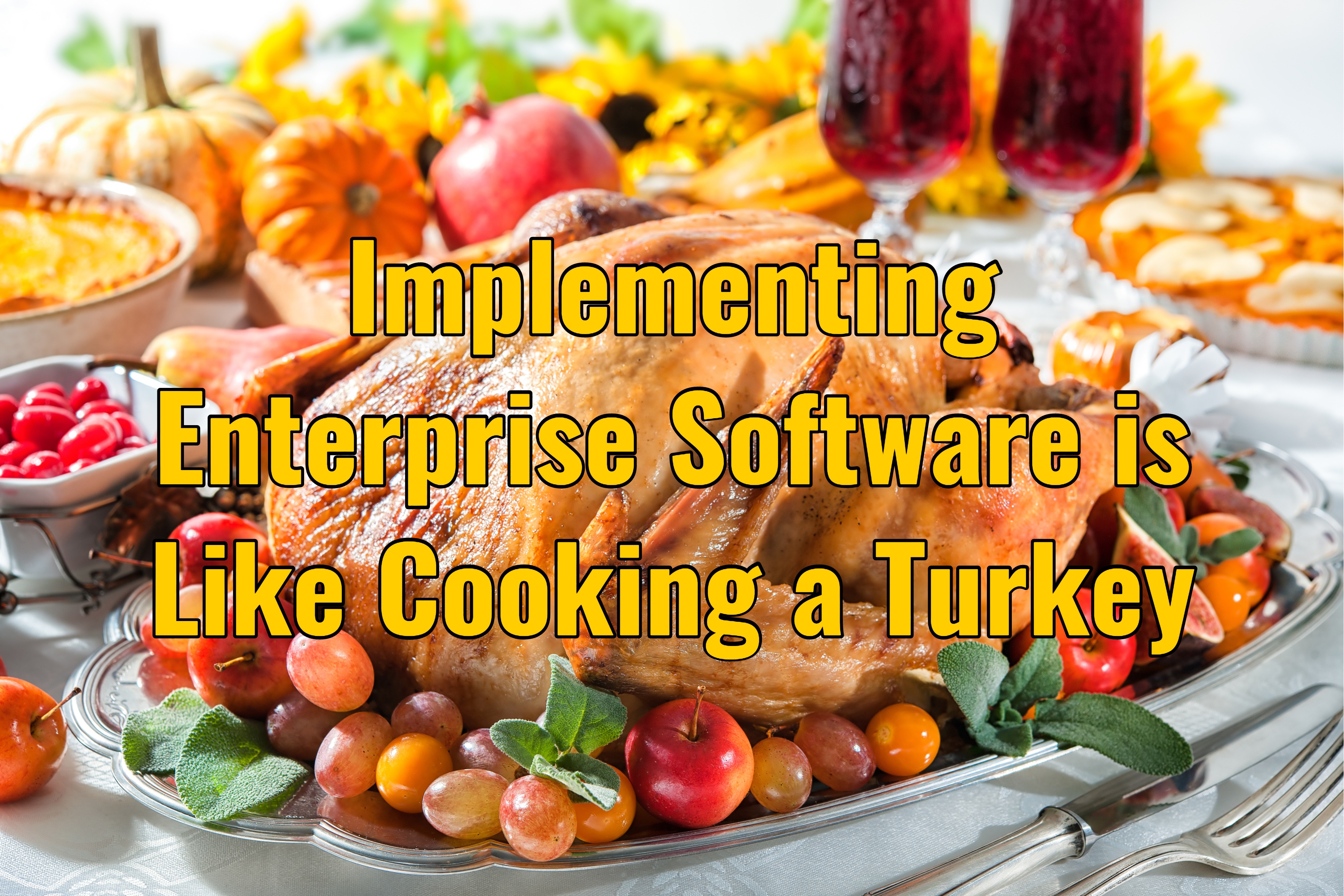 As much as people enjoy eating a Thanksgiving turkey, preparing the turkey is a different story. Cooking an entire turkey is notoriously difficult, but when it's cooked just right with all your favorite sides and stuffing, it becomes well worth the effort. However, when the turkey is burnt, those hours spent toiling in the kitchen go down the drain, and friends and family are left starving and arguing over take-out options.
The trials and triumphs of the Thanksgiving turkey are surprisingly akin to stories we at Datix hear all the time about enterprise software installations. Successful software projects are no easy task, but they are well-worth the labor when done correctly. ERP, CRM and eCommerce implementations and integrations drive revenue by streamlining business processes. But this is only the case if projects are completed on time and in accordance with specific business needs.
The same TLC that goes into fixing a mouth-watering Thanksgiving turkey is also required to implement an effective enterprise software project. Let's dive deeper into the similarities:
Get Everything Ready
Timer? Check. Turkey? Check. Baster? Wait, no baster? Uh-oh. . . .
We've all been there. We're in the kitchen, ready to work our magic, but realize we need to make another trip to the grocery store, wasting time that we needed to make sure the turkey was cooked perfectly before guests started to arrive.
Preparation is always the key to success for any difficult project, whether it's cooking a turkey or implementing your ERP instance. Leading up to go-live, there should be a strategic process in place that maps out every task, role and workflow your business needs to run. By mapping, your business can ensure no processes are duplicated, too complex or unnecessary.
Use cases should serve as a crucial aspect of your preparation. In-depth, fully mapped definitions of how specific users will interact with the software to achieve their goals are the best tools for encouraging user adoption and demonstrating how the new implementation will benefit each employee's work.
Prepare the Right Fixings
Every Thanksgiving table requires a different meal. While my family prepares a roasted turkey, other households prefer fried turkey or even go without turkey altogether. Imagine preparing a turkey only to find that you're feeding vegetarians. When cooking for people, it's crucial to keep their specific tastes in mind.
Enterprise software projects require a similar approach. Out-of-the-box software isn't going to work for every business. The key ingredient to implementing a system tailored to your specific business practices is BPM (business process modeling). BPM is an in-depth documentation of your current business processes. By noting the inefficiencies and bottlenecks of your current practices, you can identify areas that need improvement and work to build a customized software instance that addresses those problems. Without documenting every step of your business cycle, you risk implementing a system that supports your existing flaws.
Additionally, for many businesses, particularly those with smaller IT staffs, it is often imperative to go to a BPM expert to help determine how to tailor the software to meet the unique needs of each client. And this brings us to the final point:
Consult the Experts
Taking on the Thanksgiving feast on your own often results in a burnt bird and grumpy guests. For the average home cook, preparing a turkey without anyone's help is an impossible task. When things get a little too heated in the kitchen, it's time to consult recipes, turkey hotlines, or the more experienced cooks in your family.
We often find that this is also the case for manufacturers or distributors who try to take on enterprise software projects without the help of consultants. The new software becomes a tremendous burden on the company and fails to get any closer to going live. But teaming up with expert partners from the beginning establishes a solid foundation for your software project.
Those within the company will have the most knowledge of business practices and how users will engage with a new system, but even they will have blind spots which can detriment business process modeling and subsequent stages of implementation. A third-party team of experts often uncovers never-before-seen needs and practices. This outsider perspective allows consultants to leverage software to solve problems and improve efficiency.
Wrap Up
Datix understands the difficulty of undergoing an implementation project, but with the right preparation, you will gain a robust system that users will be thankful for. As an Epicor Platinum Partner with 20 years of experience in providing enterprise software solutions, Datix has the ideal consultants to help clients execute their enterprise software goals.
Hungry for more information about executing a successful enterprise software project? Contact Datix today!