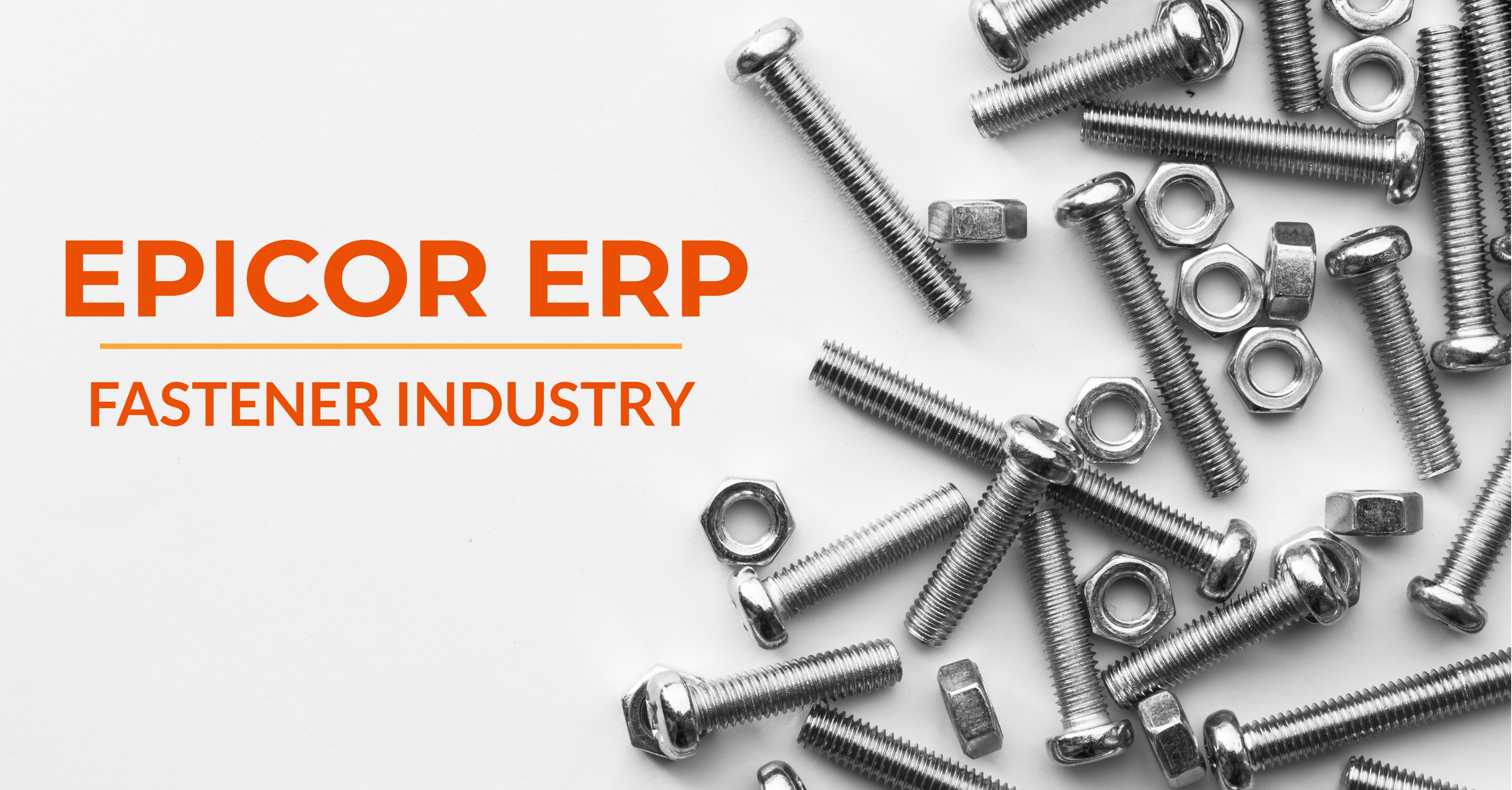 Epicor ERP for the Fastener Industry
Manufacturers and distributors of fasteners, valves and fittings are experiencing major industry changes. With global demand for these items increasing, they must beef up their compliance measures and manage complex supply chains to stay ahead of the competition.
A sophisticated ERP platform is required to streamline operations and adhere to regulations. Think of ERP tools and modules as the fasteners that hold your enterprise together. Integrated features and real-time data help users connect each step of the supply chain to gain a full view of your business's productivity and automate processes, even when locations span across the globe.
Epicor ERP proves especially adept at handling concerns in the fastener industry. For over 45 years, Epicor has provided leading solutions for an array of manufacturing and distribution verticals. We've condensed a few points from our article for Fastener EurAsia Magazine to provide a brief overview of how Epicor ERP supports fastener industry needs.
Quality Control
Fasteners are required by some of the most highly regulated businesses, such as aerospace and defense, automotive and medical device manufacturing enterprises. That means fastener suppliers and manufacturers must comply with strict mandates while also creating top-notch products that meet growing consumer demands. These are the responsibilities of your ERP solution's quality management module.
Epicor includes one of the most robust quality management modules. According to Technology Evaluation Centers (TEC), Epicor covers 98 percent of quality management characteristics, whereas the average solution covers only 82 percent. Epicor monitors quality from cradle to grave, automating part, serial and lot tracking throughout your supply chain.
By providing full visibility into inspection plans, jobs, purchase orders and more, users can maintain detailed audit trails and compliance documentation. Epicor's quality management module supports various standards, such as automotive (TS), aerospace (AS) and ISO, making it a trustworthy system for manufacturers and distributors in the fasteners industry.
Supply Chain Efficiency
Complex, global supply chains are more prone to roadblocks and costly downtime. That makes ERP essential for manufacturers across several verticals, including the fasteners industry. Epicor's holistic supply chain management module provides end-to-end visibility to attack common pain points. Users can track real-time metrics and access production data to smooth over any issues in material acquirement, scheduling, machine performance and more across all locations. Additionally, Epicor automates workflows, so you can cut back on human errors and make better use of your time.
For many fastener businesses, an essential tool is Electronic Data Interchange (EDI). Automotive and aerospace industries utilize this feature for document and order handling, making it critical for manufacturers who produce fasteners for these verticals. Epicor's EDI tool can take care of large volumes of data. Plus, since it's tightly integrated with other Epicor modules, it minimizes data entry errors and efficiently manages electronic communications.
Global Management
Global demand for industrial fasteners has risen this year, and the market is expected to continue its climb. Therefore, your ERP solution should include capabilities to support international processes and transactions. Epicor is uniquely equipped with a variety of global engines designed to help users manage local, national and global mandates and taxes. It also includes multi-language functionality that allows each site to deploy applications in their language without customization. With access to metrics across your worldwide locations from a single login, Epicor ensures you stay on top of your widespread operations.
Wrap Up
ERP software isn't just for solving current pain points. When you choose the best solution and use it to the fullest, you can plan for future success and stay a step ahead of your competition. Epicor ERP includes the agility and industry-specific functionality to supercharge the performance of fastener manufacturers and distributors. Make sure you're teaming up with a consulting firm that can help you leverage the full power of your new instance.
An Epicor Gold Partner, Datix has provided solutions for manufacturers and distributors across several industries for over 20 years. We understand the unique challenges facing fastener businesses and do whatever it takes to implement the right software for every client. In addition to ERP projects, we also specialize in CRM and eCommerce systems, making us a one-stop shop for all your software needs. Plus, with our Unity integration solution, our consultants can instantly connect your software to form a single source of truth, driving end-to-end visibility and efficiency.
Check out our full article on ERP for the fastener industry from Fastener EurAsia, and reach out to one of our consultants today to see if Epicor is right for you!
{{cta('770c1544-d87d-4acb-9fc4-7a25e1385094′,'justifycenter')}}