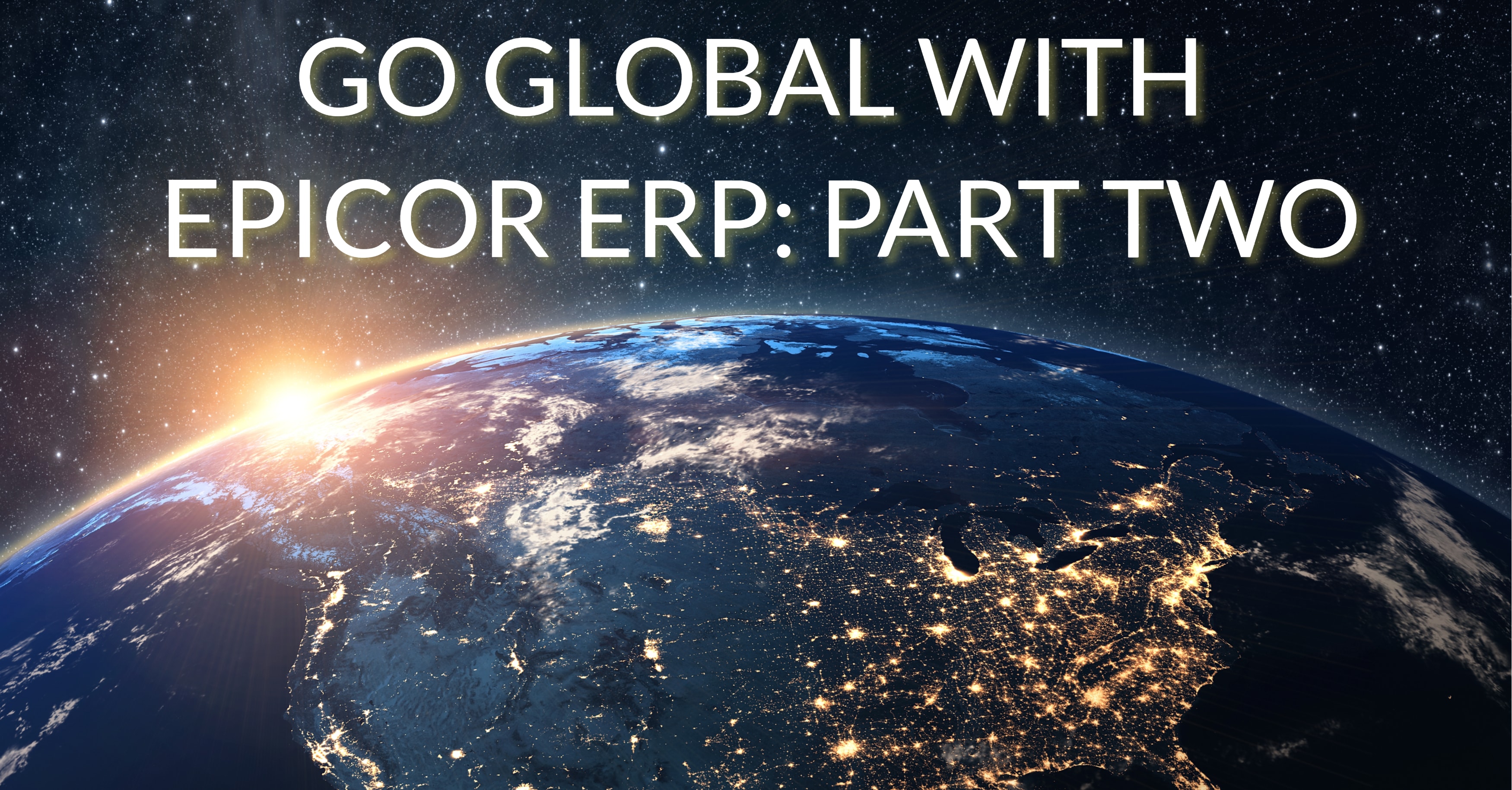 Epicor® ERP for Global Manufacturing
In part one, we discussed the benefits of using Epicor® ERP to manage finances and data in international businesses. This installment delves into the importance of implementing flexible software that offers visibility throughout your global enterprise. Multi-site and multi-company management is a delicate balancing act; while maintaining communication and transparency throughout the enterprise, an ERP solution must also provide each location the autonomy to uphold security.
That's why robust enterprise software is required to provide the visibility and flexibility necessary for a thriving global business. With over 45 years of providing manufacturing solutions and 1000 worldwide consultants, Epicor® is an ideal vendor for international manufacturers. Read on to learn how ERP can support global expansion.
Visibility
Your offshore sites' processes, successes and shortcomings should never be a mystery. Enterprise software is designed to create a cohesive enterprise that eliminates information gaps. Even the most sprawling businesses should use their software for the same purpose—to unite their entities and departments to enhance enterprise performance. Collaboration and access to shared data is easier to achieve than ever in the digital age, but only if you're using software that facilitates visibility throughout the global supply chain.
Epicor® ERP is such a software platform, offering features that enable visibility and consolidation. Global manufacturers gain a birds-eye view of multi-plant and warehouse operations. With its multi-company menu, users can access order entries and other data across the enterprise with a few clicks rather than logging in and out of different companies. Epicor® also automates transactions between internal and external companies as well as transfers of new and updated records across the globe. This ensures each location has up-to-date data on hand at all times.
Though cloud computing has enabled more businesses to operate on a global scale, by opening borders and increasing information sharing, it has also raised concerns about data security. Each location of your sprawling business should have access to mission critical data in order to conduct tasks efficiently and collaboratively, but individual users should only view relevant information from specific plants. Fortunately, Epicor® offers visibility without sacrificing security. Epicor® includes user-defined rules and mappings that enable you to define global records and access rights. This ensures that transparency doesn't go too far.
Flexibility
No two businesses are alike. Therefore, when selecting enterprise software, it's crucial to find a platform that can support your specific business processes. A flexible enterprise solution is even more essential for international businesses. With sites or plants around the world, a global business needs to implement the appropriate strategy and software to maintain a cohesive enterprise while ensuring that individual locations fulfill their unique functions.
Epicor®'s commitment to flexibility makes its ERP system the go-to software for global enterprises. Epicor® empowers users to personalize their dashboards and home pages, so they can access all the data they need with ease. No matter the deployment type, transactional functions or business strategy, Epicor® covers it all. Whether you manage multiple companies from a single database or across several databases and servers, Epicor® has the flexibility to support your unique needs and facilitate end-to-end communication. Its scalability also enables the platform to grow with your business, supporting your evolving strategies as you expand your locations and product offerings.
Software should simplify your business processes, not define them. Epicor®'s flexibility empowers businesses to optimize their distinct processes and pursue business growth.
Wrap Up
In an increasingly global marketplace, it's more important than ever to think about growing your business beyond borders. With 20 years of experience in global manufacturing, Datix can unleash the full potential of ERP to best serve your business needs and support international expansion. Plus, with Unity X, currency exchange rates are updated automatically into Epicor®, an essential function for manufacturers and distributors operating in multiple countries. Contact us today for more information about our ERP solutions, as well as our expertise in CRM, eCommerce and integrated software!