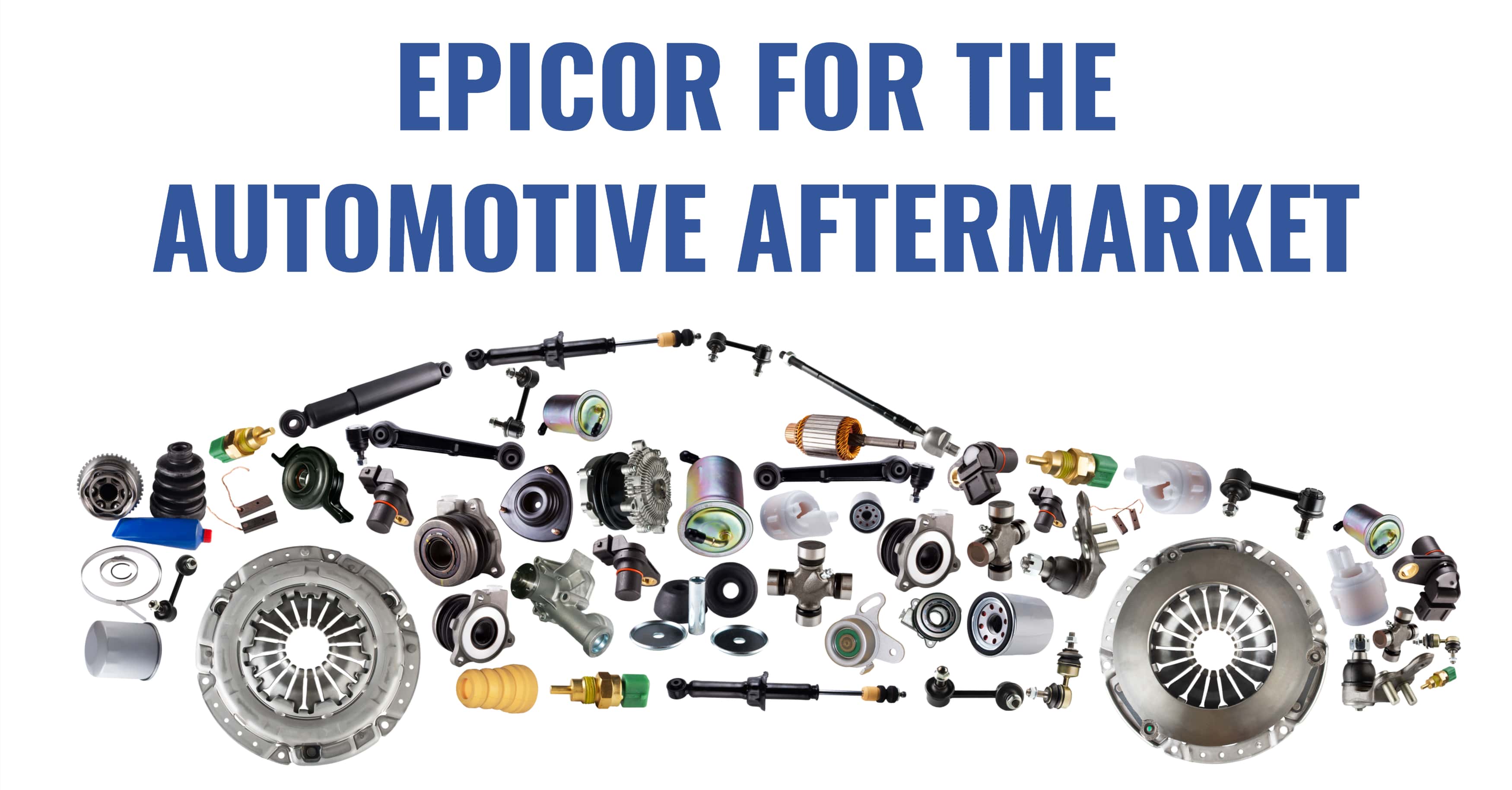 New Epicor Tools for the Automotive Industry
At the 2018 Automotive Aftermarket Products Expo (AAPEX), Epicor announced several new solutions and advancements designed to optimize the performance of automotive aftermarket manufacturers and distributors. Epicor, a leading ERP software vendor for over 45 years, continuously improves its products to capitalize on the latest technology and industry trends. Check out some of the most recent Epicor improvements for the automotive aftermarket.
Eagle Enhancements
Epicor's Eagle for the Aftermarket solution includes new capabilities designed for optimized inventory accuracy, efficiency and customer service. With the Epicor PartExpert GFX electronic catalog interface, users can quickly locate parts for repairs. Eagle Mobile+ is built for employees to use their Android or iOS devices to instantly check inventory or print labels from the palm of their hand. Additionally, the Epicor Scheduling+ application leverages real-time and historical point-of-sale data to predict staffing needs, resulting in lower labor costs.
Epicor Vision Improvements
Previous users of Epicor Ultimate are enjoying increased productivity and flexibility on the latest Epicor Vision solution. Designed for automotive aftermarket distributors, Vision provides a centralized database and sophisticated features, such as an Auto Parts eCatalog and inventory management. Its user-friendly interface and superior cataloging empowers users with greater control and faster growth.
Epicor Smart Inspection 2.0
Epicor Smart Inspection 2.0, a web-based tool designed to automate vehicle inspection and help users develop estimates, is now integrated with PRO SCAN to drive more actionable insights. PRO SCAN is a turnkey B2B solution that equips automotive service businesses with full network scan capabilities as well as dashboard and reporting tools that provide customers with critical information about their vehicles. This integration populates diagnostic scan results, such as OBD2 codes and pending trouble codes, instantly into the Epicor instance to streamline service jobs.
MarketPACE
The brand-new MarketPACE solution consists of two applications that strengthen the bottom lines of automotive aftermarket manufacturers and distributors. With the market demand tracking and planning app, users can easily model demand for almost any part within a specified geographic region. This enables businesses to track daily point-of-sale activity to improve sales performance. The second app determines price elasticity on a part number basis between distributors or jobbers and professional service providers. The solution is compatible with most existing data pools to extend the value of each business's data analytics capabilities.
Google Partnership
To improve product discoverability and meet modern consumer needs, Epicor teamed up with Google to develop a new customer-facing search feature powered by the Epicor ListingExpert parts listing solution. This feature allows users of the world's most popular search engine to quickly find local and online availability and pricing for millions of parts. Since over 90 percent of automotive shoppers begin searching for parts online, this functionality is critical for attracting new clients.
Vehicle Repair Profile
Last but not least, the Vehicle Repair Profile leverages Epicor data analytics to improve automotive service. Sophisticated repair intelligence can detect undiagnosed repair needs and provide more complete inspections, resulting in greater customer loyalty and business growth. The solution also tracks parts replacement data to maintain appropriate levels of supplies and offer faster service.
Wrap Up
Epicor constantly strives to update its solutions with innovative tools to enhance productivity and insight across organizations. The latest developments to its automotive aftermarket solutions demonstrate the vendor's commitment to providing industry-specific functionality to fully address business needs.
To get the most from your Epicor solution, team up with Datix. We're an Epicor Platinum Partner with over 20 years of experience in providing ERP, CRM and eCommerce systems to manufacturers and distributors. Additionally, we built our Unity integration solution to instantly connect Epicor ERP with an array of front-end systems. From start to finish, we execute scalable solutions to optimize each client's unique operations. Get in touch with our expert consultants today to start improving your enterprise!
{{cta('770c1544-d87d-4acb-9fc4-7a25e1385094′,'justifycenter')}}