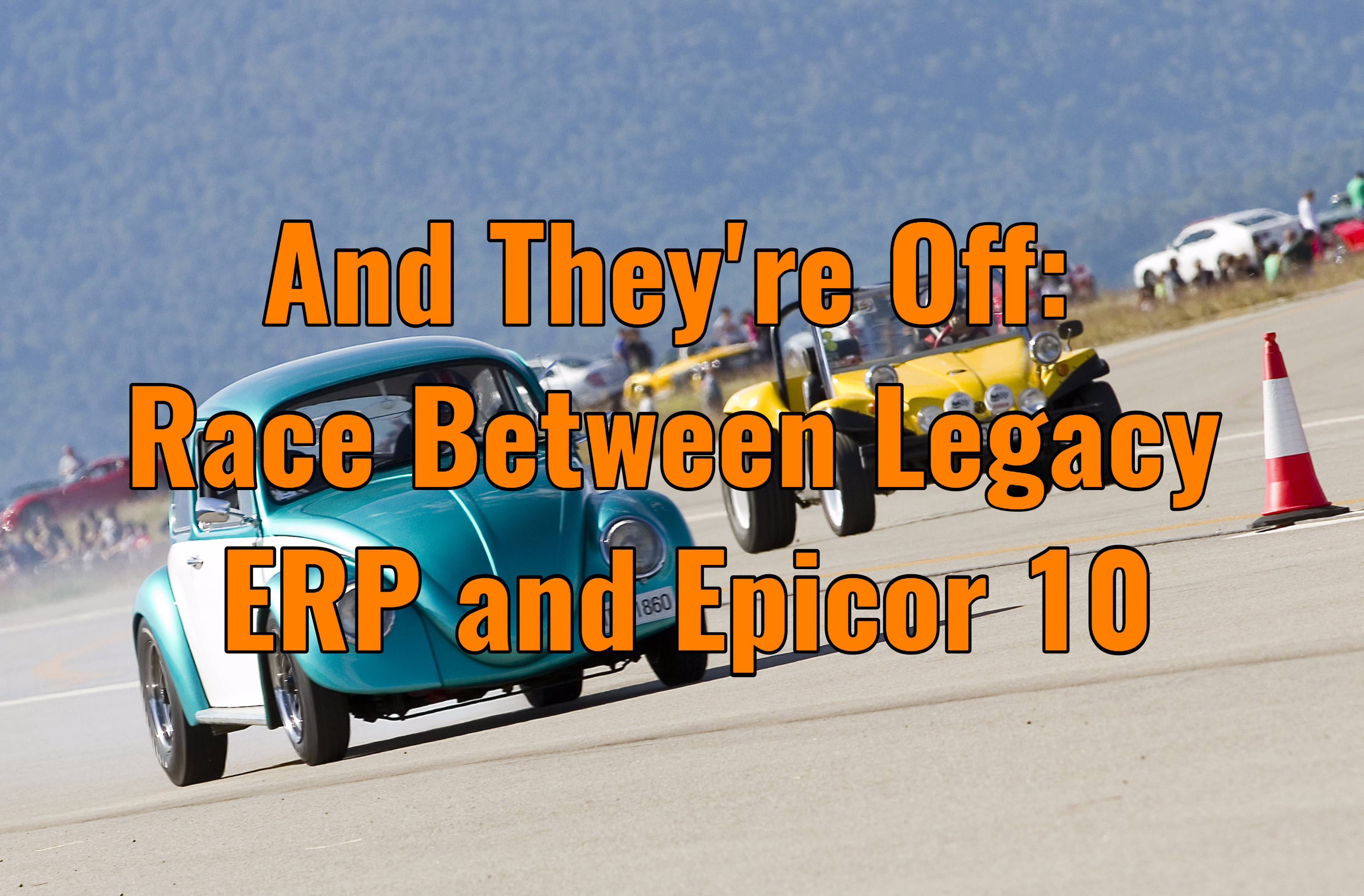 Legacy ERP vs. Epicor 10: Which Will Win?
In the fast-paced modern enterprise marketplace, you need software that can keep up with your growing needs. Software is often like a car in that it becomes a risky money pit as it ages. Cars are expensive and hurt your wallet after the initial purchase, but with fewer breakdowns and improved features, your purchase ultimately saves you time and money. The same is true of enterprise software; your old ERP simply won't cut it as your business expands. The original cost and time spent purchasing a new ERP system might be a bit steep, but you won't regret the upgrade after you notice the increased ROI and improvements in your data storage and business processes in both front and back offices that you didn't even anticipate.
To keep this car metaphor going, let's simulate a race between legacy ERP and a recent version of Epicor 10 to see which system offers faster performance and enables businesses to achieve more revenue.
On your marks, get set, go:
Implementation
The legacy ERP surges to the front while the new ERP system is being implemented. Implementing a new system is no small feat, especially when done correctly. Determining the necessary features, communicating between your service provider and your employees, and training your workforce all take time, but when planned thoroughly and with the help of expert consultants such as those from Datix, the process can go quite smoothly. In this race, the Epicor 10 implementation is well under way because of the smooth communication and efficient scheduling of both Datix consultants and the company receiving the new programming. The truth is that the time it takes to implement a new system varies, but in this instance, Epicor 10 is expected to go-live in five months.
Meanwhile, the legacy ERP is operating smoothly. . .for now.
Integration
With the entire system up-and-running on the scheduled date, Epicor 10 has not only caught up to legacy ERP but has taken on a considerable lead over the old system. Epicor 10 blends processes between front and back offices, permitting strong collaboration and data sharing throughout the entire enterprise. Automated features make everything from production scheduling to sales ordering faster and more streamlined. No more pesky emails from the sales department to the manufacturing department for crucial data; everything is available in one centralized system. No more Excel spreadsheets and mistakes in data entry; reports and calculations are automatically conducted quickly and accurately by your programs.
But that's not all; for this project, Datix implemented an integration between Epicor 10 and Salesforce, the leader in CRM software, using Unity. Unity is Datix's flagship product which permits custom integration between ERP, CRM and/or eCommerce software. With Salesforce and Epicor 10 connected in the same platform, your sales team can access real-time data wherever they are. Keeping data about both your business and customers in one interconnected system reduces error, increases efficiency and drives profit by providing insight into each customer from interest to sale. The new system is on the right path to achieving ROI for the company.
Meanwhile, the legacy ERP just can't keep up. The vendor no longer updates or maintains the software, so it lacks the flexibility and functionality of Epicor 10 and the capacity for streamlined business processes allowed through integration platforms such as Unity. While the integrated Epicor 10 and Salesforce platform allow for cloud accessibility and mobile functionality, the legacy system lacks compatibility with the cloud and mobile devices. The company with the old system does not even realize it's missing out on features that would improve its business processes and keep its company up-to-speed in the modern interconnected enterprise.
And the Winner Is. . . .
As business keeps growing, legacy ERP drifts further behind the demands needed to support daily functions. After causing critical errors in data entry and manufacturing processes, legacy ERP sadly had to bow out before reaching the finish line. The company had to pour too much money into fixing malfunctions and correcting errors in their back-office information. Realizing that their old system was too much of a liability and was so outdated that reliable maintenance was unavailable, the company had to pull legacy ERP out of the race and invest in a new and improved system that could hopefully win the next round.
In contrast, Epicor 10 includes preventative maintenance capabilities that give operators information to affect quality or performance. Cycle or run hour PM and automated alarms and notices make it easy to stay on track of maintenance schedules to keep your system running smoothly. If your system is connected with the cloud, upgrades are made automatically so everything is up to date. Furthermore, with Datix's CIP (continuous improvement plan), companies aren't left floundering alone if anything goes wrong; our expert consultants give end-to-end help so that your system is not only implemented correctly but remains in top shape to meet your business needs after go-live.
With legacy ERP out of the race, Epicor 10 crosses the finish line with increased ROI, impressive sales and happy customers.
Wrap Up
It was a sad day when I had to ditch my first car, not just for me but also for my bank account. But after a few weeks with the new wheels, I wished I had made the switch sooner. No more breakdowns and calls for rides, and I discovered new features I didn't even know I needed. Many clients have the same experience when they upgrade to a newer ERP software, especially one as advanced as Epicor 10.
Don't make the same mistake I did with my vehicle. Even if you think your old ERP system works well, make the upgrade to a newer system before it's too late; you'll find that your legacy ERP was slowing you down even if you didn't realize it, and you will avoid an inevitable breakdown of your old system. Furthermore, when looking to upgrade your legacy ERP, don't just get the best in ERP technology; invest in an integrated service provided through Unity to streamline your business processes in the front and back offices. If you are interested in beating the competition, call Datix today to learn about the best upgrades available for your company!
{{cta('770c1544-d87d-4acb-9fc4-7a25e1385094′,'justifycenter')}}