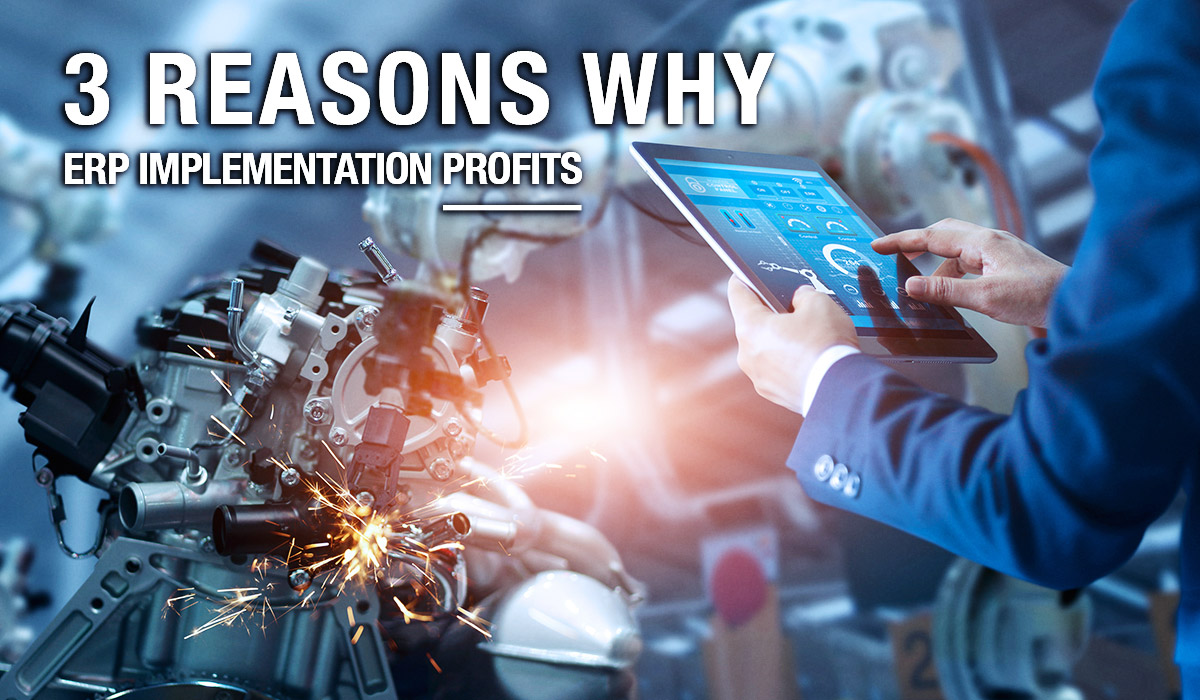 At the Forefront of Innovation, Implementing ERP Gives Companies the Edge… And Here's Why
Business Analysts agree that one of the biggest reasons to implement an Enterprise Resource Planning (ERP) solution is the ability to integrate cross-company operations onto one platform. However, that is not the only benefit to consider. As project scope and internal costs rise within an enterprise, managers must find a way to solve diverse problems that will also be accepted by employees.
The vast majority of organizations that have implemented an ERP solution have voiced that they also experienced two defining benefits:
Better availability of information

Faster response times across departments within the organization
If your organization is currently looking for an ERP solution, here are some reasons these two performance indicators can help you weigh your options during the discovery process.
1. Eliminates Multiplatform Issues to Improve Efficiency
Business growth is only profitable if it's balanced with equally efficient operations. Over time, organizations often find themselves using various software systems across departments for each department's operational needs. Time to complete projects, efficiency gains, and operational cost savings are indicating variables that represent diminishing value as departments become more and more segregated.
Combating the segregation within your business can be achieved by implementing a cloud-based ERP solution such as Infor CloudSuite Enterprise, which promotes flawless collaboration between departments. By utilizing a solution that seamlessly integrates current department software into a single platform, managers receive end-to-end internal visibility within the organization as well as external visibility of suppliers and distributors. Real-time access to information can be customized from capacity, availability, and qualifications, to interdependencies of employees, equipment, tools, and materials data. As a result, you'll have access to the information and the organizational visibility you need to avoid potential challenges by transforming them into opportunities.
2. Standardizes and Streamlines Business Practices
Ideally, developing smooth business processes is the goal. Because ERP technologies are able to automate many of these processes, replacing manual entry activities and data duplication are two functions that are immediately eliminated. Enterprise systems include software that connect different departments and Customer Relationship Management (CRM) sales automation.
Reduced errors, lessened time sink activities, and halted work redundancies are hurdles that block organizations from achieving enterprise-level business standardization. When departments unify on a common platform, business practices and workflows throughout the organization increase overall productivity, operational visibility, internal and external interaction, and ultimately generate greater revenues.
3. Increases Enterprise Performance in any Economic Condition
Having visibility of your supply chain is extremely beneficial, however, to truly operate at your top potential, overall enterprise visibility is a necessity. Without enterprise-wide visibility, failure to recognize detrimental issues creates a vacuum that harms the response rate of accountable departments.
For instance, a manufacturer manager with access to information about plant-floor resources can make the most effective use of constrained resources, find areas that can increase throughput, and innovate better material usage. Being able to see how all of the pieces fit together—in real-time—ultimately helps you operate more efficiently and make better, faster decisions.
Enterprise-level software like Infor's CloudSuite products gives its users access to power collaborative tools to build such an environment. With collaboration capabilities that extend across your enterprise and external partners, you can identify potential problems more quickly and accurately, analyze them more thoroughly, discover what's truly driving them, and eliminate bottlenecks at the forefront of innovation.
Choose the Advantage of Innovation
Choosing an ERP software is a two-fold process that requires you to not only find the perfect software for your company but also to ensure the software is implemented properly. Weighing the options can lead to an extensive discovery process when considering software solutions that improve business processes, company performance, full-scope interactions, and reduced expenses.
Contacting a credible ERP consultant like Datix to assist you with selecting an ERP solution that works for you is the first step effecting a successful decision. Datix believes the implementation and configuration of a chosen software solution with a business first approach is crucial to facilitating business growth and meeting ROI goals. Our team of expert consultants understands processes needed to create an ecosystem of software that supports these goals from start to finish. As an Infor partner, we have the ability to provide a one-stop-shop to all of our clients with our deep understanding of software solutions, customer needs, and enterprise-level business processes.
For more information on how you can leverage Infor CloudSuite Industrial (Syteline) or CloudSuite Industrial systems to become a leader in your industry, contact Datix for a consultation today.