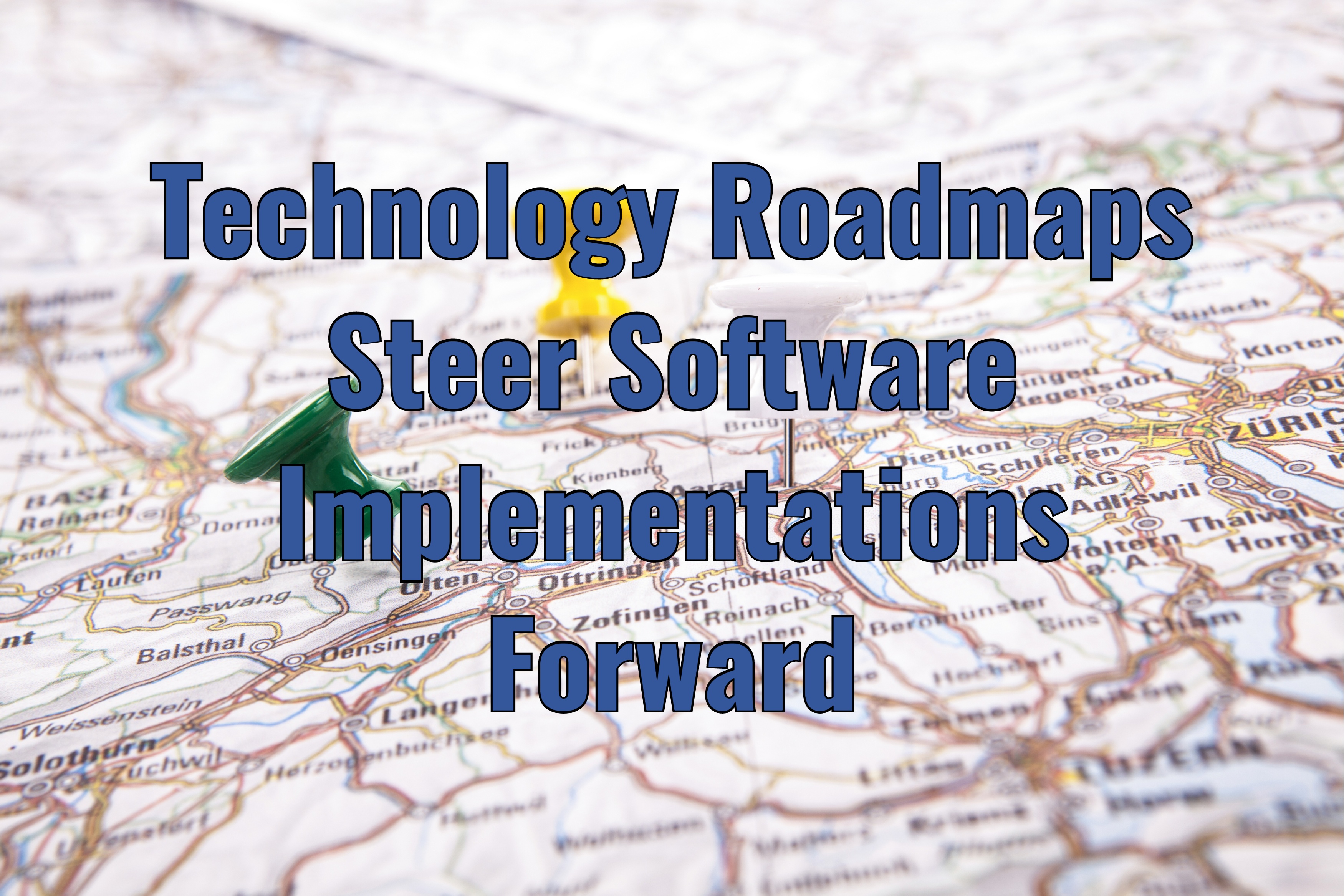 Guide to Building a Technology Roadmap
Business leaders are hitting technical and institutional barriers, given the sophistication of enterprise software and smart stacks (analytic, IoT, cloud, social media). Many are failing to determine how an ERP, CRM, eCommerce or integrated program can fit the needs of their business and achieve greater efficiency than their current solution.
A technology roadmap can be a method of implementing new business software without creating bottlenecks, or leave out a deliverable that can hinder ROI if added later in a project. A roadmap is driven by a dynamic set of technical, legal, financial, market-oriented and organizational requirements. It should be seen as a living document, updated routinely as business needs change, resources are allocated and new information becomes available.
Businesses face major problems when an implementation roadmap fails to be included in the deliverables of an IT project.  After IT structures emerge and evolve, it compounds noise and confusion inside the company. This is a common result of not having a blueprint of digital systems. In most cases these practices not only impair the system but the business itself, creating slow processes, multiple workarounds, redundancy and immeasurable ROI.
At Datix, we've found that several companies foster a pattern of poor software practices, which consist of investing in best of breed solutions, implementing the technology and failing to define how the system serves the rest of the organization. Understanding enterprise architecture should not be perceived as plug and play and some questions should be warranted at the onset of the project:
How will your company design the logic behind the new IT solution?
Do you have dedicated resources that will commit themselves to the creation and implementation of the roadmap?
Who will utilize the technology roadmap and what will it be used for?
What deliverables will you prioritize to make sure the project is successful?
And how can we use this document to integrate this solution with other technology platforms in the future?
Generally there should be five elements included in the creation of a roadmap:
Goals

Clear and concise set of targets, generally quantifiable with specific guidance from the business procuring the solution.

Milestones

Interim targets for achieving the goals, and often anchored to specific dates.

Gaps and barriers

A list of any potential risks or areas of concern the business may endure throughout the project and require attention prior to the project's kickoff. Gaps and barriers may include gaps in user knowledge, technology platform limitations, integration with other business software, cleanliness of data, or public acceptance (i.e. financing).

Actionable items

Actions that overcome gaps and barriers and manage risks. Actionable items may include technology development, customization, integration, deployment, policy formulation, methods of financing, vision and mission changes as market needs change (and they often do), and engagement by stakeholders and everyday users.

Priorities and timelines

List of important actions that need to be taken to achieve goals within time frames to keep the project in motion. Priorities and timelines must take into account the interconnections among these actions and the relationships stakeholders have with the action.
In the following sections, we provide a step by step guild for developing and implementing a technology roadmap. These efforts lead to an improved and enhanced course of action that has a significant and long-lasting effect on enterprise architecture and the goals for which it was implemented.
Step One: Construct a Vision
The vision should contain initiatives of the business and target goals in the medium and long terms. Creating a vision requires a meeting of the minds to address economic conditions, market realities and public policy priorities. This effort leads to improved collaboration of specific research projects to determine the specific technology required to improve or renew operations.
Businesses operating under an umbrella of regulations will require a foundation that enables the business to produce compliant data from the shop floor to those in charge with oversight. One example may include the food industry and their ability to trace ingredients far upstream and downstream in under four hours. Likewise, aerospace and financial institutions will likely require extensive roadmapping to ensure the technology is capable of housing a dynamic set of legal, technical and economic data for as long as mandates require without despairing the system.
Step Two: Develop a Roadmap
The development phase of the roadmap aims to lay out the expectations of the roadmapping process. It requires a synergy between a steering committee and the source in charge with selecting and implementing the software. Here you'll find a list of types of requirements needed to address the purpose, scope and objectives of the roadmap. This may also be a good time for the ones who are implementing the software to formulate a methodological approach to ensuring the roadmap stays on course and all stakeholders participate.  Make no mistake, this phase of the process requires a good deal of high level perspective. The implementation should seek the clarification of objectives at the executive level to make sure steps are achievable.
The development of a roadmap answers three critical questions that will steer the project thereafter:
Which technologies are available to perform the type of work required to meet deliverables and goals and achieve the greatest ROI? It is also where break even formulations happen and explorations of opportunities at risk occur.
What markets—internal or external—will this solution most likely affect (i.e. suppliers, distributors, customers, sales, engineering, finance)?
What policies or organizational charts will need to be updated or restructured?
Answering these questions builds a consensus across a diverse cross-section of business silos and yields stronger support for the implementation of the roadmap. In addition, it reduces chances a major technological capability, function or policy issue is left out.
Step Three: Create the Roadmap
Create the roadmap; it is the easiest to describe, but the most difficult to perform. It requires access to a large amount of information from separate corners of the organization (data repositories in the legacy system, spreadsheets, users, etc.). The implementation team is in charge of assessing this information and reassembling it to tell a compelling story of opportunity. It should display a rational sequence of logic designed to achieve an expected future state. Essentially, implementers of the roadmap should be able to eloquently describe how the solution will come to be the brain child of the vision. This is especially important if the company seeks to integrate other modules of business systems thereafter.
Step Four: Validate the Roadmap
The role of roadmap creator is to maximize contributions from stakeholders and key executives whilst keeping the conversation manageable. One solution is to phase in review cycles, which permits stakeholders to modify priorities as needs become more apparent for various business reasons.
This is an important point in the process when project managers will pivot change management caps forward. Here the project team will artfully manage change orders and involve new stakeholders in the process that may not have helped with the initial roadmap development.
The circulation of the first draft of the roadmap needs a clear time frame for review. From there, a second review of the technology roadmap document should be distributed to high level leaders complete with the first review modifications. The second draft is the final document that will move forward with the project. This draft requires resolution of final comments and outstanding issues as well as approval from executives to publicize the document and trigger phase one of the implementation.
Wrap Up
Datix's experienced team of consultants knows the risk companies incur when they undergo software implementation without a technology roadmap. That's why we developed our Strategic Solution Process to mitigate risk at every stage of your enterprise software implementation. Datix's Strategic Solution Process ensures that your software project—whether it's an ERP, CRM, eCommerce or integrated software implementation—is architected, delivered and enhanced in an organized, timely fashion that increases ROI and enhances your company's business practices.
But in order to meet each client's specific goals, companies must do their part to articulate what they need out of their software. Without a doubt there must be cohesion between project resources and those on the top floor in order to effectively delve a clear understanding of how the technology will inevitably capture value for the business. Ultimately, the roadmap should clearly target priorities and time frames, create requirements and deliverables, and consider processes from end to end of the organization.
Contact us for additional support in your enterprise software selection journey!