What's Inside Epicor

®

?
Enterprise resource planning (ERP) software performs a range of business tasks from accounting to inventory management. But what is it exactly that's taking care of all these functions? The answer: a diverse collection of modules.   
An ERP module is a software component or part of a program that takes care of specific operations. Modules give businesses the flexibility to choose the features they need to optimize their processes. By centralizing these modules in a single platform, ERP empowers organizations to access back-end data and complete tasks all in one place, enhancing visibility, protecting data integrity and reducing IT costs. 
So what are the modules that make up ERP software? We're taking you under the hood, showing you five of the many modules offered by Epicor®, a vendor serving discrete manufacturers for over 45 years. Check out some of the Epicor® ERP modules that allow businesses to achieve their goals.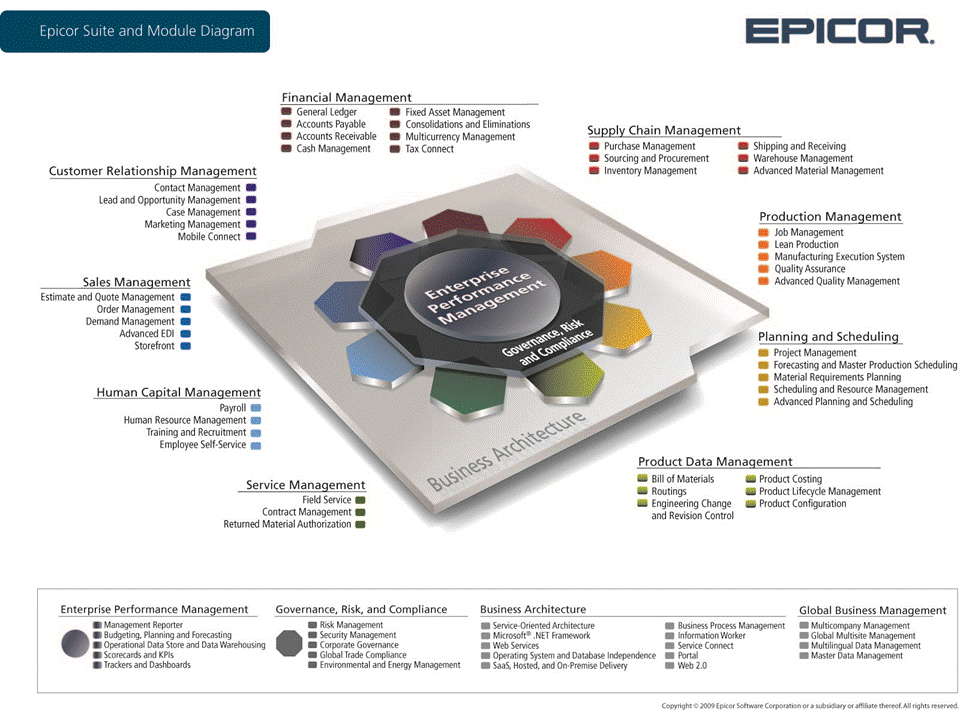 Click on the above image to view the full-size diagram.
Financial Management Module
A financial management module is a standard component of any ERP solution, but Epicor's® is particularly robust. With real-time fiscal information and flexible functionality, Epicor® Financial Management gives users full control over their accounting processes. Let's take a look at some of the features: 
General Ledger: The heart of Epicor

®

Financial Management, the GL processes all accounting transactions created throughout the software. It enables users to establish unlimited financial books to support each business's unique accounting tasks and maintain compliance. Additionally, a flexible chart of accounts (COA) can record, allocate and report on fiscal data at a granular level. Users can also drill into details of specific accounts and automate allocation of funds across multiple accounts.
Global Engines: Global engines are a unique characteristic of Epicor

®

, providing businesses with greater agility to manage international finances. A configurable tax engine helps businesses meet tax requirements all over the world. A legal numbering engine manages the legal numbering of printed transactions, such as sales orders, purchase orders and credit memos. With the multicurrency engine, businesses can define unlimited currencies to support their global operations.
Accounts Payable and Receivable: AP functions provide a complete history of invoices, helping you maintain supplier relationships and keep track of bills. AR effectively manages invoicing, credit, cash management and customer management in one place, improving visibility and accuracy.

 
Other features include Advanced Allocations, Financial Planning, Epicor® Cash Collect, Tax Connect, Electronic Payment Templates, Asset Management and more. 
Supply Chain Management Module
For manufacturers and distributors, one of the most critical ERP features is the supply chain management module. From raw materials to delivery, Epicor® provides a full range of SCM functionality to power end-to-end visibility. Sophisticated tracking and deep insights allow users to detect pain points and strengths, fueling better decision making to increase customer satisfaction. Here are some of Epicor's® SCM capabilities: 
Purchase Management: This feature tracks supplier performance and manages purchase order writing, helping you increase on-time deliveries and raise profit levels. With Advanced Requisition Management, users gain a fully automated online workflow that provides information on spending and assigns the chain of authority for PO approval, enhancing communication and efficiency across the supply chain.

 

Inventory Management: The inventory management system empowers users to track parts at multiple levels. Multiple options for serial tracking allow businesses to maintain full product traceability in accordance with their unique needs. Management analyses of MRP, shortage monitoring, reorder analysis and stock status as well as continual updates of inventory average, lot costs and last costs provide in-depth insights to help users stay in the know.
Advanced Material Management: AMM produces electronic requests for materials, dispatches these materials and tracks inventory movements. Wireless terminals and bar coding track inventory in real time, fueling transparency throughout the supply chain.

 
Other features include Purchase Contracts, Distribution Requirements Planning, Supplier Relationship Management, Shipping and Receiving, Warehouse Management, Epicor® Handheld and more.  
Planning and Scheduling Module
Staying organized is critical for manufacturing and distribution success. That's where the Epicor® Planning and Scheduling module comes in, enabling employees to predict and respond quickly to customer demand. Below are a few features from Epicor® Planning and Scheduling: 
Material Requirements Planning: Whether a single site or global enterprise, Epicor's

®

 MRP functionality enables users to effectively manage supply and demand. It leverages customer demand and forecasts to automatically adjust corresponding jobs, keeping your enterprise in balance. The tool also helps you make smarter decisions, using lead times and vendor price breaks to determine when parts should be ordered.
Forecasting and Master Production Scheduling: Forecasting and MPS are designed to facilitate day-to-day control as well as long-range decision making. Using multiple historical sources, forecasts can be generated for several variables and product units. With a variety of forecasting methods and buckets, these tools have the flexibility and nuance to allow businesses to operate multiple, mixed-mode strategies simultaneously.
Multisite Management: To outpace the competition and improve lead times, utilize Multisite Management to oversee multiplant operations. The tool supports various functionalities, providing the ability to manage specific parts in each plant or transfer materials to another plant for completion. 

 
Other features include Advanced Planning and Scheduling, Scheduling and Resource Management and Forecast Pro. 
Production Management Module
Whether you're a mixed-mode, MTO, MTS, ETO or CTO manufacturer, Epicor® has what you need for strong production control and responsiveness. Check out the tools that make up the Epicor® Production Management module: 
Quality Assurance: Staying on top of stringent compliance demands requires a robust quality management solution. Epicor's

®

Quality Assurance feature offers full traceability, including audit trails, inspection workbenches and more to help you keep track of parts and materials. Additionally, Epicor

®

includes the ability to check for Certificates of Compliance to maintain detailed compliance documentation.
Lean Production: Kanban functionality enables manufacturers to slash costs and reduce inventory. A variety of Kanban tools can be used along with MRP, providing the flexibility to support unique business processes while maintaining lean practices. Lean metrics also track production activity to expose areas of waste.
Manufacturing Execution System: MES is an easy, online system that provides real-time visibility for plant-based transactions. Integrated with other Epicor

®

tools, MES facilitates transparency, gives users access to critical documentation and eradicates dual data entry. It tracks orders, jobs, customers, shipments and more to provide a complete picture of your shop floor. 

 
Other features include Job Management, Advanced Production, Advanced MES, Enterprise Manufacturing Intelligence and more.  
Product Data Management Module
Gone are the days of managing information housed across engineering documents, quality documentation, plant floor routings and other paperwork. Epicor® PDM centralizes your data in a single location, keeping track of process and product history. Take a look at a few critical PDM capabilities: 
Bill of Materials: Whether you need traditional or multi-level BOM management, Epicor

®

has you covered. The drag-and-drop interface makes it easy to move components, operations or direct materials from another BOM, quote or previously run job. Epicor's

®

BOM functionality includes user-friendly tools, instant visibility and flexibility to ensure all the right materials are in place before starting production.
Product Lifecycle Management: A complete repository for product and process history, Epicor

®

PLM securely stores sensitive documentation to facilitate high-level audit tracking. It's fully integrated with 12 CAD systems and various EDA systems, helping you manage the product lifecycle from design to end of life.
Product Configuration: The sophisticated product configurator enables on-the-fly configuration through a straightforward question and answer evaluation. Changes entered at the quote, sales or job level automatically sync into your BOM to uphold accuracy and productivity. It also generates smart part numbers to allow easy identification of selected options. 

 
Other features include Engineering Change and Revision Control, Routings and Product Costing.  
Wrap Up
There you have it: five of the essential modules that comprise Epicor® ERP. Whether you opt for an out-of-the-box solution or build your own ERP system by adding and removing modules, Epicor® provides the flexibility to support the needs of each specific organization. 
At Datix, we've helped an array of manufacturers and distributors align ERP software with their precise requirements. As experienced consultants, we know each module inside and out, giving us the ability to install or customize whatever features are necessary to conduct your business. Our premier consultants do whatever it takes to execute software projects from start to finish. 
Want to learn more about Epicor® ERP modules and features? Reach out to our consultants today!