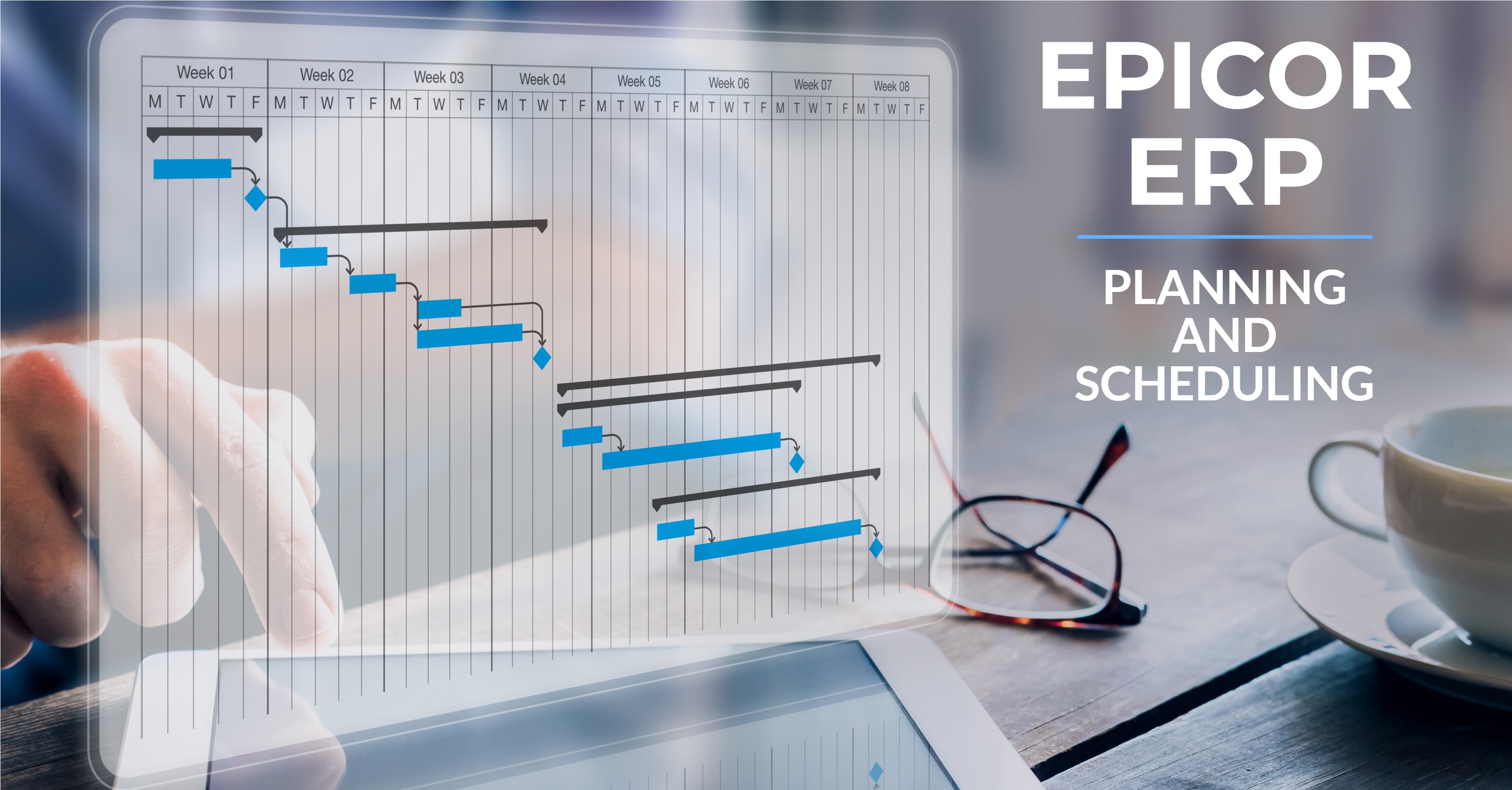 Epicor's Planning and Scheduling Module
Five minutes from now, five days from now, or five years from now: For a manufacturing or distribution business to run smoothly, it's imperative to plan and schedule effectively to fulfill current and upcoming demands as well as expand your business in the future. But how is this even possible? In the ever-changing landscape of technology and the enterprise marketplace, surprises crop up frequently, sometimes putting a wrench even in your daily plans.
Epicor ERP includes a variety of planning and scheduling features to maintain current processes and work towards future growth. Check out our tips for leveraging Epicor's planning and scheduling module to enable extensive preparation.
Collaborate
If one person is taking care of the planning and scheduling without input from colleagues and various departments, expect disaster to ensue. Parts could arrive too late. Maintenance could be scheduled at a bad time. Workloads could increase to a level that manufacturers and machines can't handle. Collaboration is key to ensuring everyone is on the same page. Simply asking for the professional opinions of people across departments and openly communicating your goals will offer integral insight that can protect your business from scheduling conflicts.
Epicor's forecasting tools further foster teamwork by enabling colleagues to view your forecasts, graphs and reports. Additionally, flexible override rows and comment fields provide means for fast, easy communication. By simplifying collaboration, Epicor ERP helps businesses run efficiently.
Prepare for Growth
Refusal to utilize planning and scheduling features to prepare for future growth often leads businesses into a mess of trouble. Growth should be a welcome change for manufacturers and distributors, but when it's an unplanned development, businesses find themselves scrambling to keep up with higher costs, increased competition and tougher decisions.
However, when high-growth companies take advantage of forecasting tools to prepare for expansion, they are more excited than anxious about business growth. Epicor's forecasting and master production scheduling (MPS) features assist manufacturers and distributors with not only day-to-day management but also long-range preparation. Predictive analytics leverages historical data to see where your business is headed down the line, enabling smart decision making.
Of course, even the most comprehensive system can't nail every prediction in a constantly evolving marketplace. Therefore, ERP software requires ease and flexibility in order to adjust to new situations. Epicor 10's BPM module can build and change complex business processes quickly. Epicor's scalable solution provides the flexibility to make modifications through clicks rather than code, making the system adaptable for future expansion.
Every business wants to thrive and expand over time, but without preparation, companies tend to cave under the pressure of unexpected demands. Robust forecasting allows businesses to enjoy their growth and meet new challenges head on.
Simplify Scheduling—If Possible
As a general rule, complexity creates chaos while simplicity creates stability. Scheduling is no exception. It is often wise to simplify processes and scheduling to ensure smooth, steady operations. The more intricate your processes or plans, the more difficult it is to make instant modifications in response to unexpected challenges. Having said this, some businesses must use more complicated processes, especially as they expand. For these businesses, it's imperative to install a robust ERP system that provides a wide variety of planning and scheduling options that can be easily used and adjusted.
Epicor offers just that with its forecasting and MPS tools. From the simplest schedules to multiple, highly customized forecasts, Epicor supports a variety of planning needs. You can forecast and analyze any number of variables and tiers by drawing from multiple historical sources—whatever your unique business processes require. With intuitive interfaces and easy-to-use drag-and-drop features, even complex schedules become straightforward to manage.
Wrap Up
Comprehensive planning and scheduling in our fast-paced, global economy is made possible with the functionality of Epicor ERP. But scheduling becomes even more streamlined with a software integration facilitated by Unity, Datix's flagship integration solution. Unity connects Epicor with Microsoft Dynamics 365 CRM, Salesforce, Magento or HubSpot. Data is stored in a central hub, breaking down departmental silos and increasing efficiency.
As an Epicor Gold Partner with over 20 years of experience in enterprise software innovation, Datix knows a thing or two about leveraging software to plan effectively. Schedule some time today to contact Datix and learn more about our premier solutions!
{{cta('770c1544-d87d-4acb-9fc4-7a25e1385094′,'justifycenter')}}