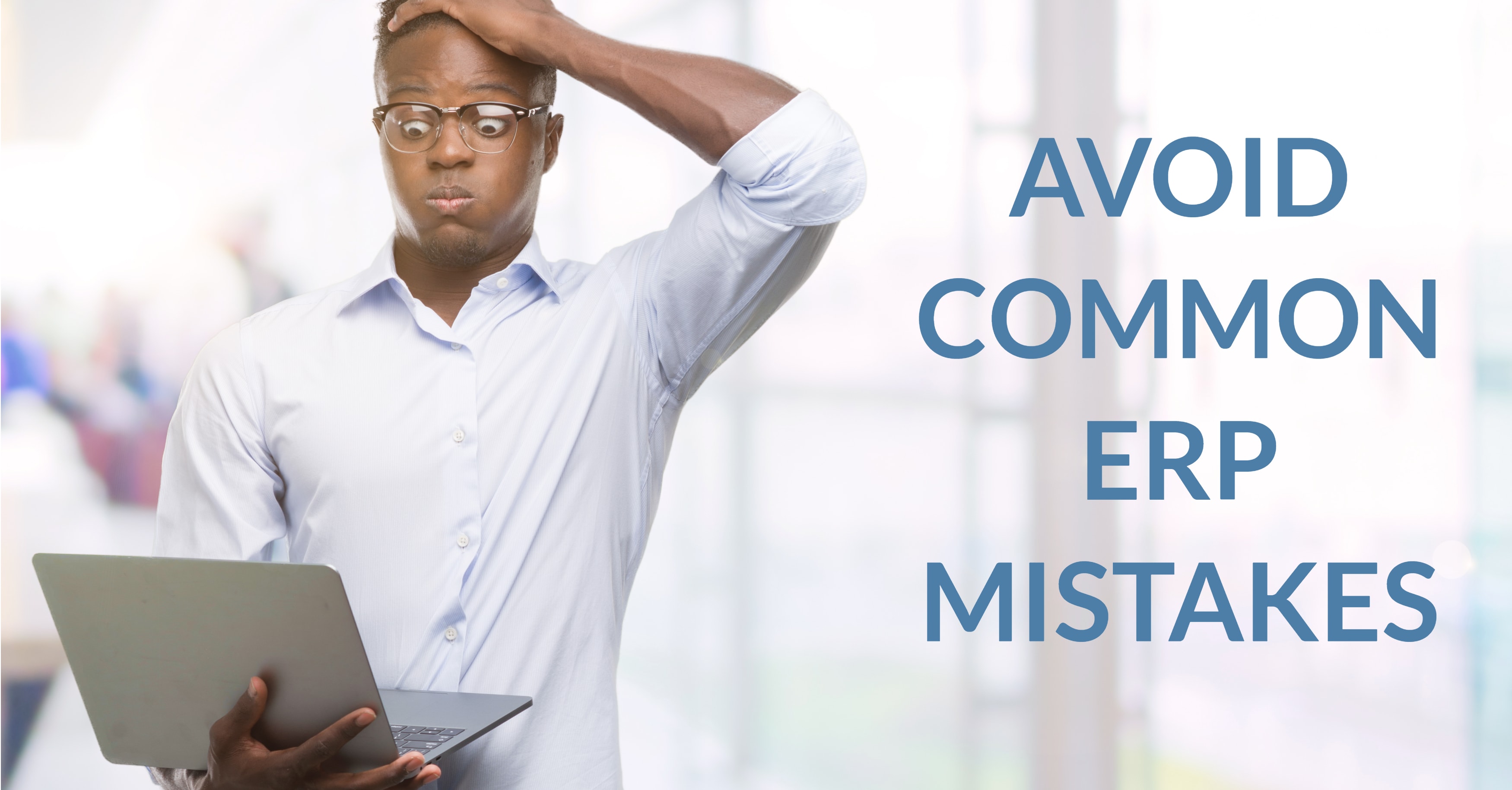 Avoid These Common ERP Mistakes
When you make a major change or investment to optimize your business strategies, don't you want to do it right? Failure to plan out and follow through with the details of a new project can curtail your attempts at business improvement and even drain your resources.
This proves especially true for enterprise resource planning (ERP) software implementations. Without following ERP best practices, you're liable to miss out on the increased productivity and revenue gains that you expected from your solution. Learn how to steer clear of three common ERP project pitfalls and guide your implementation to success.
Poor Workflow Automation
One of the most exciting features of ERP software is its capability to automate just about any of the repetitive, manual tasks that waste time throughout your supply chain. However, many businesses think process improvement requires nothing more than automating current operations. If you're following poorly structured workflows, automating these processes won't enhance enterprise performance; it'll merely make your bad operations run faster.
That's why business process modeling (BPM) must constitute an early step of your ERP project. A thorough analysis of current operations will uncover the source of pain points. From this information, you can redesign your workflows. With fine-tuned, automated processes, you can achieve the advanced performance that prompted you to invest in ERP software in the first place.
Meager

User Adoption
Often, ERP failure isn't even a result of technical shortcomings. Poor communication and change management plague far too many projects, putting your investment to waste. From the beginning, project teams must win over the system's future end users. Find out the current inefficiencies and roadblocks that are troubling employees, and give them a chance to voice their concerns about the new system. By soliciting their input, you can design the project to solve their pain points and reassure them of the value ERP will bring to the company.
Additionally, a robust training strategy needs to be in place. Users quickly become frustrated when they can't figure out how to utilize a feature or find particular information for a task they perform every day. With role-based training, users will understand how to leverage the new insights and functionality of their ERP system to refine their activities.
Go-Live Errors
You don't want to undergo an entire ERP project only to crash on the go-live date. But this is exactly what happens when businesses fail to conduct thorough tests prior to deployment. Don't be one of the many organizations to leave out this step. Ensure the personnel in charge of this important task understands how to utilize test scripts and cases to check that your workflows, backup procedures, databases and other critical elements of your software are free of bugs and glitches.
Then, perform final walk-throughs and a mock go-live that mimics the circumstances of the scheduled deployment as closely as possible. Once you go through these steps, you can confidently launch your ERP without errors and work on gaining fast ROI.
Wrap Up
Successful ERP implementations entail thoughtful consideration of users, business processes and technical requirements. If you follow ERP best practices, you can avoid common pitfalls and achieve optimal visibility and productivity throughout your enterprise.
To make sure no step is missing from your ERP project, team up with the experts from Datix. An Epicor Platinum Partner, we've delivered premier solutions to manufacturers and distributors for over 20 years. Our consultants have extensive experience in various industries, multiple platforms and business process modeling. We know all the tricks of the trade to execute implementations, integrations, customizations and more projects to improve your unique business processes.
Don't let a single mistake get in the way of generating maximum ROI from your enterprise solution. Reach out to our expert consultants today to start your next project!
{{cta('770c1544-d87d-4acb-9fc4-7a25e1385094′,'justifycenter')}}