Manufacturing.
Distribution.
Expertise.
Datix consultants and business analysts specialize in your industry.
Expertise is value. Our team specializes in manufacturing and distribution industries to bring you solutions that specifically address your industry requirements.
Every segment from discrete manufacturing and industrial machinery & equipment to high tech electronics has different processes and organizational nuances to consider. Datix adheres to today's best practices and brings unique understanding of your industry's core processes to deliver tangible value.
Discover the Best Solutions for Your Industry
Datix Solves Real Issues and is the Real Solution for Your Business
Datix provides optimal enterprise resource management (ERP) software solutions for manufacturers and value-added distributors to improve business operations with confidence. Through a comprehensive suite of state-of-the-art ERP modules, consultation services, and customer relationship management (CRM) system integrations, we can give businesses a 360 degree view of the entire business from raw materials and fabrication to assembly and distribution.
Enterprise Resource Planning (ERP)
SyteLine and CloudSuite Industrial are robust suites of on-prem or cloud-based ERP solutions with innovative functions. These software enable modern manufacturers and complex distributors to facilitate flexible and reliable growth within quickly evolving markets. With its sophisticated data analytics and management capabilities, SyteLine and CloudSuite will perfect processes, enhances efficiency, and increases insight.
Datix is also experienced in Epicor® versions 9, version 10, Epicor Kinetic ERP, as well as other Epicor software and knows the damage information soils can cause when ERP and CRM software run independently. That is why we developed Unity, a pre-built integration solution, to which seamlessly connects Epicor® and SyteLine or CloudSuite Industrial with several software platforms like Microsoft D365 CE or Salesforce, eliminating errors that often come with hard-coded integration. Unity provides you the means to operate your entire enterprise from one system. Our scalable solution creates a central hub of enterprise data to provide total visibility that powers smarter decision-making.
At Datix, we've been implementing ERP, CRM, and eCommerce software for manufacturers for over 24 years. From our rapid Quick Start ERP implementations to our robust Unity integrations, we provide a breadth of manufacturing solutions to meet each client's specific needs. No matter the project, our expert consultants work side-by-side with clients from start-to-finish. Our end goal is to build a system that optimizes your business performance and generates substantial ROI. You can count on us to plan, implement, and maintain a solution that drives future business growth.
Unlike other software consulting firms, Datix takes the time to gain a clear understanding of your purpose in implementing new technologies, ensuring we provide the optimal solution. We pride ourselves on providing the highest quality solutions and the highest personnel integrity. Our clients count on us to help get the most value from their IT investments today, tomorrow, and in the years to come.
We have your back from start-to-finish.
With hundreds of clients throughout the United States and Canada, our teams bring decades of specialized knowledge, industry experience, and enterprise software experts to you on-demand.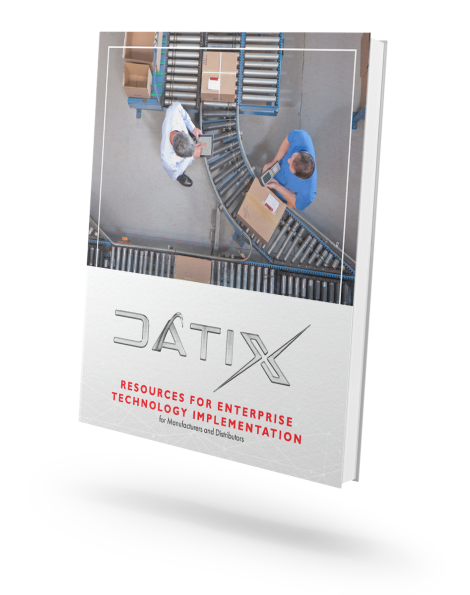 RESOURCES FOR ENTERPRISE TECHNOLOGY IMPLEMENTATION FOR MANUFACTURERS & DISTRIBUTORS
Software selection and implementation processes often present their own unique challenges. To help you navigate around trouble on your journey to success, Datix experts compiled a list of resources for you to be aware of no matter which path you choose.