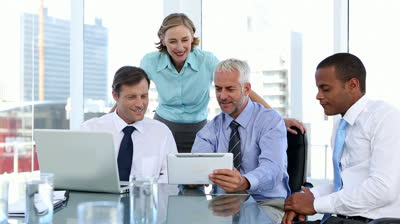 Did you know that with Microsoft Dynamics CRM (2013) you get the powerful sales tool InsideView? Microsoft wants its users to "enable amazing customer experiences." With the roll-out of Dynamics CRM 2013, Microsoft wanted to up their focus on customer-centricity.
InsideView's tool called Social Insights is available at no additional cost to Dynamics online users with a professional license. Social Insights allows users to obtain complete, accurate and timely information directly within your CRM.
In order to get Social Insights, you will need to upgrade to Microsoft Dynamics CRM Online Professional version. Once you are using the professional version, Social Insights will automatically show up in your CRM accounts.
Power up Your Sales Team for Better Connections
We have found that the one click data sync is a huge time-saver. Our sales team is using the data feature to obtain financials, SEC filings and industry profiles anytime we are delving into a new market or approaching a new client.
The social profiles via LinkedIn, Twitter and Facebook are also readily available when you want to reach out. This tool is also helpful because you can make warm introductions through personal or business connections.
Get to Know the Person, Not Just the Data
Win more deals by leveraging contact data and customer insights in Microsoft Dynamics. As a sales team, you want to foster relationships that will help you turn prospects into customers. "CRM today should be an enabler that detects trends, facilitates decisions and suggests actions that lead to successful outcomes and relationships," said Bob Stutz, corporate vice president of Microsoft Dynamics CRM.
Better Data Means Better Results
InsideView found its partners can increase win rates of up to 15 percent simply by using the news, alerts and social media features. Pre-research is cut by about 70 percent with pertinent company and financial data available at no additional charge. Avoid buying data subscriptions or even list purchasing with InsideView's access to over 50 million company and personnel profiles.
We all want our CRM to lead to successful outcomes and allow our sales and marketing divisions to shine. Reaching customers with CRM and InsideView, a leading social intelligence provider, means less time researching and more time selling.
About Microsoft Dynamics
Microsoft Dynamics designs modern business solutions that empower individuals with intuitive, easy-to-use business applications.
About InsideView
InsideView delivers the essentials of CRM intelligence with data, alerts and social connections. They were a finalist for the Microsoft Partner of the Year last year.