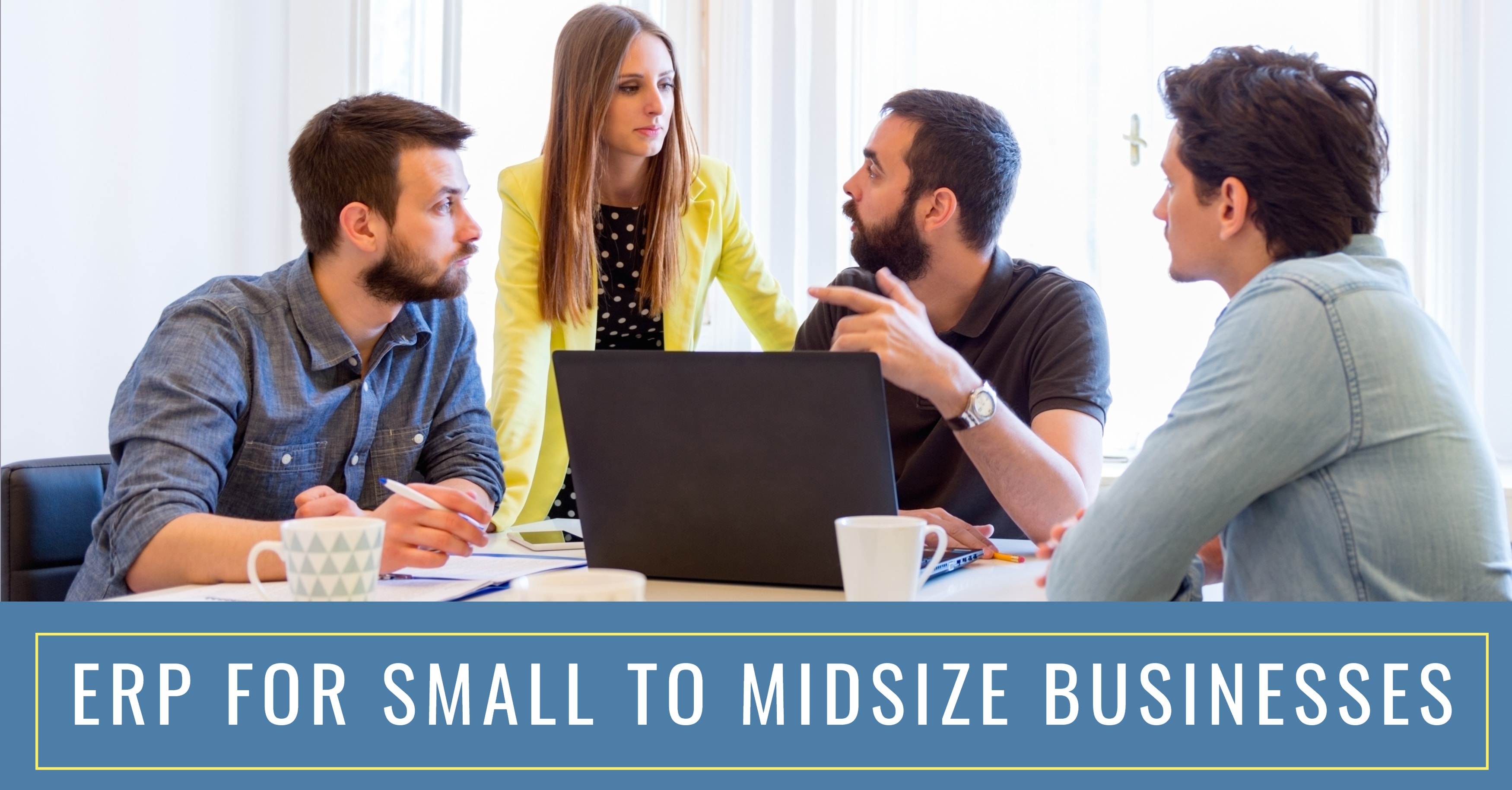 Find Out if ERP is Right for Your SMB
The decision to implement enterprise resource planning (ERP) software shouldn't be taken lightly. This is especially true for small and midsize businesses, who until recently have been shut out of the ERP market due to exorbitant costs and complex systems. However, as enterprise software vendors realize the value available in the small business market, several ERP systems are now available for SMBs. From cloud hosting to intuitive interfaces, new developments have made ERP a more feasible and cost-effective solution.
So, how do you know when (or if) an ERP implementation is a smart move to make for your SMB? Read on for the key considerations you need to make before deciding if ERP software is the right fit for your organization.
Process Management
Growing businesses have new products, more employees and evolving strategies. When this kind of growth continues unchecked, departments can grow into uncommunicative silos, and many business processes can become redundant and burdensome. An ERP implementation serves as an effective solution for standardizing operations. ERP is designed to automate repetitive tasks and streamline processes. It also provides a central hub for enterprise data to encourage interdepartmental collaboration. SMBs that are starting to outgrow their spreadsheets and accounting software should seek out ERP.
However, to truly optimize operations, every implementation should include business process modeling. Thoroughly mapping your workflows will help you locate avenues of miscommunication, overlapping processes and waste. Your ERP solution can then be implemented to support new and improved workflows.
Data Integrity
Those Excel spreadsheets might have served you well when your business was just getting off the ground, but your employees are finding that their documents are becoming unwieldy, and errors in spreadsheet coding and data entry are beginning to accumulate. If this situation sounds relatively familiar, it's probably high time to start looking into ERP implementation.
Every small business reaches a tipping point when their introductory software systems or methods can't sustain their operations. ERP packages contain more powerful financial and reporting capabilities than QuickBooks and Excel. If data and accounting integrity is under threat at your small business, ERP can consolidate your information and provide actionable insights to mitigate risk and open the door to new opportunities.
Cost
ERP cost has traditionally been one of the most restrictive factors holding small businesses back from ERP implementation. Because the investment in ERP might be a significant portion of your current bottom line, implementation failure can have a major impact on your finances.
However, as ERP software becomes commonplace in SMBs, prices are coming down to meet the market. This includes options of mix-and-match modules and suites that can be tailored and pared down as necessary to fit your requirements. Fixed fee packages also allow businesses to implement ERP at a set price, so they can avoid unexpected costs and delays. Furthermore, as ERP becomes more sophisticated, it's delivering greater ROI for companies of all sizes. The software has become a valuable investment for SMBs.
Cloud Deployment
One of the heavy costs of traditional ERP deployments is expensive hardware and server space. With the emergence of cloud-based ERP, SMBs can avoid the hefty costs of on-premises installations and gain a scalable solution.
Cloud ERP doesn't just reduce implementation costs. Cloud providers offer all the server space, security, maintenance and update support on a monthly licensing basis. This eradicates the complexity of on-site ERP implementation and upkeep, so you can lighten the load for your IT team. Cloud computing also supports mobility, IoT and other modern functions designed to enhance your visibility and promote productivity. The cloud empowers small to midsize businesses to gain all the advantages of a robust ERP solution without the hassle of hosting your software on premises.
Wrap Up
The big Fortune 500 companies pay out vast sums of money to ERP giants like SAP to implement sprawling, complex systems. This kind of undertaking is simply not feasible for emerging small and midsize businesses. However, enterprise software vendors such as Epicor have developed an array of options that put ERP within the grasp of businesses of all sizes.
If you're a small business looking to implement ERP and don't know where to start, contact Datix today. We're an Epicor Gold Partner that has helped clients of all sizes with their ERP projects for over 20 years. Our Epicor fixed fee implementations makes ERP easily attainable for small manufacturers and distributors. At a fixed schedule and low price, our premier consultants will implement a cloud-hosted Epicor instance with no hassle on your end. Reach out to one of our experts today to find out if ERP is right for you!
{{cta('770c1544-d87d-4acb-9fc4-7a25e1385094')}}