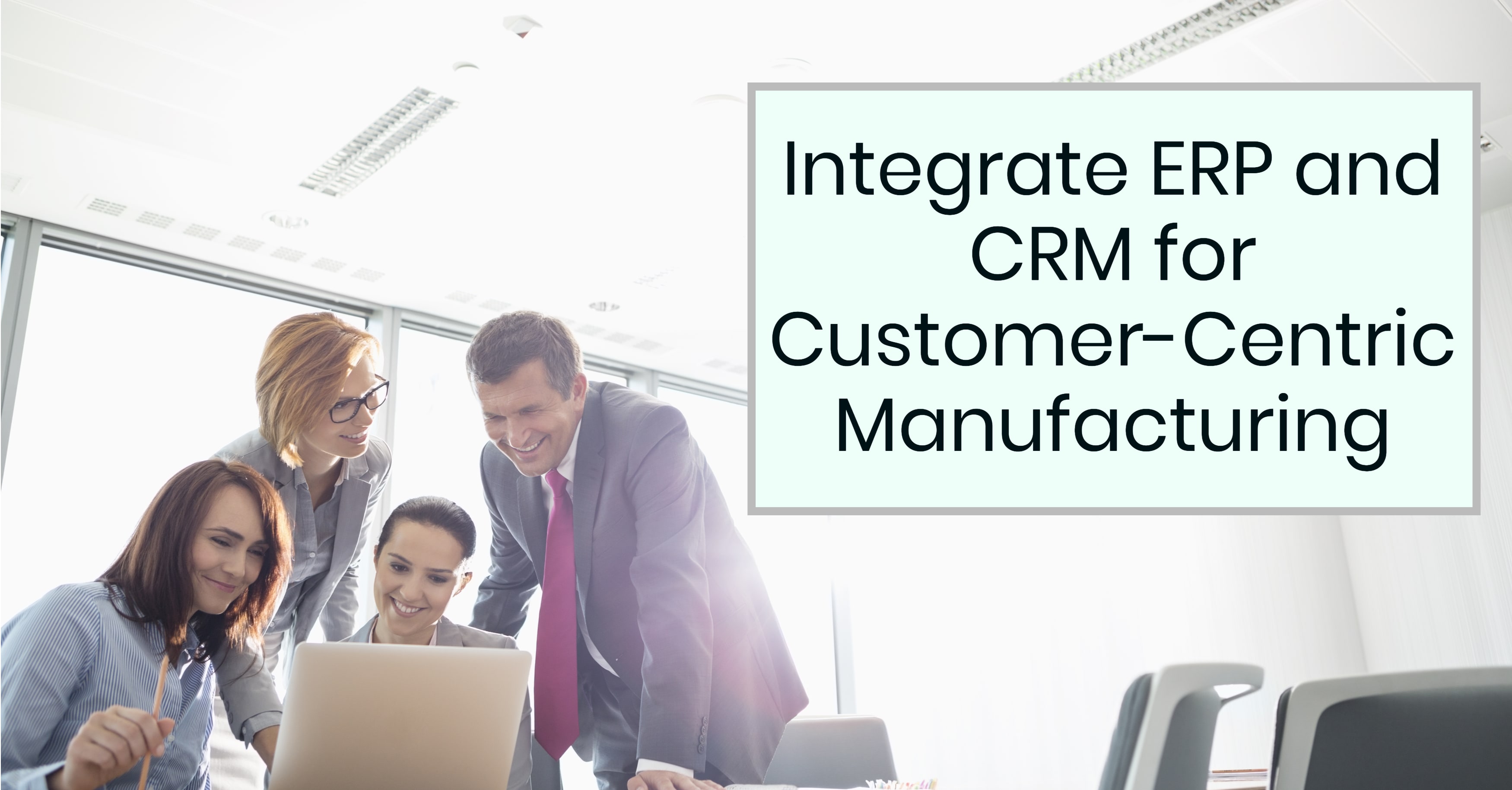 Customer-Centric Manufacturing
We tend to think of manufacturing as centered around the product. The higher the product quality, the higher the profits. Of course quality control is huge, but it's not the be-all and end-all of manufacturing. After all, what good is a well-made product if there's no demand for it? In our current marketplace, customers should replace the product as the center of manufacturing. At a time when customers have more power than ever, future success hinges on customer-centric processes.
Understanding the evolving nature of customer relationships, more businesses are seeking the optimal solution for transforming into customer-centric manufacturers. To serve your consumers while advancing your manufacturing processes and product quality, look no further than an ERP and CRM integration. Read on to learn what makes software integration the key to putting your customers first.
Deeper Insight
The masses of data compiling in our systems shouldn't be going to waste. Predictive analytics, AI tools and other sophisticated features empower software users to leverage historical data to achieve deeper insight into processes and enhance customer experiences.
ERP and CRM instances accomplish a considerable deal of instant data acquisition and analysis on their own. Epicor, for example, includes an Enterprise Manufacturing Intelligence (EMI) tool that automates data collection directly from machines to analyze performance of your equipment. Salesforce includes an Einstein suite that utilizes AI technology to deliver predictions to boost your sales team's efficiency. With its acquisition of LinkedIn, Microsoft Dynamics 365 enables users to import leads generated in LinkedIn straight into their CRM instance.
So, what's the benefit of integrating such robust tools into one solution? Your business can't truly enjoy a 360-degree view of your customer until back-office and front-office systems come together. An enterprise software integration consolidates critical data in one place, where users can leverage prospect, sales, support, finance and accounting data to gain a full view of your customer. Users enjoy easy access into consumer needs, order history and more to expand the customer base and establish long-standing relationships. Ultimately, ERP and CRM integrations eradicate departmental silos and enhance transparency to enable the customer to serve as the center of your company from the shop floor to the top floor.
Personalization
With the internet catering consumers' every interest with a plethora of easily accessible products and services, the customer has more power than ever. Winning a customer's business and continued loyalty requires manufacturers to go above and beyond to provide a premium experience. Where companies often distinguish themselves is in offering a fully personalized customer journey. An intensely competitive marketplace and the power of the consumer make it more important than ever to perfect customer relationships.
CRM platforms already come equipped with features that enable a personalized customer journey. For example, marketing and sales teams can utilize predictive analytics to determine the next best action in the sales cycle and individualize customer interactions. But when integrated with ERP, your CRM system is a sales-driving force. Salespeople can take advantage of ERP data to customize customer experiences. They have immediate access to order history, where they can see your most loyal customers, first-time customers or perhaps inactive repeat customers and use this information to determine how they should reach out to them for future business. Plus, if your software supports mobile devices, sales teams can access ERP data on the go to personalize client experiences out of the office.
Wrap Up
There's never been a more critical moment to structure your enterprise's processes, goals and products around consumers. Moreover, there's never been better technology to enable businesses to practice customer-centric manufacturing. An ERP-CRM integration includes the advanced features and modules that enable manufacturers to get the most from their customer data.
Datix is the only Epicor Gold Partner with a flexible, pre-built integration application that connects Epicor ERP with Microsoft Dynamics 365 CRM or Salesforce. We called our integration solution Unity because it unites software to streamline business processes and bring your enterprise together for enhanced performance and customer relationships.
For more information on how software integrations drive customer-centric manufacturing, reach out to the certified consultants at Datix today!
{{cta('770c1544-d87d-4acb-9fc4-7a25e1385094′,'justifycenter')}}