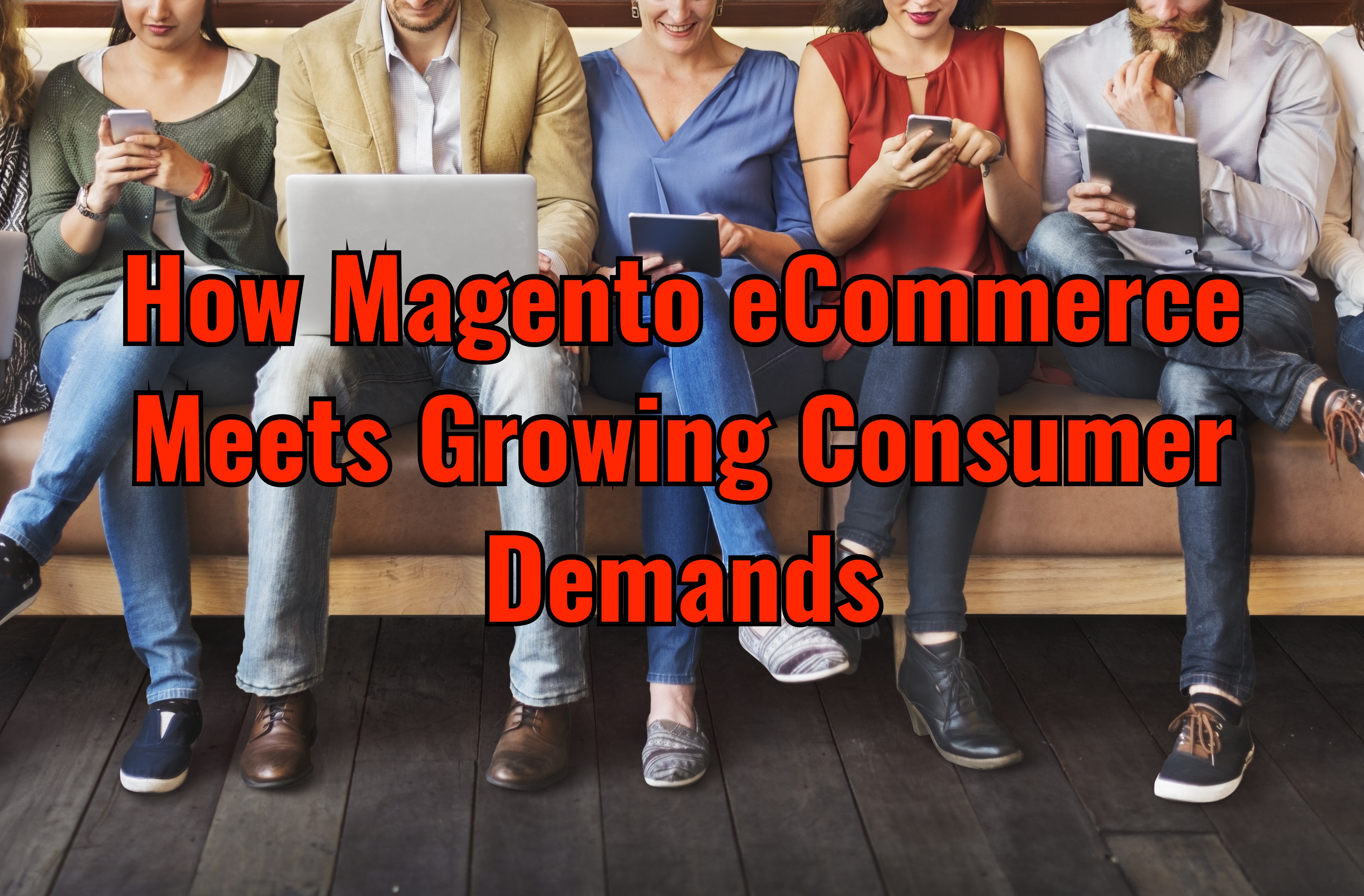 Magento is a Must in the Customer Revolution
Right now, the modern enterprise marketplace is undergoing a customer revolution. Customers have more power than ever to choose and influence products and services. They can buy just about anything, anywhere, anytime with a push of a button. With new opportunities popping up every day online, customers can easily take their business elsewhere and sound off on social media platforms if they are unsatisfied with their experience.
This revolution pressures companies to revamp their marketing strategies and customer service, and there is simply no better way to do that than through maintaining a strong online presence that allows consumers to interact with your products and services in just a few clicks. As the most popular eCommerce platform, Magento is the best vendor to achieve your eCommerce goals. Magento's open source code makes it a highly customizable and usable platform that can serve unique business needs and build one-of-a-kind web stores. With Magento, companies can launch dynamic, mobile-accessible online stores, develop captivating content and dominate social media. Here are just some of the ways Magento can help you meet growing customer demands.
Quick and Easy Shopping Experience
The biggest draw to online shopping is ease. We all want to purchase and receive products in the comfort of our homes or browse for products from the palms of our hands while out and about. Magento empowers companies to build functional online stores that attract customers on any device. Businesses can use built-in, responsive Magento themes to easily create one responsive site that works on all devices, a solution far more cost-effective and efficient than building sites for multiple devices. With one site, businesses can maintain consistent branding and increase SEO rankings.
If the biggest draw to online shopping is ease, then one of the biggest deterrents is slow websites. Page abandonment increases sharply between one and four seconds, and mobile users expect pages to load just as quickly on their phone as their desktop. After implementing Magento, companies report faster page load times across devices, which keeps customers on their pages for longer durations.
Customers want speed and usability in their online shopping experience, and with Magento, you can give customers exactly what they want. Better yet, Magento will provide you the same speed and usability as you build and maintain your web store.
Social Media
With Magento Social, businesses can transform social media channels into key marketing tools. 57% of consumers are more likely to buy from a brand they follow, making social media a crucial means to increase revenue. Magento Social allows companies to easily sync their product catalog with social networks, turning social profiles into storefronts. Updated content is a must on social media, and Magento Social helps you by providing the capability to create eye-catching advertisements from your eCommerce site in real-time with product images and descriptions.
Magento Social also offers precision targeting tools that help companies identify their audience. Marketers can work more efficiently with Magento allocating ad spending towards the best performing products and categories. Magento ensures that your social media posts will yield both likes and new customers.
Content Management
We've reached a point in human history in which we have a smaller attention span than a mere goldfish, so in order to keep customers on your webpage for more than a few seconds, companies need to maintain captivating sites. One way to do this is through Magento's content management features.
Magento provides drag-and-drop content management tools that enable users to easily create compelling sites and use built-in analytics to elevate their brand experience, giving shoppers personalized content and promotions. In addition, Magento empowers marketers to include third-party content, such as Google Maps and videos, as well as products in blog posts and promotion pages. With intuitive user interfaces, Magento enables even the most technically challenged employees to quickly publish striking web content.
Wrap Up
It's more important than ever to stay ahead of consumer demand. The vast online universe can seem impossible to navigate, but Magento helps companies seize the web's exciting opportunities to connect with new and existing customers in more ways than ever before.
However, Magento is not enough—you need a streamlined, integrated software platform in order to achieve automated business processes and offer the finest customer service. With Unity, Datix connects eCommerce with ERP or CRM to create an integrated platform that provides efficiency and transparency, thereby allowing your business to further satisfy customers.
Are you ready to give customers an optimal online shopping experience while increasing your business's efficiency? Contact Datix today to learn more!