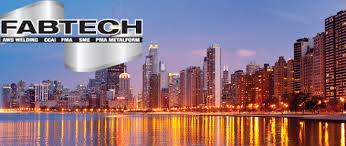 FABTECH 2013 took place in Chicago this year on from November 18 to November 21 at McCormick Place. This was a huge event, more than 40,000 people attended. Top attending companies included: Altec Industries, Boeing, General Electric, Raytheon, Tenneco and Whirlpool. A few employees from Datix, Inc. attended and were impressed by the capabilities of numerous vendors. FABTECH, as the name suggests, focused on welding, metal forming, fabricating, finishing, best practices and upcoming tech.
Manufacturing is going to be seeing a lot of new technology
FABTECH offers vendors a chance to highlight their technological prowess. Numerous companies demonstrated their advances in robotics. As precision improves and prices fall, companies of all sizes in various industries will have greater access to automation. At Datix, we are encouraged as to how this trend will help advance medium sized manufacturers. Michael LoBosco, a Datix Account Executive, mentioned numerous companies were showcasing their robotics capabilities. "I saw quite a few companies showcasing how their robots would improve assembly lines and plant floors," said LoBosco. Affordability are driving the growth of robotics in manufacturing, according to a ThomasNet report. Nearly 11,000 robots valued at $679.3 M were ordered from North American robotics companies in the first six months of this year. "The ability to have automation in these small and medium-sized business that couldn't justify putting conventional robots in place before is definitely a factor," Edwared Mullen of Universal Robotics USA, Inc. told ThomasNet.
An Audience Comprised of Various Industries
Based in Chicago, FABTECH 2013 brought companies from around North America to the trade show. Many small business owners, plant managers, manufacturing executives attended in the hopes of connecting with others in their industries. Lobosco recalls a variety of exibitors. "In terms of exhibitors: I saw tech companies, software, general equipment companies- welding, and assembly companies." Engineering students and company executives mingled during educational programs. This is the type of conference decision makers attend, to make choices and buy equipment, to set their business apart from competition in the coming years.
Industry Awareness
Manufacturers are major contributors to the North American economy. FABTECH had more than 500 new products debuting, which is a sign of health innovation and investment in technology. Guests were also able to attend the numerous workshops that were available. These included full and half-day sessions for a deeper dive on relevant industry topics. One session: Driving the Lean Transformation…Are You Prepared For Change?, taught guests how to approach customer satisfaction with Lean transformation concepts.
Talk, Connect and Learn
Talking to vendors, outside our industry was one way LoBosco learned more about the challenges our clients face. "All the companies I spoke with were extremely receptive in answering my questions," said LoBosco. "I was genuinely interested in what the company did spent time talking about where they thought industry was headed for the most part people were open to conversation." These type of conversations could lead to further opportunities. And can also be an excellent way to see how other companies are implementing technology in their processes.
Demonstrating the Advances in Robotics
FABTECH was filled with demonstrations, particularly in robotics and 3D printing. Flexibility in robotics will make investing in robots more accessible. LoBosco notes that the capabilities of the cutting machines and 3D printers were outstanding. Other companies were demonstrating the abilities and precision of their robots with one dealing cards and another with two competing in a game of chess. Manufacturers are going to have options to purchase interchangeable parts as well for even greater versatility.
Dynamic manufacturers are going to play a prominent role in the future of North American manufacturing. FABTECH was an invigorating and enlightening experience in highlighting the strengths of this sector. How has your company adapted to tech and automation changes?