Company: Berkshire Partners
Location: Boston, MA
Founded: 1986
Industry: Capital Markets/Securities
Solution: Microsoft Dynamics CRM On-Premises
Berkshire Partners has invested in more than 100 middle-market companies, through eight private equity funds with aggregate capital commitments of more than U.S. $11billion. In one year, the firm tracks and evaluates 400 potential investments.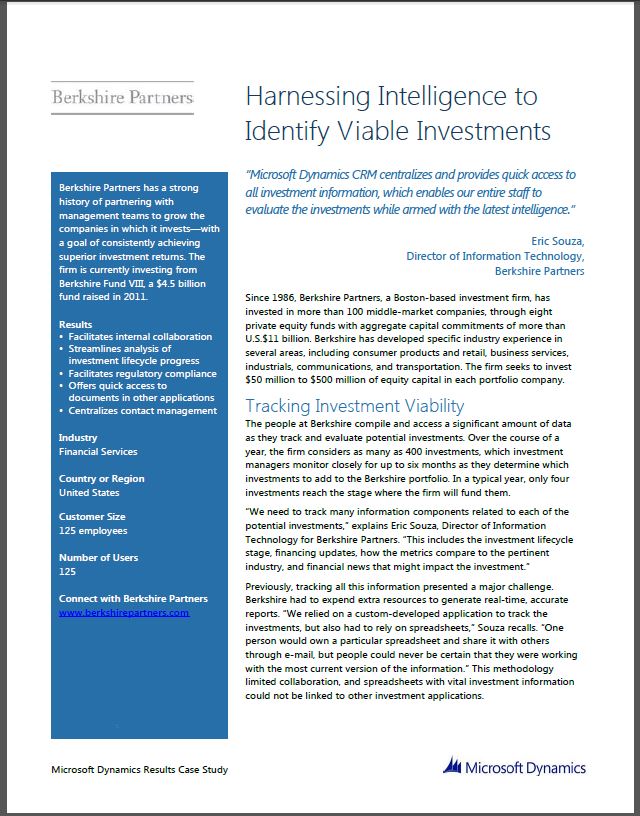 "We need to track many information components related to each of the potential investments," explains Eric Souza, Director of Information Technology for Berkshire Partners. "This includes the investment lifecycle stage, financing updates, how the metrics compare to the pertinent industry, and financial news that might impact the investment."
Prior to implementing a CRM system, they faced the challenge of tracking all this information. They were relying on a custom developed solution and spreadsheets.
"One person would own a particular spreadsheet and share it with others through e-mail, but people could never be certain that they were working with the most current version of the information."
Because of this, collaboration was limited and spreadsheets with investment information could not be linked to other investment applications.
Seeing their current system failed to track pertinent information, Berkshire's senior management team turned to an enterprise CRM solution. They also needed a way to keep track of their 15,000 contacts in a single database.
"As a 125-person company, we essentially had 125 separate CRM systems, with everyone using their own process and tools," Sousa said. "Creating a centralized CRM would eliminate a lot of duplicated effort in tracking investment and contact information."
Now, with Dynamics CRM, anyone can access the data and contacts. Reviewing high level investment data and client histories are possible prior to client meetings.
Why not Salesforce?
Berkshire selected Microsoft Dynamics CRM over Salesforce.com due to the option to deploy the solution on-premises or access it via the cloud. The company currently prefers the on-premises version and has the flexibility of being able to move to the cloud when business conditions warrant.
Why not consider a niche CRM solution?
Customized workflows Berkshire had created with other Microsoft solutions including Excel and Sharepoint could easily be integrated with the new CRM.  Microsoft Dynamics offers the ability to develop and build unique modules, too. This is often accomplished without needing to hire a .Net expert because many of the customizations leverage out-of-the-box programming functionality.
Interested in how CRM can help your business thrive? Reach out to our consultants today with any implementation questions.
Check out a free trial of Dynamics today!