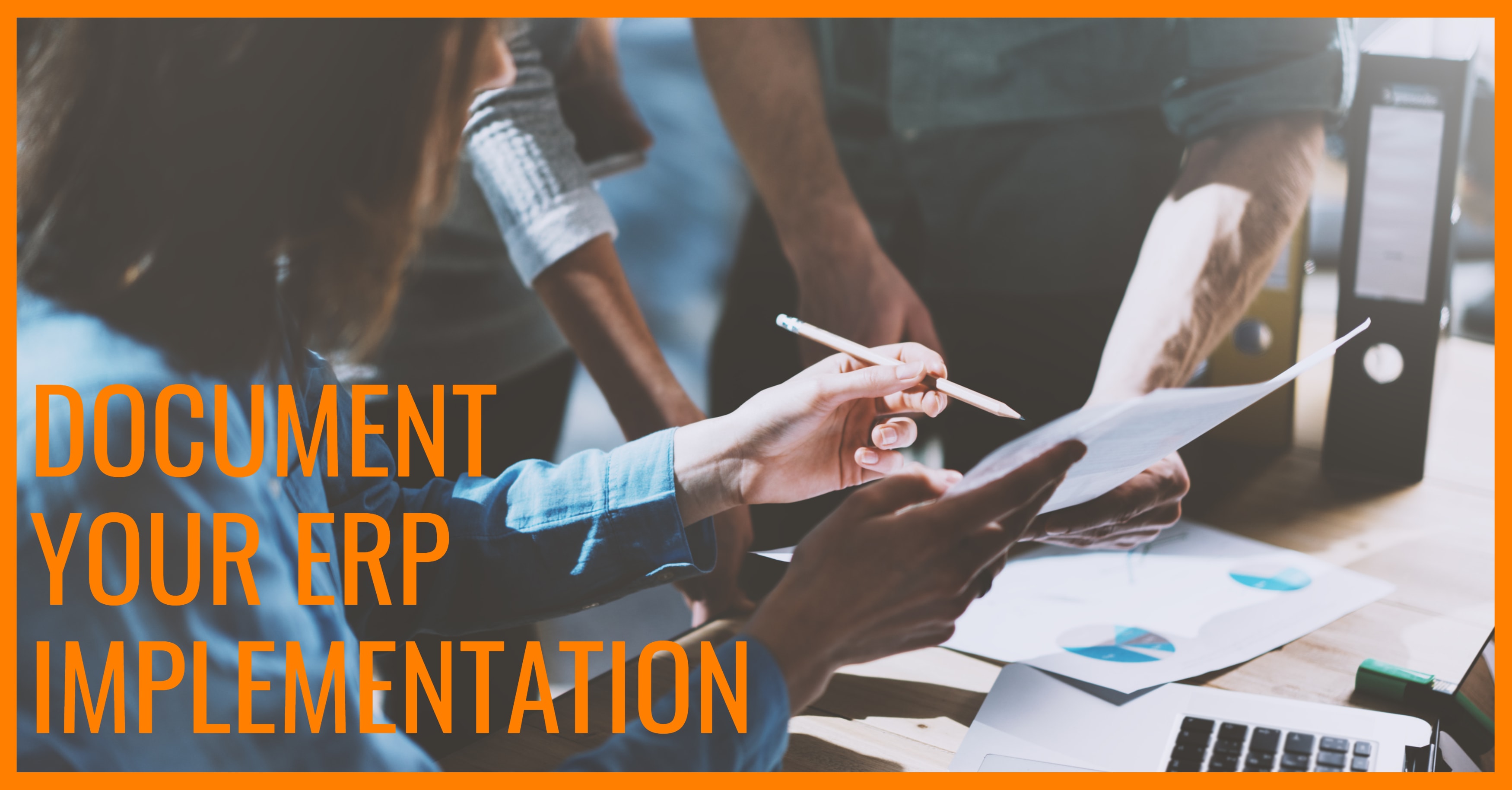 Document Your ERP Implementation. . . Or Else!
There's no denying that an ERP implementation period can be a busy time during a company's lifetime. Because of the amount of tasks that need to be done, businesses often try to find expendable stages that can be done away with to save time. Too often, the process to go first is ERP process documentation. The leaders of a project think, we know what we have to do, why would we spend extra time writing down every painstaking detail and reasoning?
Download our ERP implementation guide using the form over there!
Though it might be your first instinct to cut it, process documentation is non-negotiable. Your ERP implementation documents will create a single nexus which you can keep returning to whenever you have to re-do certain implementation processes and will be a comprehensive record on how your ERP was built—and why. They'll be invaluable when you have to train new hires on your vital ERP operations. During the course of an implementation some of the things you'll want to record include:
Essential ERP Documents
The requirements for your ERP: An ERP requirements document will be both a list of every process you'll need your new ERP system to do and an aspirational list of what you hope the software can do for your company. This document will not only be a blueprint for the selection process, but also serve as a great motivator internally. If employees understand what your ERP can do, there's no way they won't get excited about it.
An agreement with your vendor: Make sure you have a well-documented agreement of implementation responsibility with your software vendor. What kind of work will they do when it comes to implementation, and what will your team be responsible for? If, heaven forbid, something goes wrong during the process, you'll want to know who exactly will be responsible for fixing it. You'll also want to get in writing whether the vendor will be doing any maintenance post go-live or whether they'll make any concrete guarantees on the software's performance.
An implementation template: This will be the outline of every step of your implementation that can be passed on to future employees so that they understand how the system is structured and will be able to replicate it in the event of any upgrades or software changes.
Risk points in the software: These could be areas of data transfer between modules or between ERP and other systems like CRM and eCommerce. You'll want to know the specific areas where errors will be most common so you can remain vigilant about preventing them.
A plan for testing: In the run up to go-live, you'll want to thoroughly test every feature and module of your new ERP. Make sure you have a document of everything that needs to be tested so that nothing falls through the cracks.
If you don't document every process of your ERP implementation and the reasons behind it, you will eventually run into trouble, guaranteed. Say something goes wrong. You find you're getting a lot of errors in your quoting process, or a certain module just stops functioning altogether. However much we all think employees will stay around, there could be a time when the foundational architects of your system won't be at the company. What's more, because ERP software is a long-term investment, it will likely be around longer than many employees anyway. If something goes awry, will you know how to fix it?
Don't get caught in the headlights or set up future employees for failure. You'll find it will take less time to document your ERP implementation now rather than the time (and money) it could take to clean up preventable messes later.
Wrap Up
If you're getting started on an ERP implementation and feel like you could use the help of an outside consultant to correctly document every process, get in touch with one of our consultants at Datix. As an Epicor Platinum Partner, we've undergone countless Epicor ERP implementations over the years, and know which processes you'll need for success—and how to document those processes properly. Reach out to us today, and let us help you implement your Epicor instance from start to finish!
{{cta('770c1544-d87d-4acb-9fc4-7a25e1385094′,'justifycenter')}}