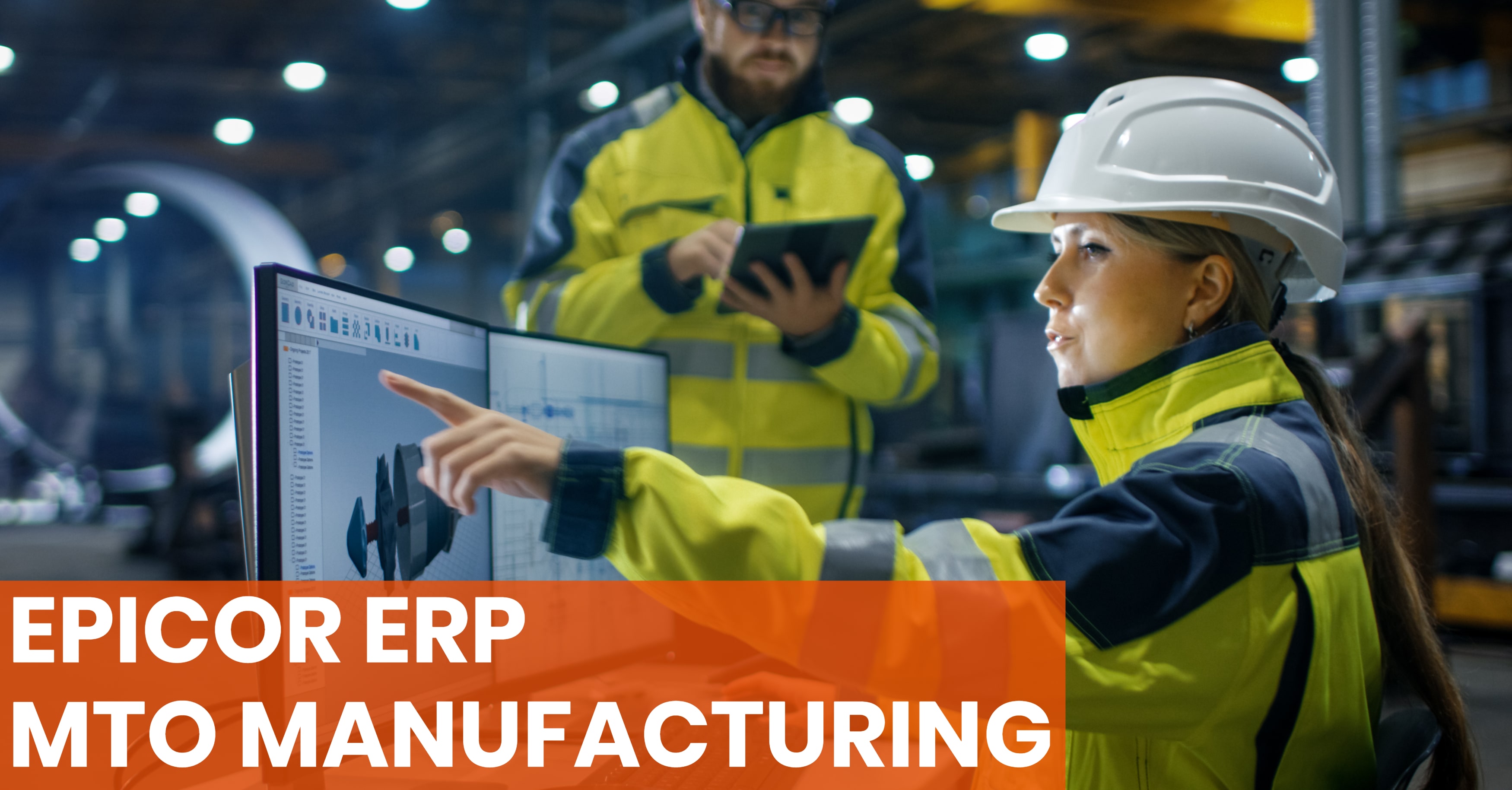 5 Crucial ERP Features for MTO Manufacturing
Manufacturing businesses are continually seeking to cut back on time and money at every step of their production process. With the advent and advancement of ERP and other shop-floor technologies, total waste reduction is more achievable than ever, no matter the size or scope of your organization.
Make-to-order (MTO) manufacturing, a process which links production orders to sales orders, reduces the length of the sales cycle and your inventory at the same time. Because all production is directly triggered by orders, make-to-order manufacturing seeks to get rid of the need for inventory storage and to only use exactly the amount of raw resources and machinery time that is required to make products that have been sold.
Perfecting make-to-order techniques requires smart use of resources, workflows and production lines. As such, a make-to-order manufacturer will need a lot of specific functionality in their enterprise software. If you're planning on following the techniques of MTO and are looking for the right ERP, there's some careful considerations you'll have to make. Here's what your ERP selection team will need to think about before committing to a vendor.
1. Sales Orders and Production Planning
Because MTO manufacturing mandates that all production is directly drawn from sales orders, the ERP software will need to have a watertight connection between your sales and production modules. Whether that's via automated triggering of orders when sales come in, or an integration between your CRM and ERP, make-to-order manufacturing ERP requires a seamless communication between your front and back offices.
2. Product Configurator
Because all customization and specialization requests will come from the customer before production ever begins on their order, your ERP will need to have a powerful configurator. It will need to be capable of handling your product line and instantly creating a bill of materials (BOMs) after tagging products and specific customizations. A robust product configurator should offer the flexibility to make changes to the order at multiple levels and automate tasks to maintain accuracy. This ERP feature enables MTO businesses to precisely and efficiently manufacture goods in line with unique customer needs.
3. Bill of Materials
ERP bills of materials are critical to the smooth running of make-to-order manufacturing. They will need to be produced quickly and accurately as soon as a sales order is submitted. The BOM should be directly linked to your production ordering and scheduling, as they need to kick into gear as soon as the order comes through. Your configurator should also be able to take the bill of materials for a certain product, order the necessary resources and then analyze the total costs and delivery estimates. If you run a particularly complex supply chain, make sure your ERP software can handle multi-level BOMs.
4. Supply Chain Management
To be able to fully commit to MTO manufacturing, you'll want to be able to manage your company's supply chain with your eyes shut. Every single link needs to be strong and contained within the same system. Production planning capabilities will need to be both extremely flexible and responsive, as make-to-order is predicated on actual—not anticipated—demand. You'll want everyone involved in the supply chain to be using the same system. With ERP, your whole company will be drawing from the same data, no matter where they are.
5. Returns and Inventory
In some cases, the customer isn't always right—or at least isn't always sure about what they want the first time. MTO manufacturing based solely on sales orders doesn't predict whether customers will change their minds after their orders or make a mistake. So, whether you have a specific return policy or not, you'll still need some sort of inventory management system. This system should include the serialization of products, identification of customizations and a strategy for dealing with warranties. This will help you stock returns efficiently.
Wrap Up
MTO manufacturing is designed to cut back on excess processes, waste and inventory on your shop floor. This means that your business is only ordering the resources it knows will be used and utilizing machinery to manufacture products that have already been bought. Epicor ERP can help you nail your MTO processes. The solution includes the above features as well as other critical back-office functionality to give you full control over your operations.
As an Epicor Gold Partner, Datix specializes in providing premier ERP solutions to support a range of distribution and discrete manufacturing processes, including engineer-to-order (ETO), make-to-stock (MTS), make-to-order (MTO), configure-to-order (CTO) and assemble to-order (ATO) production. Our certified consultants are well-versed in the needs of multiple manufacturing industries. No matter your size or unique processes, we've got the knowledge to ensure you get the most out of your software investment.
Find out how Datix can optimize your manufacturing performance from start to finish. Get in touch with our ERP experts today!
{{cta('770c1544-d87d-4acb-9fc4-7a25e1385094')}}