Epicor Is a Must for Small Manufacturers
Many small and midsize businesses (SMB) don't have the technology to support continued business growth. Overtime, they've compiled legacy applications and spreadsheets. These separate systems have created data silos that impede visibility. Furthermore, small manufacturers continue manually entering data and performing labor-intensive tasks, leaving little time to develop growth strategies.
With enterprise resource planning (ERP) software, you no longer need to rely on these outdated systems. ERP brings your data and processes together in a single solution, so you can stop wasting time navigating multiple platforms and documents. Once rigid and prohibitively priced, some ERP vendors have finally made their solutions accessible for SMBs.
A prime example is Epicor. For over 45 years, Epicor has crafted robust ERP solutions for manufacturers and distributors. Epicor ERP is comprehensive, scalable and cost-effective, making it the ideal system for small manufacturers. Below, we explain how Epicor ERP serves as the premier small manufacturing software solution.
Comprehensive
Without a comprehensive software platform, each department resorts to running operations on their own application. As a result, processes are disjointed, and data is maintained differently across each area of your business. ERP integrates multiple modules into one place, serving as a central hub for enterprise data. This enables manufacturers to streamline processes. Instead of manually entering data and reconciling reports, you can automatically gain real-time metrics and notifications to power accurate decision making.
Epicor has everything a manufacturer could need to run their business. As the diagram shows, Epicor includes a wide range of ERP modules and suites, including supply chain management, financial management, quality assurance and inventory management. It also has the flexibility to integrate with third-party platforms, such as Microsoft Dynamics CRM or HubSpot. This comprehensive solution allows each user to find the information they need, when they need it. Intuitive dashboards provide real-time notifications and sophisticated reporting at your fingertips. Whether large or small, your business can have it all with Epicor ERP.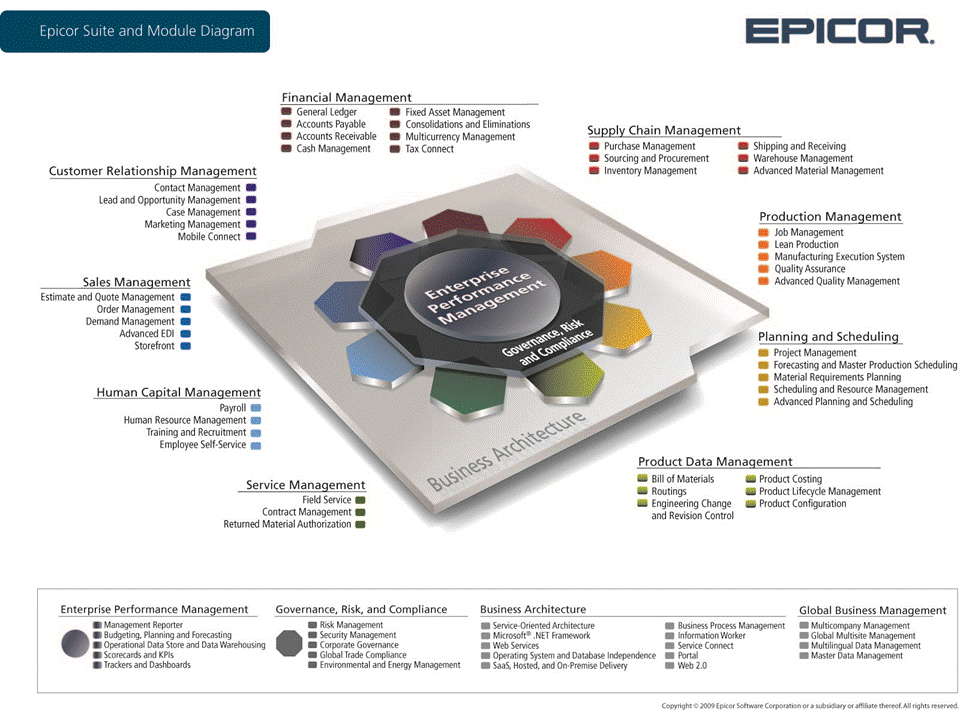 Click on the above image to view the full-size diagram.
Scalable
Your fragmented applications will certainly get in the way of manufacturing growth. As you add locations, departments and users, you will continue compiling systems and have little insight into what's happening throughout your organization. Furthermore, your spreadsheets won't be able to accommodate new products and customers or complex processes.
ERP, on the other hand, is built to expand with your business. Epicor continues to optimize its solution to support growing manufacturers. Epicor 10 provides four times the scalability of the previous version, so your evolution isn't interrupted by your software. You can expand this scalability even further by hosting ERP in the cloud. With the cloud, you can easily extend your ERP functionality across multiple sites and users without investing in hardware. Epicor has the agility to process big data and manage complex supply chains, allowing your small manufacturing firm to grow sustainably.
Cost-Effective
SMBs can't afford to waste their investment. Several ERP vendors still price their solutions high, delaying time to value. Furthermore, there's the possibility that your solution won't deliver the desired improvements, preventing you from ever seeing a return on your investment.
With Epicor, you don't have to worry about losing your investment. G2's user-reported pricing data shows that Epicor ERP ranks in the 35th percentile for ERP costs, putting it below the price of most ERP solutions. Additionally, Forrester's Total Economic Impact (TEI) study found that Epicor delivered a composite 264% ROI to manufacturers. Epicor is a reliable ERP solution that'll add measurable value to your enterprise. Once you replace your existing methods and platforms with the software, you'll start adding up the savings.
Image credit
Wrap Up
Epicor is the comprehensive, scalable and cost-effective solution that small manufacturers need, but there's still an issue to address. SMBs don't have the same internal IT resources that are available at large organizations. How can they successfully implement ERP without in-house IT professionals?
Answer: By teaming up with an Epicor Gold Partner. Datix has over 20 years of experience helping manufacturers and distributors of all sizes. Our certified consultants will work with you from start to finish to ensure you're enjoying all the benefits of Epicor ERP. We provide training, fixed fee implementations, cloud hosting and more to fully support your growing business.
Now that you know what makes Epicor the premier small manufacturing software solution, are you ready to start your implementation? Contact Datix today to learn more about implementing Epicor ERP!
{{cta('770c1544-d87d-4acb-9fc4-7a25e1385094′,'justifycenter')}}