ERP Modules for Connected Manufacturing
Manufacturers are overwhelmed with complex supply chains and industry demands. To tie together all these moving parts, many business leaders are investing in enterprise technology to create a connected manufacturing organization. Connected manufacturing is all about harnessing data and process automation to align every facet of your business to optimize visibility, efficiency and control. Pursuing greater connectivity is critical to gaining a sizable advantage over your competitors.
However, several manufacturers are going about enterprise connectivity wrong. Businesses, particularly in the small to midsize range, will often add on rigid, limited software applications as needed and attempt to integrate them. This creates a couple problems. First, these companies are often still operating legacy systems that won't successfully integrate with new software, making the project infeasible. Second, constantly connecting software applications creates an undue burden for your IT team, and many SMBs don't even have any IT personnel to take on the tedious task of executing and managing your integration.
The most cost-effective and productive way to become a connected manufacturer is to take out any legacy platforms and implement a comprehensive enterprise resource planning (ERP) solution. Top-of-the-line ERP software includes a diverse array of modules that take care of core manufacturing concerns, such as accounting and production planning. Epicor® ERP is particularly equipped for connected manufacturing, offering robust modules to streamline your organization from top to bottom. Below, we describe three of the most critical Epicor® modules for connected manufacturing.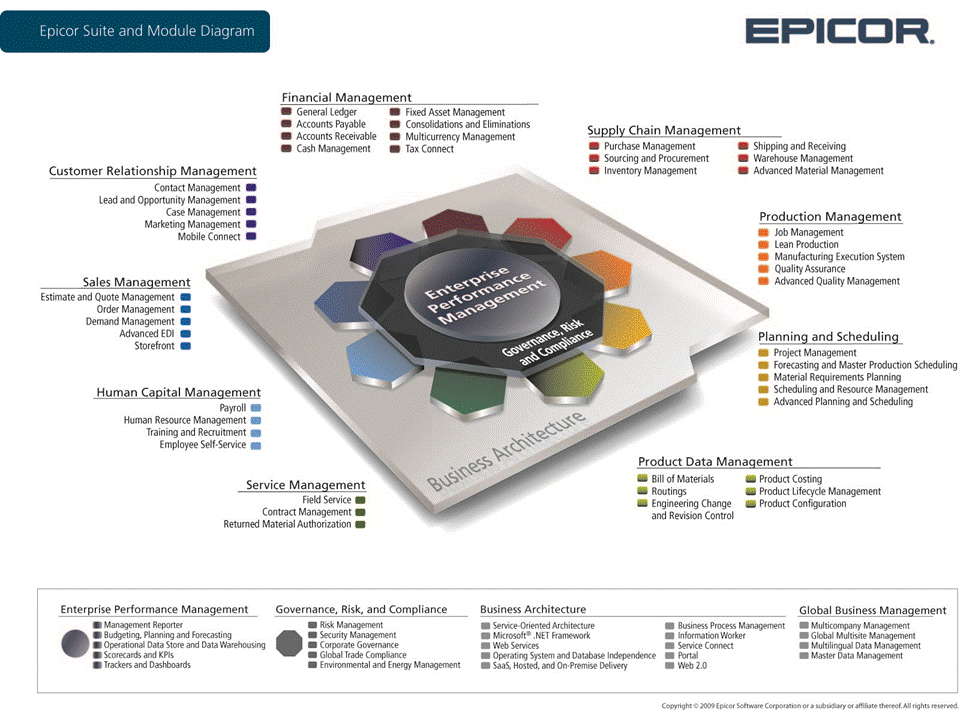 Click on the above image to view the full-size diagram.
Supply Chain Management
Many of the primary issues and concerns of supply chain management have been in place for decades, such as improving productivity and cutting waste. What's changed are the methods for attacking these pain points. Innovations in enterprise technology have given birth to the digital supply chain, which uses advanced solutions and data to maximize visibility and efficiency. Additionally, globalization and higher customer expectations have added more complexity to supply chains, making digitalization and connectivity imperative for modern manufacturers.
Epicor's® Supply Chain Management module automates your processes and delivers full transparency. With a full range of capabilities in one place, the module helps you link every stage of the supply chain and reduce anything that doesn't add value to your business. Some of Epicor's® premier functions include:
A Supplier Connect feature which allows suppliers to utilize a self-service portal to answer requests

and confirm changes to purchase orders, streamlining communication between you and your suppliers

End-to-end

lot trac

king and traceability to help you maintain accurate inventory levels and maintain global

compliance

The ability to automate part suggestions, quantities

and

suppliers to buy from in order to meet material requirements and on-time delivery schedules

User-friendly integrated demand forecasting to

reduce inventory, increase fill rates and optimize customer service
Advanced Manufacturing Execution System
Shop floor managers must diligently uphold product quality and improve asset performance. But with multiple moving parts across the production line to track, managers can't be in several places at once. It's up to their ERP software to provide the real-time insights critical to optimize manufacturing performance, attack issues on the spot and avoid unscheduled downtime.
Epicor's® Advanced MES (Mattec) module is designed to do just that. Advanced MES equips users with accurate shop floor data at all times to maintain high levels of quality, increase efficiency and reduce waste. With automatic insights, you no longer have to worry about error-prone manual data entry; you have all the information you need to create a connected manufacturing floor. Epicor's® Advanced MES capabilities include:
Out-of-the-box reporting and analytic

s to give users

easy-to-digest insights and metrics, such as OEE and downtime analysis

Automated alerts for machine conditions, cycle, process variations, efficiency and scrap

, so you can immediately

take action

to solve problems

Automatic part qualification and rejection, statistical quality control (SQC) and statistical process control (SPC)

to ensure

pristine product quality

Real-time scorecards and monitoring of energy consumption

to help you reduce consumption and cut costs

IoT

tool that delivers

real-time performance metrics of machines and assets, allowing you to locate bottlenecks and

appropriately schedule preventative maintenance
Product Lifecycle Management
Today's manufacturing processes often consist of extensive back-and-forth conversations and requests between your business and your client. Over the course of a product's lifecycle, you could experience several engineering changes and take on multiple tasks at once. If you aren't keeping all the data and documents about your product in order, you could easily lose track and damage your customer relationships.
Epicor® Product Lifecycle Management serves as a central repository of documentation for your entire product history. Vital information is maintained and updated from cradle to grave to promote accuracy and efficiency throughout engineering and production. Some product lifecycle management functionalities include:
Integration with 12 computer-aided design (CAD) systems and various electronic design automation (EDA) systems to

provide complete product documentation

A secure electronic vault

and tight security to prevent unwarranted access

Full

support of engineering change order (ECO) processes

, with

modifications to CAD models and drawings documented in a

complete change history journal

Intuitive search and view capabilities to help engineers quickly locate and view documents

Ability to automatically generate BOMs for

parts from

CAD files,

promoting greater precision

Wrap Up
With tightly integrated ERP modules, you can transform your disjointed business into a connected manufacturing enterprise. Epicor® ERP brings together multiple features to add greater agility, control and visibility from the top floor to the shop floor. The software results in measurable improvements, such as shorter cycle times, better order fulfillment rates and less scrap and rework.
Datix has been committed to elevating manufacturing performance for over 20 years. Our wide range of ERP solutions and services makes Datix a reliable partner in manufacturing growth from start to finish. Our certified consultants are committed to doing whatever it takes to transform your business through software.
Learn more about what makes Epicor® ERP essential for connected manufacturing. Get in touch with one of our ERP experts today!
{{cta('770c1544-d87d-4acb-9fc4-7a25e1385094′,'justifycenter')}}