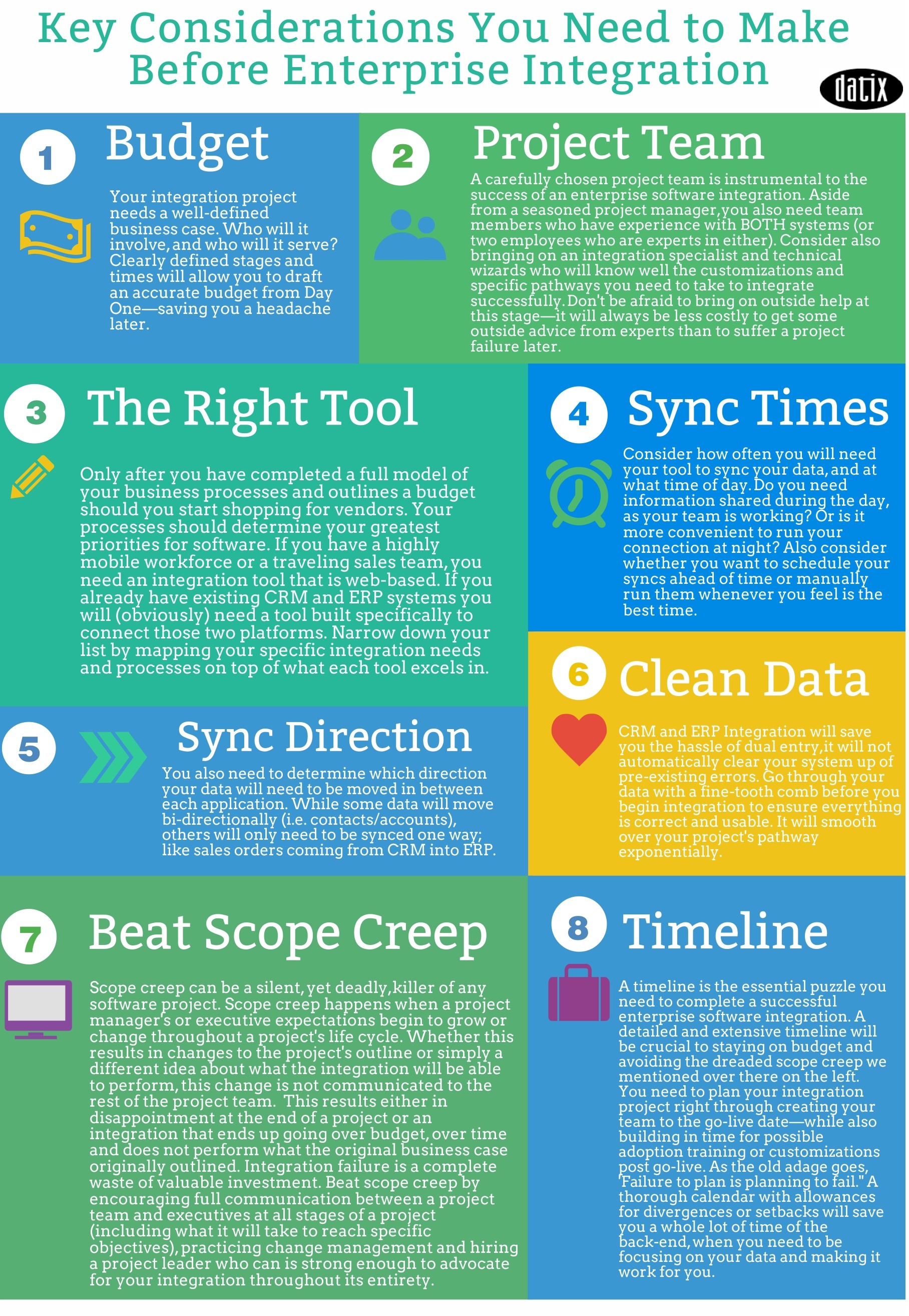 ---
Enterprise Integration Through Software
If the whole varied and diverse world of enterprises can agree on one thing, it is that the customer is king. And as with any other successful business (B2C or B2B), we know that you are constantly focused on your customer and delivering the best possible goods and services to them. That's part of the reason why companies take on the huge investment of CRM and ERP software, to streamline their processes and ultimately create a better experience for their clients and keep them returning. However, many of these enterprises haven't yet thought to integrate their ERP and CRM systems and receive even greater return on their investments and value on their company data.
Integrating your front and back offices by syncing your ERP and CRM systems is one of the most transformative steps you can take towards improving your relationship with customers. By consolidating all of your company's information into a single source of truth you can monumentally increase the value of every piece of data. Your sales team will know exactly how much inventory you have in stock so they can give clients the most up-to-date quotes and delivery times, and your shop floor knows if they need to increase production capacity to meet a sudden jump in upcoming demand. Here are even more reasons you should be working towards total enterprise integration between CRM and ERP.
Real-time mobile access to data
Support quote to order between CRM and ERP software.
Link eCommerce features in your ERP with customer support in CRM to get a 360-degree view of your customers.
Provide billing information to CRM
Synchronize product catalogs
Share key data with access portals, like the one Epicor has so your clients can track their orders and even pay if they need to.
How to Get Started 
So, now that you've been fully convinced that you need CRM and ERP integration, you must be wondering how to get started. That's what the above infographic is for. Although integration projects may be less time (and budget) consuming than the initial implementation of enterprise software, they deserve just as much careful consideration, time and employee effort to truly be successful. Our 8 points above are not necessarily in order, but they all must be completed and thought over carefully before beginning an enterprise integration project.
After all, just as poorly implemented software won't do anything for your business, a hastily done integration won't return any of the value or benefits we talked about above; you must first do the work to make sure you have people on your team, have really picked through and cleaned up your data pre-implementation and have a thorough budget and timeline so that your executive team stays informed on the project and doesn't develope misaligned expectations. The time you dedicate to pre-planning a software implementation will be time (and money) saved from redoing or fixing errors in the connection post go-live.
So, take some time to look over the infographic and start planning out your fool-proof strategy to succeed at enterprise integration. If you need any more help, leave a comment below, or contact an expert at Datix today. We have developed our own integration products, Datix Connect and Datix Unity, so we live and breathe enterprise integration and can help with any questions you may have.