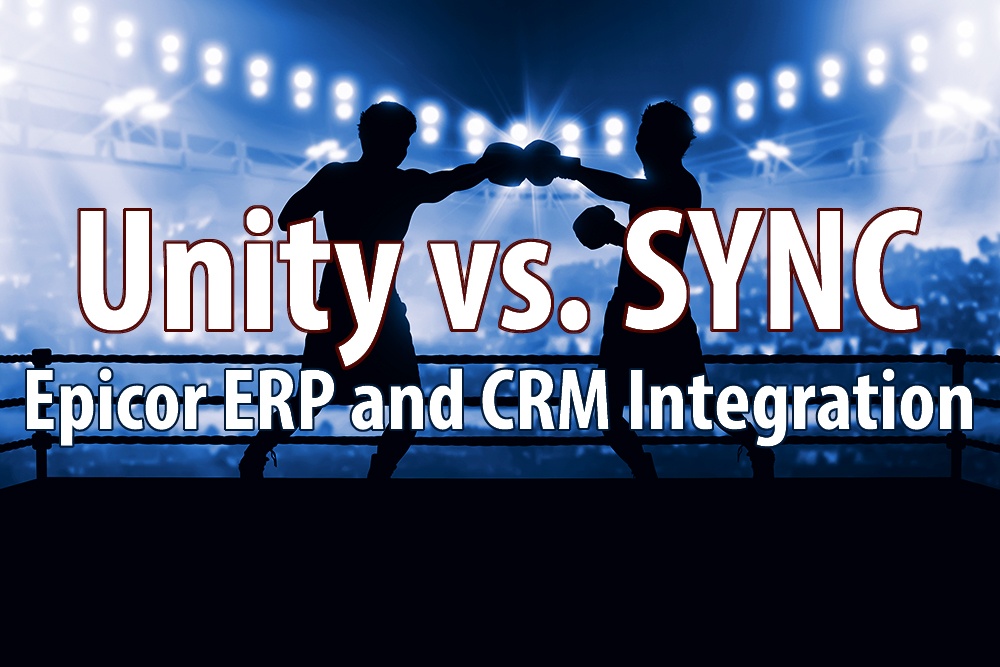 The world of enterprise software is booming. New systems are popping up every day to support every kind of business process imaginable. Instead of just splurging on one all-encompassing system that may do some things well and not others, businesses are opting to go the best-of-breed route and choosing specialized systems for every different process. That means building big suites of different platforms—CRM for their sales team, ERP to run the production lines and warehouse, an eCommerce system to run their online store—the list goes on. Too many of those same companies run this jumble of software solutions without ever actually integrating them. They don't realize the benefits that can take place when you truly become an interconnected enterprise. If you have your front and back offices working in silos, you'll no doubt find errors in your data when the two teams try to collaborate or, even worse, have disconnected business processes.
Datix believes in the power of Epicor ERP and CRM integration so much that its consultants built Unity, a pre-built integration platform that provides all the necessary framework for businesses to seamlessly integrate their vital enterprise software. Commercient's SYNC claims to offer a similar solution for Epicor ERP and Microsoft Dynamics 365 or Salesforce CRM integration. On the surface, the two products might seem to be doing the same thing—after all, how different can an integration for Epicor ERP and CRM software really be? You might be surprised, however, to learn about the many ways and methods one can integrate Epicor ERP and CRM software. Unity and SYNC differ wildly in their integration deployment styles. Here's a quick breakdown of the big differences between the two integration options.
One Provides for a Reduced CRM Implementation Time and Cost, Faster Achievement of ROI
SYNC touts its use of the standard Opportunity and Quote objects in CRM, but they don't tell you that the remaining objects are completely custom. They use the Custom Objects feature in Salesforce or Microsoft Dynamics 365 CRM, which allows you to take your back-office data and display it in Salesforce, but what about the rest of CRM? All those great features you were shown in that fancy demo when you decided to buy Salesforce or Microsoft Dynamics 365, now need to be redone through customizations.
Datix offers an actual solution in Unity as it is an actionable and constructive integration platform. Unity uses existing standard Salesforce or Microsoft Dynamics 365 CRM core objects with custom supporting data specific to Epicor ERP only for those objects that don't already exist in CRM. With Unity, your CRM administrators can quickly and easily get to those configurations you promised your sales and marketing teams. All that sexy CRM functionality is still quickly at your fingertips, no duplication of effort needed. Isn't that the whole reason you decided to integrate Epicor ERP with your CRM anyway?
One is an Actionable Integration Embedded in YOUR Business Processes
Commercient's SYNC does use CRM's API to push data into CRM directly from querying your Epicor ERP database, which will enforce any business logic you've implemented in CRM. For those of you who are a bit more technical, you might already know the dangers of reading your Epicor ERP database directly. Direct reads to the database will create SQL Record Locks, which can affect your Epicor ERP's performance as well as interfere with or potentially stop your Service Connect workflows, other integrations, and most important, your Epicor ERP users through the standard interface. Oh, and the so-called "bidirectional sync" merely drops a file to your IT team on a scheduled interval with changes from CRM so YOU can manually load them into your Epicor ERP instance.
Instead of just being able to view data from Epicor ERP in CRM, Unity empowers your business by joining the most powerful forces of Epicor ERP and CRM together by embedding the integration inside YOUR business processes. Because Unity uses both software APIs, it can create and update records in Epicor ERP and CRM automatically and in real-time. Unity puts no more load on either CRM or Epicor ERP than a standard user keeping your vital enterprise systems operating at peak performance. On-premise, single tenant, and multi-tenant Epicor ERP deployments are all options for Unity. Use of the APIs enforces the business logic you've enacted for your business on both ends of the equation! For example, if you intend to use Epicor ERP's deep Custom Quoting capability, salespeople can utilize CRM for identifying and creating opportunities in CRM. Unity can then bring that data to Epicor ERP for your Sales Engineering team to configure and price in Epicor ERP. Unity will then return the quote information back to CRM for sales to use in their pitch to the prospect. Do you have custom BPMs that fire on certain actions in Epicor ERP? No problem! Unity will work and not bypass them!
Only One is a One-Stop Shop and Certified Partner
Datix is currently the only consulting practice certified as a partner of both Epicor ERP and Salesforce, oh yeah, we're Microsoft Dynamics 365 certified partners as well! That means the integration solution was built by a team highly experienced in these best of breed systems, who can navigate the native and custom rules of the software and follow best practices for the systems and your business across the board. The result: the team behind Unity can make use of both applications, and their expert-level knowledge in developing and customizing those platforms to build a custom-fit CRM and Epicor ERP integration that aligns perfectly with your business. For example, many companies use Epicor ERP's powerful Multi-Company environment capability. Datix is uniquely positioned to deploy Unity and ensure the proper Multi-Company configuration in your CRM environment to ensure your viewing and security rules match your desired setup.
Commercient has apps in Salesforce's certified AppExchange. Commercient touts working with 25+ ERPs and 3 CRMs. Ask yourself, do they really know Epicor ERP and your needs? Better yet, ask for an integration demo, but make sure it's with Epicor!
One Allows More Flexibility and Peace of Mind
Since SYNC has a wide area of expertise using all those ERP and CRM systems, they have had to standardize the forms and layouts of CRM to account for all those fields and variables. The result is a very rigid interface with tons of data that may or may not be useful or applicable to your team.
Unity provides a flexible solution tailored to your business. Need a few extra custom fields? Want to execute the integration at a certain point in the opportunity workflow? Does customer service need to see all the quotes in Epicor ERP associated with an opportunity in CRM? Do you have non-inventoried items that need to be ready for invoicing (aka shipped) right when an order is placed in CRM? No problem! The Unity support team is a quick call or email away and can make this happen for you quickly. These are just a few examples of the power and flexibility the Unity solution has to offer.
While both Datix and Commercient have developed an integration for Epicor ERP and CRM, only one can provide a truly a 'hands-free' and seamless integration SOLUTION. The answer is clearly Unity. If you'd like to reduce your risk for integrating these platforms or any other platform with Epicor ERP, contact the experts at Datix today!