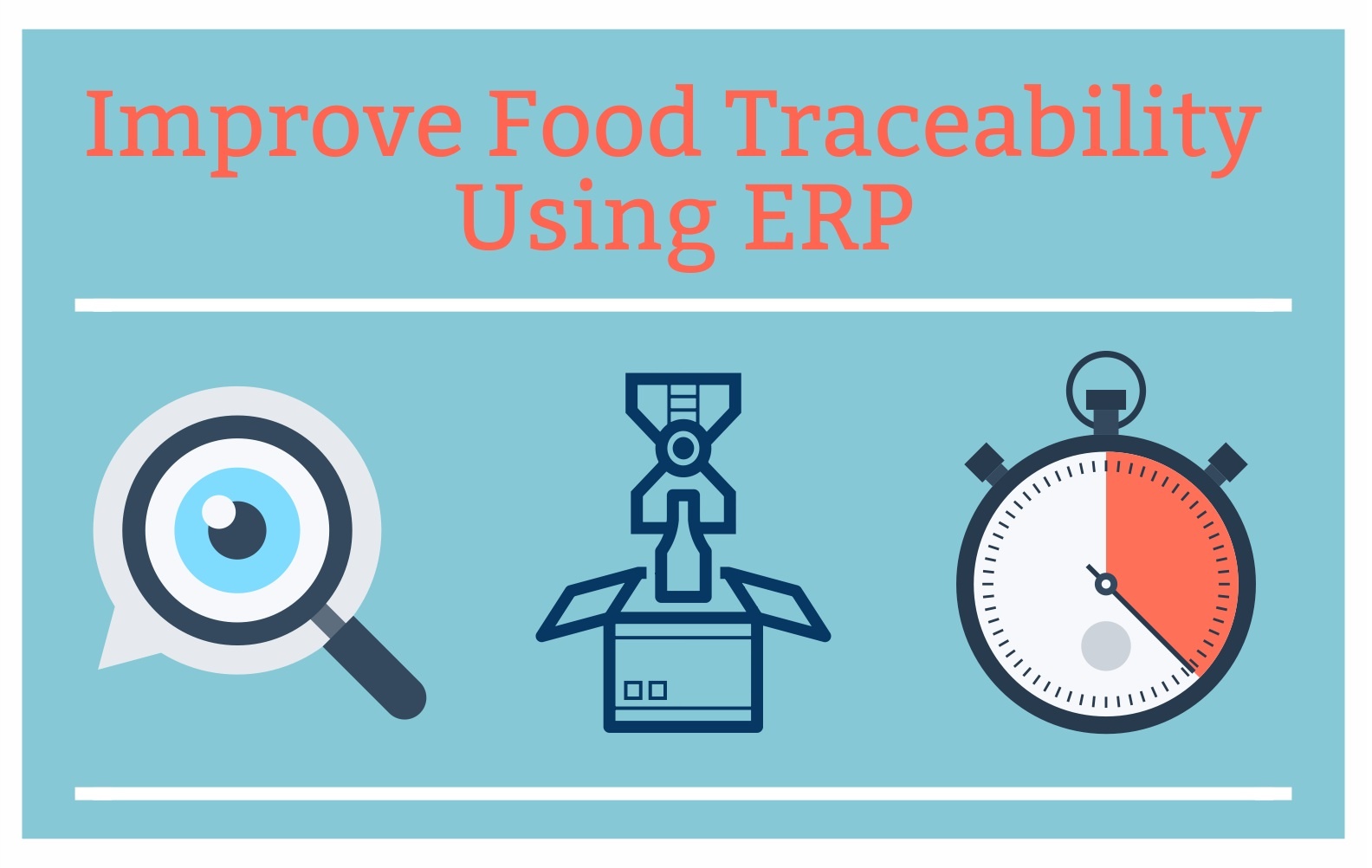 ---
Does your plant yield the safest, highest quality products? If there was an unforeseen outbreak within your facility and you had to provide all the tracking and reporting around food traceability for the FDA; how long would that take? Are you currently taking advantage of technology to mitigate these risks, and maximize profit, rather than just waiting around for a fire to start before you put it out? As a food and beverage manufacturer, these are the critical questions you should be evaluating yourself on every day. In a competitive market where one food safety slip-up could be the difference between a customer picking up your product or passing it over. The modern consumers wants to be able to know exactly where their food came from. Will you be able to tell them?
Food traceability is the hot button in the food packaging industry…
Food manufacturers throughout North America are developing substantial capabilities to trace food from the farm to the table in response to market interest. Increased regulation has created a high-demand for increased transparency in to these processes, and the implementation of enterprise software and technology has provided access to this data like never before.  Conversely, food safety problems, supply chain concerns, and the demands for improved traceability systems are becoming greater challenges to those in these industries. In other words, the more traceable data food processing plants have available to them, the more they can limit the consequences of a product recall or withhold products from market; however many manufacturers still remain ill-equiped to handle and track these insights. Ultimately, businesses could live and die by their ability to track and report this data. The technology is out there to help food and beverage manufacturers grow their business immensely while still remaining compliant—but many have taken advantage of it.
"Ultimately, businesses could live and die by their ability to track and report this data"
Over the last decade, U.S. lawmakers have drafted several pieces of legislation aimed to prevent food-borne illnesses as concerns about food safety and traceability have entered the public eye. The Center for Disease Control reports 1 in 6 Americans get sick and 3,000 die of some form of foodborne illness every year. Furthermore, damning evidence from the Recall Execution Effectiveness joint study revealed on average companies lose $10 million in lost revenue, legal expenses, and brand damage. As a result, the Food Safety Modernization Act was passed in 2011. The document ensured the U.S. food supply was safe by shifting the focus of federal regulators from responding to contamination to preventing it. One of the best practices outlined, implementing an ERP system, was listed as a means to monitor operations and optimize the scope of food processing. As the last rules of the FSMA were drafted and finalized just at the end of last year, it is important that manufacturers keep the Act firmly in their mind as they make business and software decisions. It's no secret that not all software is created equal, so how should manufacturers approach upgrading, implementing, and configuring their ERP solutions? The best ERP system for those that face food traceability issues should inherently be able to perform the functions most critical for food traceability and federal compliance without the need for costly and onerous customizations. These necessary functions include processes like; vendor management, inventory management, human capital management, and more. The ERP should provide the ability to track and record every step of the food and supply chain without labor intensive data input, and should be responsive to rapidly emerging issues and challenges that can arise on the shop floor.
Recalls can really cost you.
The huge financial risk of food recalls and audits should be at the forefront of your mind when thinking about food traceability and ERP software for your business. Recalls can be vast in scope and are extremely costly; yet many companies are not investing in food safety and compliance until after they have come up against a problem and dealt with significant loss. Software can be your insurance policy, and not your fire extinguisher. Once a brand has summoned a recall, it could take years to repair the damage, both in terms of reputation and cost. Manufactures not only lose revenue in the short term, but some even go bankrupt or out of business altogether. FDA audits require you to finance the work of all of their auditors—hundreds of dollars per hour for each one—and provide extensive production history that you need to have available. One of the most glaring illustrations of food and beverage companies failing to take advantage of technology? Nearly 20% of recalls are actually due to labeling errors. Labeling is in fact one of the easiest functionalities to get right; it can easily be tracked without spreadsheets or intensive man-hours using the right processes and technology. The secret is repeatable, automated processes based in best practices and driven by historical data. Many organizations use antiquated processes with an ill-equipped ERP, and just stand in p;ace with that approach until it fails.  These errors could ultimately cost the organization hundreds of thousands if not millions, or worse; bankrupt the manufacturer completely, and you won't be aware of how tenuous the situation is until you fall through the sinkhole.
How to use inventory management inside of ERP to help…
Inventory management applications inside of many modern ERP software packages are critical components for tracking inventory in real-time and storing all of information about your inventory levels. Forecasting tools can use an intuitive system of weighted averages, standard reports, graphical views, and user-defined formulas to identify a unique demand pattern of each material on your shop floor. Because food production is sp heavily dictated by consumer demand, these types of tools can safeguard processing plants from excess materials with limited shelf life. If excess materials expire too soon, other materials are susceptible to cross-contamination, and you not only have a food safety problem, but also a lot of product lost to waste. And if too little material is available, formula and recipe modifications may occur as a result, affecting the quality of your product. ERP is the simple technical solution to a large overreaching challenge that many currently face.
An example of how the tech works: Lot recall analysis capabilities in ERP modules can identify and manage where raw materials and packaging came from, product transformation, raw material consumption, and where the finished goods were shipped. Also, the product life cycle management tool helps identify other recipes that may contain the same contaminant so that you can begin pulling product and shutting down the right production lines immediately. 
This kind of tracking and measurability is exactly the kind of help that your ERP can provide in the battle for greater food traceability. If your current ERP can't provide this kind of responsiveness, reporting, or detail easily, it may be time to evaluate an upgrade or new re-implementation. Many ERPs that are currently implemented inside small manufacturers simply weren't designed to support the very specific traceability challenges and issues that food and beverage manufacturers face, and those businesses suffer trying to fit a square peg into a round hole when it comes to software and their business processes.
What's holding everyone back?
Stephen Nightingale, of Food Safety Magazine, explains why technology for tracing food production may be constrained for emerging businesses by three associated factors; first is cost, which is important in the low-margin, high volume food business. The second is skepticism, by some manufactures and consumers, about whether the symbolic benefits of traceability to the consumer are accompanied by meaningful consumer benefits; such as increased product safety or availability. Lastly, Nightingale says facilitating food traceability back to the manufacturer will prompts tracing product liability back to the manufacturer, as well. Food traceability for product safety and quality is a necessary part of the food business. It's essential for quality control and prevention systems to isolate sources and control problems. The traceability, specifically in batch processing and food packaging, minimizes potential damages for individual manufacturers. Traceability also minimizes damages to the entire food industry, as well as upstream and downstream industries by bolstering consumer trust. Investing in improving a manufacturing ERP so that it is optimized to handle food traceability issues is a proven way to improve processes and increase profitability. Ultimately, the ROI for these kinds of projects can be very high if executed properly. Sooner or later all manufacturers will likely move in this direction—it's in your best interest to get started now, if you haven't already.
Which ERP solution is best for your business?
Because each business is unique and has their own specific processes for production, there is not usually one "best fit" for mid-sized food processing plants. You should be looking for a system that can accurately trace unique data consisting of order dates and times and serialized sequence numbers for batch processes throughout the entire flow of production.  Resource software capabilities link all sections of the supply chain better, manages inventory turnover, quality assurance, and recipe configuration. In the case of a tainted batch, traceability software has the ability to drill down into records and batch sequences for auditing and transaction history. This makes the entire process easy and provides a new level of comfort for manufacturers around food traceability. Regardless of your ERP choice, discrete manufacturers in the food industry must become more conscious in understanding why enterprise software is the foundation for supply-chain traceability. The information outlined in this article should provide a proper baseline for understanding of what your ERP needs to be able to do in order to optimize a manufacturers food traceability processes.
Datix has transformed dozens of business operations through software across a wide variety of industries for over 18 years. For more information on ERP software and how to leverage a system to optimize food traceability operations in your plant please contact us. We can help with whatever stage of an ERP project you're currently in, whether you're just start to select a vendor or need go-live support! Don't forget to download our free white paper on Plex ERP in the cloud for food and beverage manufacturers using the form above.
Now Read These: