---
When shopping for IT solutions and services, you've probably seen reseller or services partnerships classified "certified" or "silver" or other exotic metals. But really – what does that mean?
As Managing Partner at Datix, I could easily use our recent Epicor Gold Partner designation as an opportunity to quickly pat ourselves on the back with a self-congratulatory press release.
After all, Gold not only puts Datix in select company – less than 1% of all Epicor global partners achieve this designation – it says that Datix has exceeded Epicor's high standard of project throughput and product expertise. And we're certainly proud of the honor.
But we'll stop the back-patting right now. The real question is this: Epicor Gold – why should it matter to you?
---
Committed to Your Goals
Over the years, we've proven that a focus on client success is what drives our growth.
That's why we don't look for the "happy path" for Datix. We seek what's best for your firm, and do it the right way, with transparency and open, honest communication. It's harder, but it's worth it. We work to fit software to your business needs, rather than molding your business to a set of templates.
And your goals aren't met at go-live. We offer a partnership of continuous improvement – an element crucial to realizing the value of your ERP software.
We understand we're not for everyone, and we're OK with that.
Gold is validation that our approach is working.
---
Experience You Can Leverage
We're in our 17th year of operation and growing. Our experience is hard-earned, and it's what we bring to your project. In fact, we've earned Epicor's trust to the point that we've been brought in on numerous projects over the years to support some of its most important clients.
Whether it's an upgrade, a new implementation, a customization, or an integration: Gold means your Epicor ERP project is in experienced hands.
---
Committed to Epicor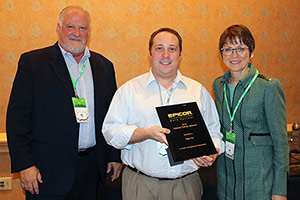 Matt Schuval accepts Epicor Gold Partner award.
Click for full-sized image.
Is Datix just another software reseller? Not at all. Epicor ERP has been at the center of our business for years. Gold status is Epicor's recognition that we're a true partner – one with resources, experience and a track record.
Not only have we met Epicor's requirements for volume and quality, but with over 4 Epicor certifications per Datix consultant, we've built and maintain high levels of internal expertise.
As the product evolved, we've been there. We've already undertaken a half-dozen Epicor ERP 10 projects this year. We're committed to helping Epicor bring the best products to market. Managing Partner Matt Schuval's recent election as president of the Epicor Partner Council is further evidence of this commitment.
Gold means you've found a partner in it for the long haul.
---
The Ability to Create More Value
Customization is not the only way to get more value from Epicor ERP.
A few years back, we thought: Why are our clients' sales and customer service functions disconnected from the rest of the company? Why is marketing not being fed key customers data?
Why isn't there an inexpensive way to integrate with Epicor?
Now there is.
Partnering with Epicor paved the way for relationships with Microsoft Dynamics CRM and Salesforce. These partnerships, coupled with our rich custom software and systems integration heritage, led to the development of Datix Connect, the quick-stand-up integration product that connects Epicor ERP to just about anything.
Gold means you'll get the most out of your Epicor investment.
---
Are we finished?
Of course not. We will continue to look for more ways to put Epicor ERP at the center of your affordable, integrated enterprise solution. Epicor will continue to raise the bar, and we'll get better as well.
Ultimately, Gold means a lot to Datix because of what it means to you.
---
Suggested