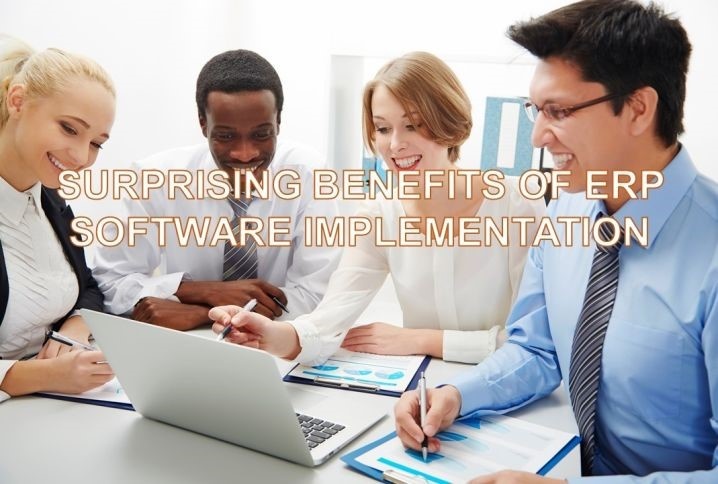 What are the Benefits of ERP?
---
When most businesses look to begin implementing an ERP software system, they usually only have the big-picture benefits in mind—including increased productivity, maximized efficiency and greater data management. But what you might not know is that a properly planned and smoothly executed ERP software implementation can integrate your business and give you all the data you need to drive ROI even higher. Be it a clearer picture of the customer or even more refined details of your crucial processes, the structure of your new system will allow you a greater hand into every aspect of your company. Here are just a few unexpected benefits of ERP implementation that will be the cherry on top of every standard feature.
Get More Satisfied Customers—And Keep Them
It stands to reason  that when you know your business better and can get the instant information and feedback on your processes that an ERP provides, you will see the instant results in your ROI. This is largely because an ERP system maps out the clearest path to your most valuable asset: the customer. The customer is everything, and one of the greatest benefits of ERP implementation is that it will give you unprecedented knowledge of everyone single client, both current and potential. You already know that an ERP will help improve delivery times and responsiveness, leading directly into improved customer satisfaction, but the new software will allow you even more meaningful interactions with your clients.
Say that you provide a customer with a certain machine or product. After your system processes this transaction, it will be able to keep track of just how long that client has owned it and what requisite parts they might need for that product—you now have a direct line to sell this essential stock. And because you know the life cycle of each product that leaves your floor, your system will also recognize when that client will need a new machine and be looking for your business again. As the clock ticks down on the cycle, the software will notify you. Then, you can beat competitors to the punch by reaching out right before the new product is needed, ensuring that you're the first business in front of them, ready to sell. Not only will your ERP software increase customer satisfaction naturally, it will also immediately begin recouping its costs as a lead generator in and of itself.
Drive Revenue with Data
Once your ERP software has been fully implemented, all of the company's data is recorded and tracked in your system: be it customer habits, machine feedback or quality assessment. You can access historical or real-time results at the push of a button with the ERP program, from any device with access to the software. You won't have to track down the specific system that is supposed to be monitoring quality control or put your entire IT team on fixing a piece of hardware that only forms a fraction of your process. ERP allows you the knowledge and ability to truly increase efficiency at every level of the company. There will be no more confusion between different departments and the systems that run them. Your ERP software will let you know exactly where a process may have gone wrong, or which link in your manufacturing chain is weakening, slowing your whole chain down.
However, the value of an ERP system doesn't just lie in that data—it also lies in what you can do when you wield this data properly. Because you can access crucial buying and customer information, you will have an even greater look into your market, how it operates and how you can game it to drive your ROI up. Knowing your market means that you can give your marketing and sales teams the tools they need to create sales promotions, generate leads and close the deal faster than ever. The sheer amount of data generated by ERP software may be overwhelming at first, but know that this also will also contain the key to unlocking unprecedented access to new markets and revenue.
Full Integration
 We already know that an ERP system will consolidate all of your processes and their requisite software onto a single program, but after implementation you will also find  a tighter integration of every other aspect of your business.  Crucial aspects of your business that happen off-site like assembly or shipping can be monitored and regulated along with all of your on premise operations. No longer will you have to rely on estimates or vague reports from employees who may not understand the situation in different areas of your process; your manufacturing is tracked end to end. When you need financial reports or crucial data for stakeholders, your ERP software can automatically generate them—collecting information from all departments and offices without playing phone tag with other employees or waiting on an email. And if you do have multiple offices—either nationally or internationally— your system will able to integrate them seamlessly, crossing borders, currencies and languages so that the home office can securely and confidently track and manage all aspects of the business in all your locations.
Wrap Up
A well-implemented ERP system that has been tailored to fit your company will support the needs of your business and the goals of your valuable investment, but it can also achieve breakthroughs and increase performance even beyond your original intentions. Not only will an ERP system help your business to simplify, track and organize all of your shop-floor activity, it will also lend additional capability in areas you might not have even initially considered. Instead of reaching out in multiple directions for case management and service organization, ERP implementation ensures that all of these functionalities are tightly integrated with your business. You can drive additional sales and leads with the new wealth of information and data, creating a detailed and complex picture of your customer so that you know how to serve them best and keep them returning for your products and services.
For more information on how an ERP system can streamline and strengthen all aspects of your business and how to get started with an implementation, contact an expert at Datix.