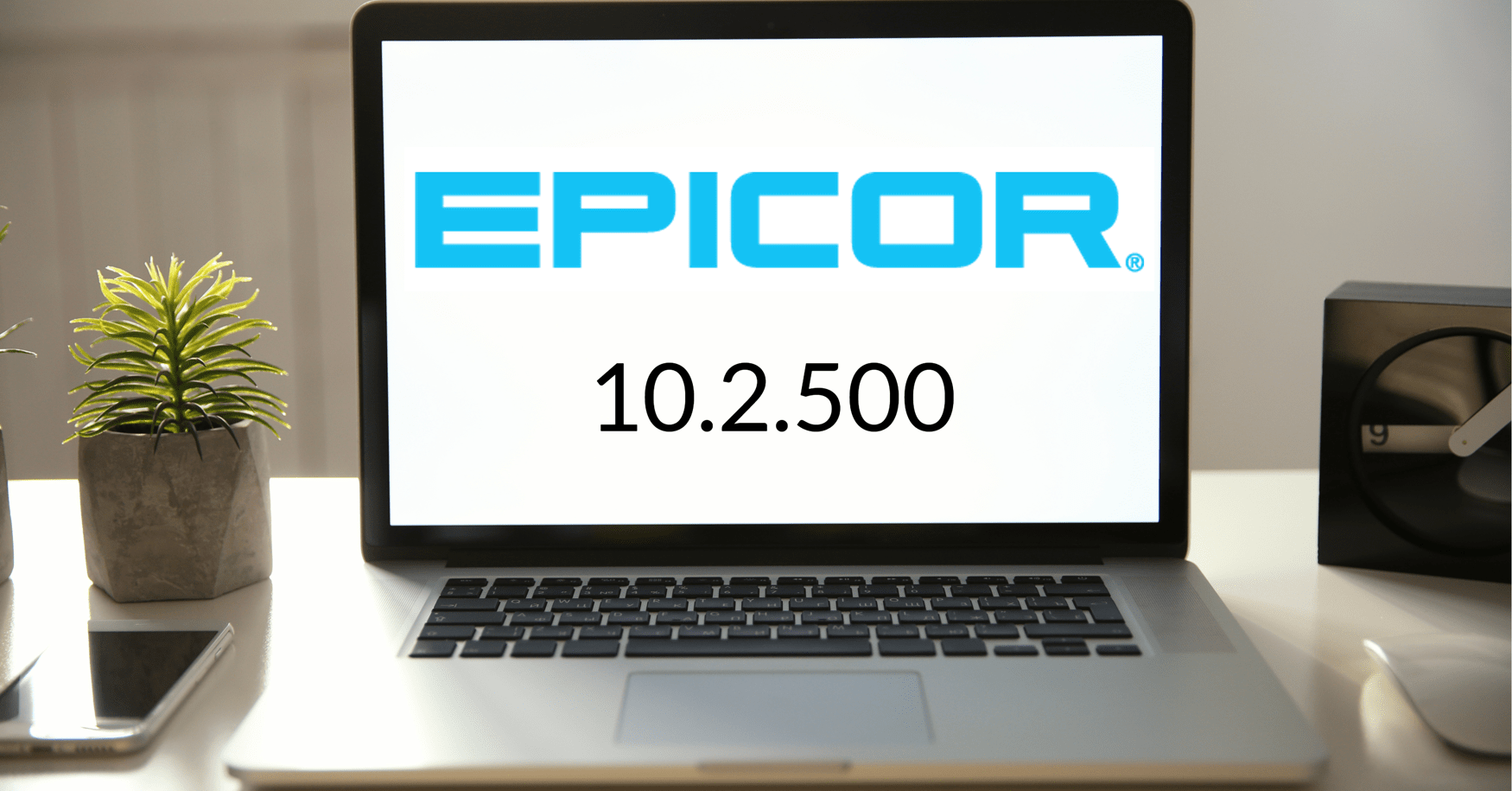 Latest Epicor ERP Release
Epicor ERP 10.2.500, the second of two releases this year, was recently unveiled with new tools and enhancements designed to optimize enterprise productivity, improve the user experience and deliver exciting innovations to help businesses stay competitive.
According to Aberdeen, organizations that do not upgrade their ERP could miss out on significant improvements that support business growth. Therefore, regular upgrades are imperative to increasing market share and growing your business. Furthermore, challenges in attracting new talent to manufacturing and distribution positions make mobile and collaborative ERP tools valuable assets for enticing a modern workforce.
With the latest version of its ERP solution, Epicor continues to advance its offerings to enable businesses to eradicate pain points and meet goals. We put together a brief overview of Epicor 10.2.500 to get you acquainted with the new and improved ERP features of the recent release.
Financial Management Enhancements
The latest release added financial management capabilities to increase accuracy, speed and security. With CRE support for level 3 compliance, your business gains deep transaction security information to improve credit card payment validation. Epicor 10.2.500 also enhanced the Electronic Compliance Engine and resolved the bank receipt file import performance. Additionally, the CSF feature includes critical updates to the functionality for 10 countries, including China, Mexico and Germany.
Epicor Service Pro
With the new mobile and cloud-based solution, you can increase the productivity of your field service operations and efficiently schedule work as well as dispatch and track technicians. Streamline service calls, scheduling and dispatching, quoting, work order management and more using automation tools. It also includes a user-friendly mobile app for field technicians.
Epicor Advanced MES Integration
Utilizing RESTful API services, the integration between Epicor Advanced MES and Epicor ERP has been redesigned to optimize performance. With a stronger integration, you can enjoy better support for Epicor IoT and SSRS reporting, improved efficiency in scheduling and a more seamless experience.
Epicor Virtual Agent
EVA is an AI digital assistant that made its debut this year in Epicor 10.2.400. Users can interact with EVA through voice or text to gain immediate insights and updates. The more you engage with EVA, the more it will learn from you to deliver the information you need most. The tool can be easily accessed from iOS or Android devices. Epicor 10.2.500 expanded EVA's functionality to simplify daily activities such as purchase order approvals and supplier order processes. The free trial of EVA ends on December 31, 2019.
Epicor Kinetic Design Preview
First announced at Insights 2018, Epicor Kinetic Design is a cutting-edge user experience platform designed to streamline tasks, improve design and increase user productivity. Epicor Kinetic Design is set to be released next year in version 10.2.600, but before then, you can test out over 600 reports and processes at no cost. Provide feedback to help Epicor make improvements and plan for future releases.
Epicor Mobile Warehouse
The mobile warehouse has been revamped using the Kinetic Design system. Workflows have been optimized to increase the speed and accuracy of scanning and reduce the time to process transactions. It also includes part- and bin-level validation and a complex sort and filter option for greater control.
Mobile Time and Expense Entry
New improvements in the Mobile Time and Expense Entry tool will help users boost efficiency and throughout on the go. Compatible with iOS and Android devices, the feature now allows you to create timesheets or expense reports in offline mode and auto-sync offline changes once you've regained an internet connection. It also includes a new file type to manage attachments in the cloud.
Epicor Collaborate
Epicor 10.2.500 introduced a cloud-based collaboration solution. In-app messaging and familiar social media concepts enrich communication and collaboration among users. You can also view notifications and feeds in your homepage to gain relevant insights in an intuitive interface. This feature is important for promoting teamwork and modernizing enterprise communication strategies.
Wrap Up
Epicor is constantly improving its ERP solutions to maximize productivity and capitalize on innovative technology. Software upgrades are essential for staying ahead of the competition and protecting your critical data and processes.
However, we know that upgrades can be stressful for manufacturers and distributors. At Datix, our certified consultants will simplify your upgrade project, so you can seamlessly transition to the latest version without delays or errors. An Epicor Gold Partner, Datix is committed to helping businesses maximize the value of their ERP software. Our ERP experts will upgrade, manage and improve your software from start to finish.
Don't settle for outdated software. Contact Datix today to upgrade your ERP and your business!
{{cta('770c1544-d87d-4acb-9fc4-7a25e1385094′,'justifycenter')}}