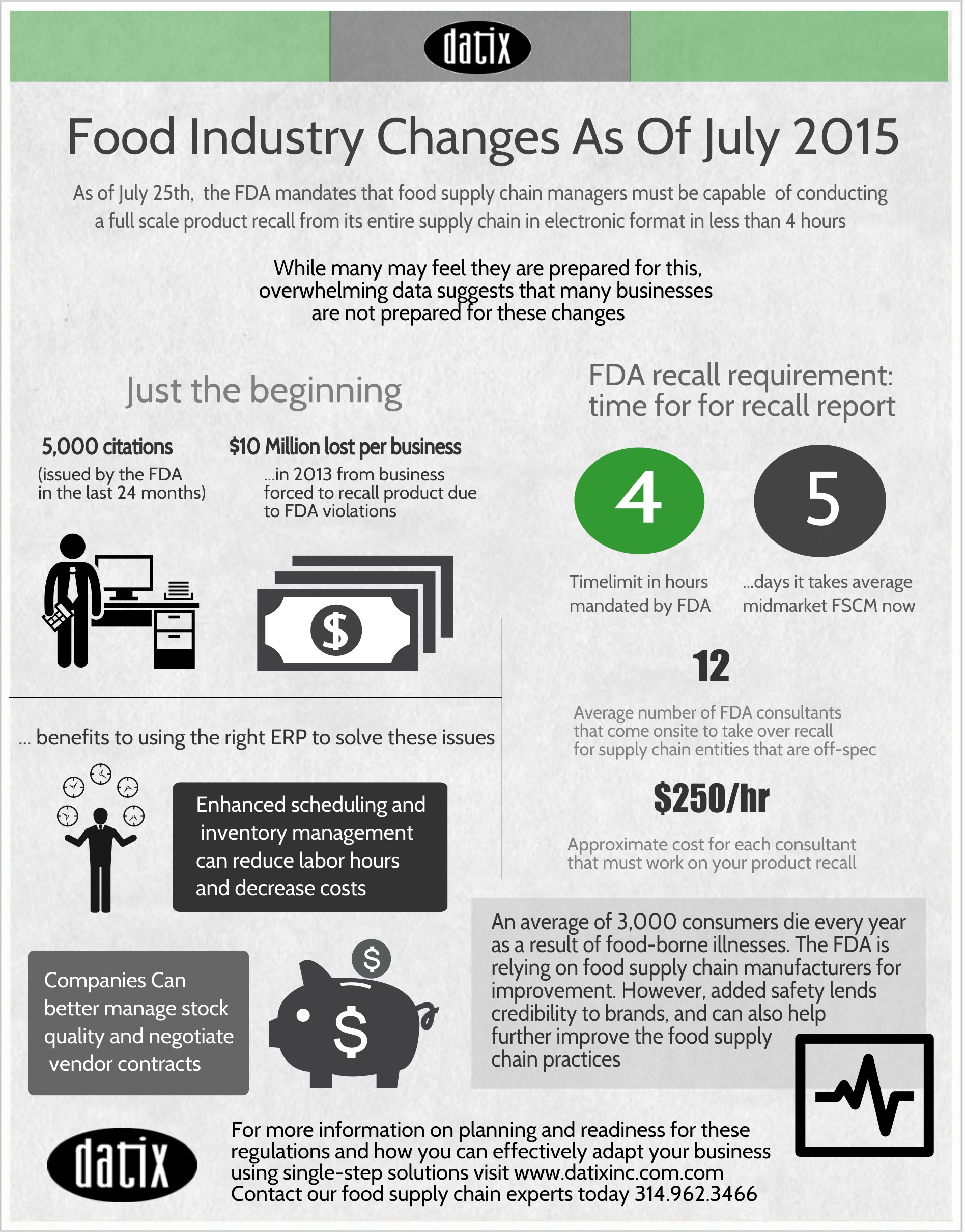 Food Supply Chain Risks
Food manufacturing entities in the the mid market are collectively concerned about the upcoming enforcement of FDA regulatory mandates for food supply chain partners. These new regulations were implemented several years ago, but heightened enforcement is set to begin in July of this year.
This means devastating consequences for food supply chain manufacturers who are not currently on-spec with their supply chain processes. A large part of this new FDA initiative is to encourage manufacturers to conduct full electronic recalls in under 4 hours. Many current food supply chain entities in the mid market cannot perform this today.
All is not lost, complying with these new mandates is not overly difficult. In fact, a modern ERP can perform all the functions necessary to but most food supply chain businesses in compliance with these regulations. What's more, these functions could also assist in cost-reducing and profit-increasing efforts by optimizing inventory management, improving scheduling, and enhancing vendor and contract management; ultimately increasing profit and decreasing both costs and risks.
The secret to aligning ERP software with compliance efforts is business process modeling. Food supply chain manufacturers should be sure to align their compliance efforts around getting their modern ERP software to support new/relevant business processes that foster great compliance and current best practices.
For more information on food supply chain issues, and the technology that supports them see the articles below:
More articles:
The team at Datix can help align your food supply chain business with software and business process modeling that will help your organization with FDA compliance and business optimization. Contact marketing@datixinc.com for more information, or give us a call at 314.962.3466.