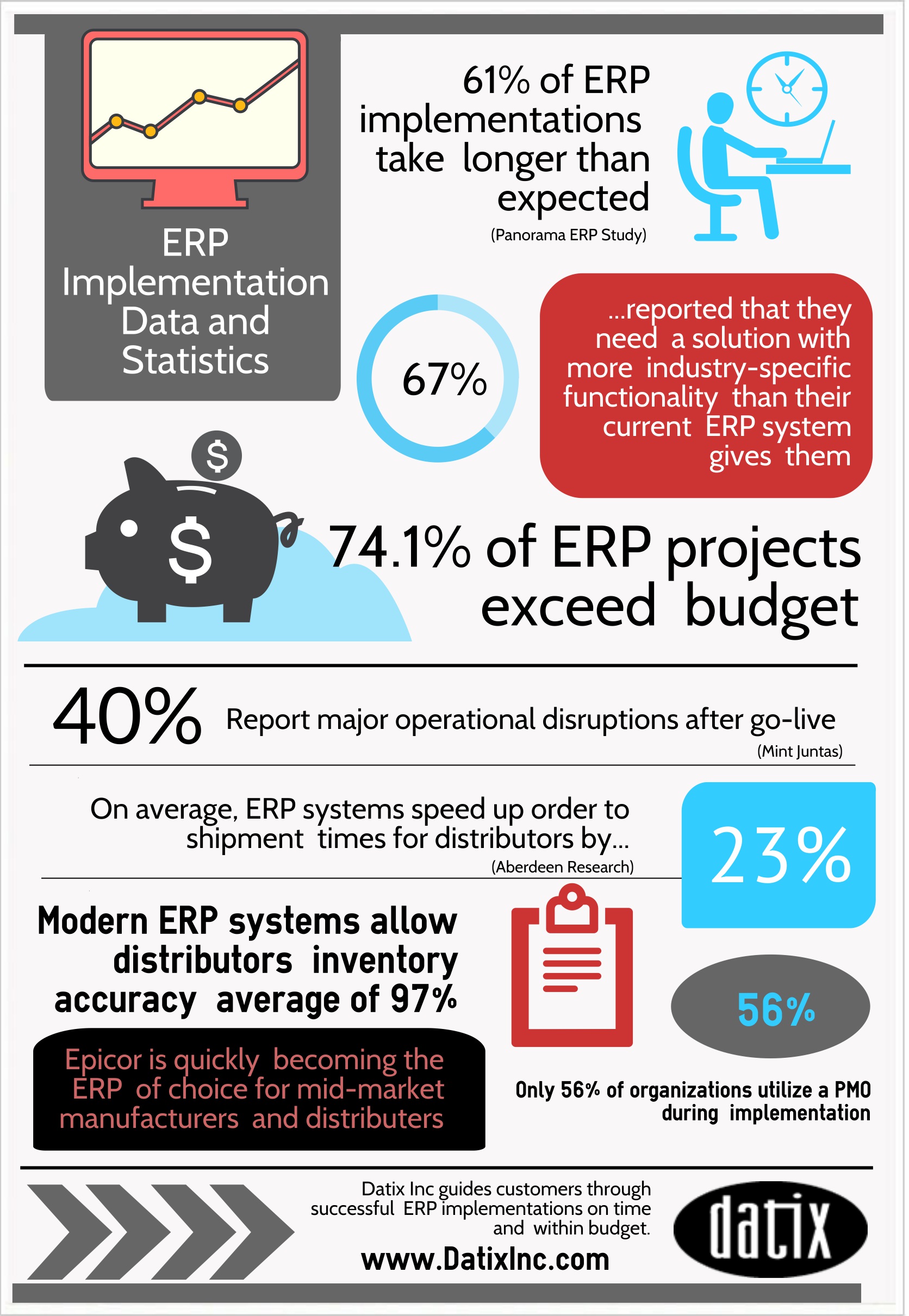 How to Read Current ERP Implementation Stats and Data
It won't too many internet searches to determine that there is a lot of info out there regarding ERP implementation stats and data. One of the primary reasons is because so much of the data that's available appears overwhelmingly negative. You can find yourself examining all the different research studies that note high failure rates and become immediately concerned about the health of any ERP implementation in your companies future. So if you're a company considering an ERP implementation, what do you do with this information?
Use the information to empower your selection process

We know that one of the biggest faults businesses make is in their initial evaluation. Businesses make the mistake of settling on a system too early without doing a full analysis of their needs and the systems functions. Additionally, organizations often don't demo the system or get feedback from users before moving forward. These little details could save your organization lot of money.

Be a smart project planner

The vast majority of the cost overrun statistics and high project failure rates are directly related to poor planning. Organizations simply learn of perils too late in the project to do anything about their biggest issues. Businesses should look for industry best practices and examine their implementation carefully before ever moving forward with the project. Looking at things like; how well your project team is equipped for this type of project, and how the system will need to be used or customized is vital in the process. If these things are a mystery it's almost certainly a good idea to discuss your implementation with a consulting expert.

Business Process Modeling is "Non-Negotiable"

One of our project managers recently discussed this in-depth. When setting up the project plan for a software implementation, companies often seek to cut out business process modeling in the interest of saving time and effort. But many of the ERP implementation stats that leave organizations in fear are the direct result of failing to conduct comprehensive use cases, or other business process modeling best practices. Business process modeling is the backbone of your project, and post-launch, this documentation serves as a key defense against the loss of tribal knowledge as employees' roles change. Capturing current pain points is a critical success factor in a project's lifecycle and ensures that your current pain won't be recreated or overlooked in the new system design.
For more information regarding ERP implementation stats or ERP implementation strategies contact the Datix team today.
---
More great ERP implementation stats here.