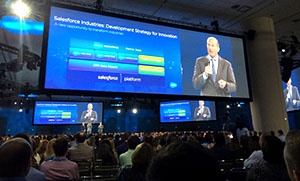 Getting lost in San Francisco, eating delicious sushi, and learning more about the incredible development updates from Salesforce topped the list of memorable moments for Mike Dintaman, a developer at Datix. Dintaman attended his first Dreamforce conference where he connected with other attendees, attended engaging sessions and learned more about real-world applications from a development perspective.


Making Connections
With more than 135,000 attendees, Dreamforce '14 was a prime spot for meeting new people.
"It was really cool to meet interesting individuals across various backgrounds and industries," Dintaman said. "I met a former art dealer from New York who moved to San Francisco and turned to the tech industry because she thought it was fascinating. Another person created an app using iBeacon (Apple's indoor proximity system) that would display relevant information as a person entered a boutique clothing store. Connecting with my peers made it a worthwhile experience."
Sessions attended
Luminary Developer Session
"On the first day, I attended some pretty interesting sessions," Dintaman said. "One of these was about encouraging diversity by working in a group to accomplish more. Everyone brings something to the table." The session by Ashara Ekundayo, Chief Creative Officer of Impact Hub Oakland, focused on harnessing those unique abilities to build amazing apps and successful, engaged communities.
Wearable Identity Session
Dintaman also attended a session about wearable devices. The session featured Nymi, a biometric identity wristband that uses your body's unique cardiac signal to uniquely identify a user. The device transmits a BLE (Bluetooth low energy) signal that can then be tracked and monitored by other apps to detect the proximity of the user. Wearables were big at this year's conference. Will.i.am revealed his new smartwatch, Puls, on the main stage with Marc Benioff, CEO of Salesforce.
Roadmap: The Salesforce1 Platform Session
For this session, Shawna Wolverton, Senior Director of Product Management Force.com, who was instrumental in the development of Lightning presented.
"This was one of my favorite sessions. They talked a lot about the future of the Salesforce 1 Platform. And they talked a lot about Lightning," Dintaman said. This was a common theme throughout the conference. Salesforce's new Lightning framework is designed to build custom components and create any user experience for any device. They are enabling developers to create apps for desktop, mobile, tablet and wearable devices.
Developer Keynote
The Developer Keynote was held in a 4,000-person mega-room right above the DevZone. During this session they discussed Trailhead, Salesforce's interactive learning path through the basics of Salesforce.
"It is a great way to learn," Dintaman said about the new learning platform. "In the past they didn't have free resources readily available."
Real World Applications
Dintaman enjoyed the hands-on aspects of the conference. "If I went back, I would want to get even more involved in the learning sessions," he said. "Already I will be able to use what I have learned with clients in the future. One of my existing projects is centered on mobile use of Salesforce and will greatly help their sales team."
He specifically is excited about using Lightning. "This is really going to ramp up time for development and that means I get to help our clients get their projects implemented faster."
Apart from getting lost, it would appear to be an exceptional first Dreamforce conference.
Your take
What about Salesforce.com's updates interest you the most? Did you attend? What would you add?
Suggested: