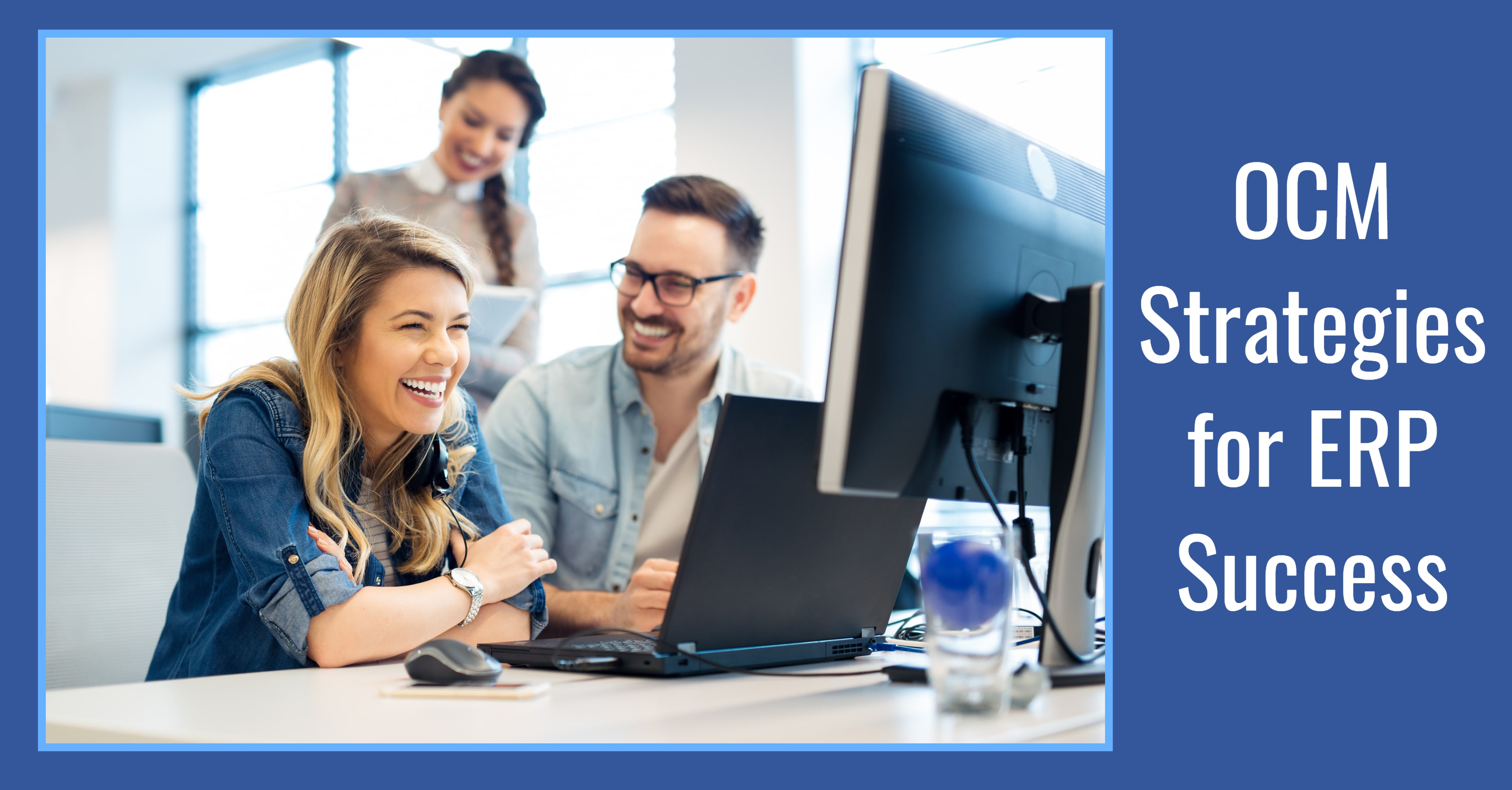 Organizational Change Management Strategies
When manufacturers and distributors begin strategizing their enterprise resource planning (ERP) software implementation, they tend to act on the assumption that users will immediately adapt to the system. After all, the new instance should streamline processes, improve efficiency, reduce manual data entry and offer 360-degree insight—how could employees have a problem with any of that?
With this mindset, they often forgo organizational change management (OCM), the process of preparing users for change through communication, planning and training tactics. In Panorama's 2019 ERP Report, they found that 32% of businesses had little or no focus on OCM.
Here's the problem with this approach: People don't like to stray from their routines. Though some users may embrace change and quickly latch onto the software, other employees might be hesitant to adopt a new way of doing things. Some might reject the system altogether, returning to their Excel spreadsheets or post-it notes. Failure to create OCM strategies almost always results in ERP failure. In this piece, we provide tips for taking on organizational change management to make your ERP implementation a success.
Effectively Communicate
Nobody likes it when a major change is sprung on them without explanation. Though an ERP implementation shouldn't entail a total upheaval of your existing processes, it certainly involves the acquirement of new data and technology which requires users to modify their routines and adjust to unfamiliar systems. Gaining a new infrastructure without helping users understand its purpose is bound to promote animosity throughout your workplace.
That's why enterprise-wide communication is integral to project success. From the onset of the project, explain the reason behind the implementation and the specific ways in which the ERP software will change their tasks. Throughout the project's duration, provide updates during team meetings and encourage employees to ask questions and seek support before, during and after go live. Keep conversations about your new system upbeat—after all, the whole point of implementing ERP is to raise revenue, improve processes and ultimately make your employees' jobs much more fulfilling. Reminding users of these advantages will get them excited to make the switch to ERP.
No one communication model will work for every enterprise. An SMB can more easily communicate with users one-on-one, giving it a bit of an advantage in developing OCM strategies. Larger organizations with multiple sites or global locations must create a plan to communicate effectively across borders. The entire organization should consistently receive project updates, but different departments and locations might prefer different communication styles. Consider these factors before putting your communication strategy in action.
Develop a Training Strategy
Like communicating with employees, user training strategies aren't one-size-fits-all. Training is a must for all users to gain technical understanding of the ERP modules and tools they'll need to perform tasks, but not every user will regularly utilize the same features. Super users, for example, require an in-depth comprehension of the instance, while most users only need to acquaint themselves with select functions. Remember that everyone learns differently. While some may benefit from learning on their own pace using webinars and guidebooks, others require intense, hands-on training. Try to support various training techniques to make it easy for everyone to get on board.
There are a couple points you want to drive home to your employees. First, training might require some homework. Managers should delegate office hours to training, but in order to keep business goals on track, users will have to spend some time familiarizing themselves with the new system after hours. Make sure users understand this from the get-go, so they aren't unpleasantly surprised later on in the project. Secondly, don't think training is just for the initial implementation. As your workplace changes and your software becomes updated and modified, subsequent training will be required for ongoing usage.
Gain Executive Buy-In
Disaster is bound to ensue if executives aren't on board with the ERP project. When the C-Suite and managers seem disinterested in the implementation, you can bet the rest of your workforce will lack motivation to adopt the system into their activities. Build a coalition of executive support across every office by requesting their input and explaining how the ERP instance will bring in substantial ROI. As users throughout your enterprise notice executive involvement, they will become engaged in the implementation.
Hire Consultants
The big reason so many organizations opt out of change management procedures is that they are simply overwhelmed. ERP implementations can last months and interrupt regular operations as employees take on project roles. To reduce some of these responsibilities, businesses put OCM on the chopping block, often to regret their choice down the line.
The smarter course of action is to team up with ERP consultants. These experts can drastically cut down the project duration and take the reins on the implementation, leaving most of your workforce to continue its regular duties and learn about the new system. Additionally, consultants will help you build your OCM plan to lead you to ERP success. ERP projects can become unwieldy when businesses take them on alone, but a consultant will ensure best practices are followed while keeping the implementation within the budget and timeline.
Wrap Up
Change management should never be an afterthought or forgotten altogether when taking on an ERP project. Change is exciting, but it does require some work. Let Datix help you with some of that labor. As an Epicor Gold Partner that has been around for over 20 years, we have more than our fair share of experience with ERP implementations. We are committed to following best practices to implement your ERP instance in accordance with business processes and goals. And once Epicor ERP goes live, we stick around to provide integrations, upgrades, maintenance and whatever else you need to support your enterprise's success.
To learn more about our premier software solutions and services, get in touch with Datix today!
{{cta('770c1544-d87d-4acb-9fc4-7a25e1385094′,'justifycenter')}}