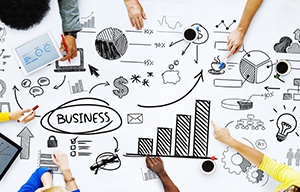 At Datix, business process modeling is a non-negotiable part of our process. There is immense value when our clients put the up-front effort and resources into this exercise.
So why do clients skip the process, or go with the do-it-yourself (DIY) approach? In Part One of this two-part series, Datix consultant Jessica Becher examined key misconceptions that lead to skipping this process, and the key benefits and value that the process will create. In Part Two, Jessica examines why it's crucial to have an experienced partner to lead the exercise.
We've worked with clients who believe that they can take on the complex task of business process modeling on their own. While it's certainly possible for any firm to produce a deliverable that documents its own processes, companies also tend to have certain blind spots that can lead to incomplete or myopic results. And, the results likely won't map to the enterprise software, leaving key functionality and efficiency untapped. Here are key misconceptions that lead to a risky DIY approach.
---
We Can Do This In-House
Misconception: As a consultant, I regularly hear that business process modeling has already been done or is simple enough for the client to handle on their own.
Reality: It is essential to tackle business process modeling with your consulting partner. It's why you hired them. Unless you want someone designing the system who is guessing and making assumptions about your business, and who has no knowledge how your business model is translated into the setup of the enterprise system, your consulting partner should lead the process modeling effort.
Working together yields better results. Your expertise – in conjunction with the consultant's software knowledge – is powerful. By combining our knowledge of the system and the best ways to use it with the experience of your power users, we are able to leverage higher user adoption. In addition, we are also given the opportunity to offer our most creative and out-of-the-box solutions that best fit your business. If we didn't take this initial effort to get to know you, we are likely not going to be able to tap into what best suits you.
---
My Strategy Is My Process Model
Misconception:  We, the executive team, have a clear vision and strategy so it isn't necessary to create a process model. Even if we did, we wouldn't include the power users and end users. They would provide too much detail. They could anchor the project in the "now" at the expense of our long-term vision.
Reality: A clear strategy and vision is an excellent guide for all activities and the future-state of your firm and supporting systems. But it's inadequate as a means to guide a complex enterprise software system implementation. The details that power users and end users provide is essential and invaluable. Ultimately, their inclusion promotes accountability and system adoption.
Not only do the end users provide crucial details that aren't known at the high level, but these details can lead to a more economical implementation. You may determine a software module is unnecessary or a less expensive customization would work better.
Also, involvement by those users fosters accountability and ownership of the system. This type of involvement is a key component of buy-in and end user adoption.
---
Worth It
Business process modeling should be the foundation of your enterprise software project. Although it takes a bit of time up front, business process modeling pays dividends during the lifecycle of the project and results in the most effective use of your capital investment dollars. Involving your end users and power users in the process creates buy-in and increases chances of system adoption. And the right partner can help you take even the most complex processes and map them to the software, ensuring your investment is fully utilized.
Are there other misconceptions we didn't cover? Have a bad experience with business process modeling in the past? Join the conversation and share your experiences.
Suggested:
Our Consultants
Customer Profiles