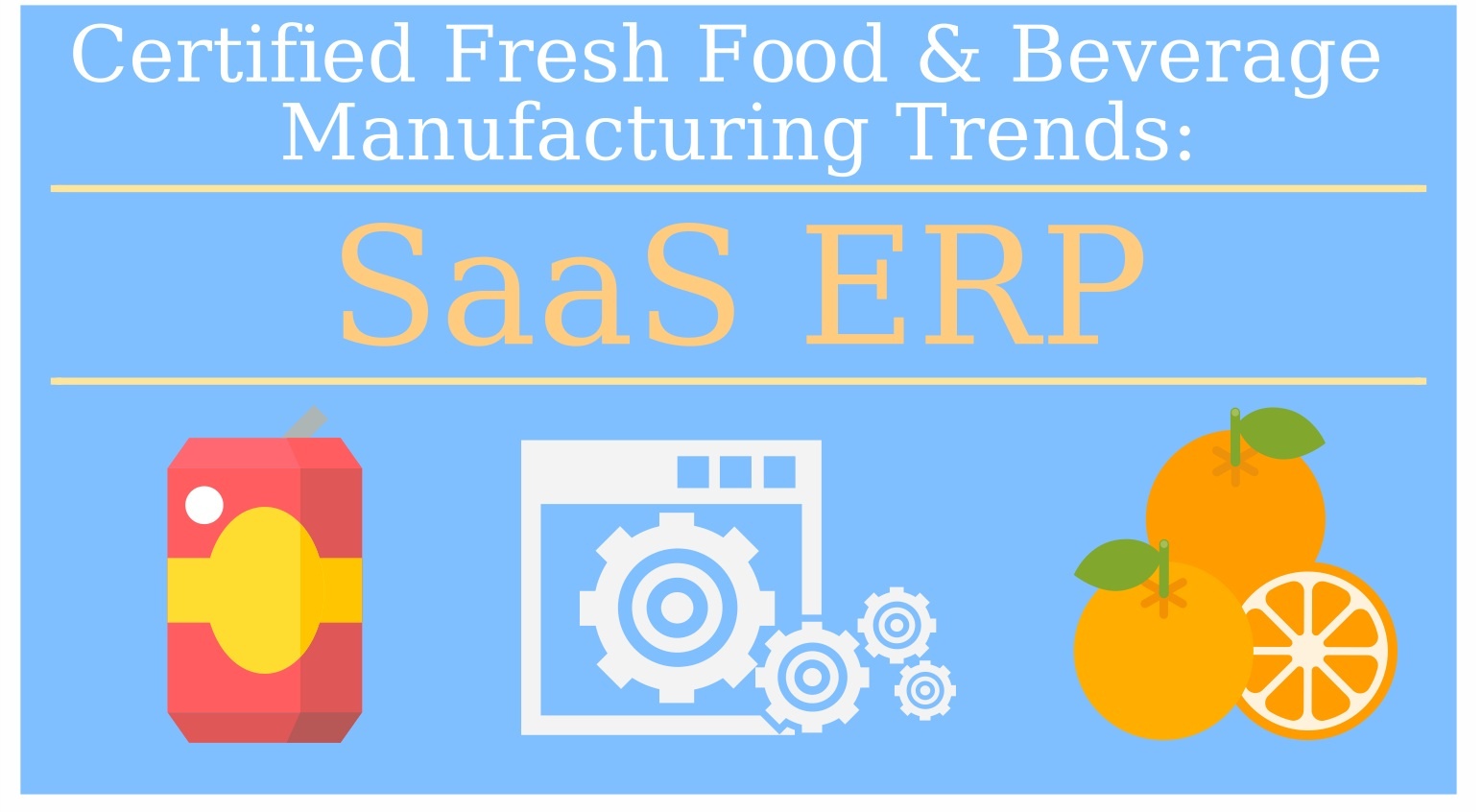 The freshest of the new food and beverage manufacturing trends? Software-as-a-Service (Saas) ERP systems. Instead of basing their enterprise systems on site, more and more manufacturers are moving towards the cloud to stay competitive, cut costs and drive innovation both on their shop floor and in their front office. And with FSMA regulations tightening and becoming ever harder to keep up with—especially if you're running on legacy ERP software or a jumble of various systems that your business has accumulated over time—maintaining the edge on price and quality is crucial to keep an emerging food and manufacturing business afloat. Keep on reading for more on why cloud-based ERP systems are the most appetizing of this year's food and beverage manufacturing trends!
---
Cut Costs Across the Board
One of the major goals for manufacturers looking to stay competitive is cost-cutting- reducing waste and areas of major spending without simultaneously eschewing high product quality. Locating your ERP manufacturing software in the cloud enables food and beverage producers to do just that.
Scheduling modules will also help you organize production lines into a 'pull-planning' system. One of the tenets of a lean manufacturing scheme, pull-planning schedules production around specific projects and end-goals, with all processes going into that end product working backwards from the objective. Conditions and tasks must be defined in relation to the quality, timing and delivery goals so that each task works sequentially and in synergy to achieve the goal. This means that your business only orders the raw materials they need, only uses the production lines that are necessary, and distributes product in line with predicted demand.
The result of a total lean down on manufacturing processes means less money wasted on machine downtime, excess employee output, stock left in the warehouse and not on the shelf and unnecessary transportation costs.  This is all not to mention the amount you are saving simply by implementing ERP in the cloud rather than on-site. A 2015 report from Mint Jutras that studied the many reasons businesses choose SaaS ERP lists costs savings as the top three reasons: lower total cost of ownership, a cheaper and less obstructive upgrade process and reduced start-up costs as business merely need to subscribe to the cloud service rather than buying a stock of middleware and server space to host their data and processes. It's a no-brainer, by slashing costs across all aspects of your business, SaaS ERP will help you transfer savings over to your customers and keep your prices competitive in a cutthroat market where the difference between a customer picking up your product over another is just a few cents.
Instant Access, Anywhere
Because your data is not stored on site and kept in the cloud, you can view critical data anywhere you need to, whenever you need to. As long as there is an internet connection, all of the mission-critical processes that ERP is built to support can happen anywhere, not just on site.
Whether you need immediate information for an FDA audit, or have a salesperson on site with a retail or distribution customer, the necessary data is merely a few clicks away on any mobile device with internet access. Need to check your raw materials suppliers against stringent compliance rules? Require that every shipment be entered into your system with specific details about temperature, pH and shipment conditions—you can even require pictures of how items were packed into the delivery vehicle. Then, whenever shipments come into or leave your facility, you can check on them whether you are on the shop floor or out of the office. Instead of waiting until you can make it on site to verify a process or approve a new workflow, business can be done across offices and dispersed across all areas of your operation, saving employees time, peace of mind and the entire business the cost of unnecessary travel.
Increase Productivity
The increased employee access to company information won't only be good for processes that happen outside your office and shop floor walls—they will also strengthen everything that happens within them. When all end-users understand how their work effects the day-to-day tasks and goals of the company, parallel operations become interconnected and supportive of the others. Your company will be able to drive critical decisions through their workflows faster, and the users making those judgments will have access to all the data they need instantly to make sure they are fully informed before any action is taken.
Moving away from on-site or legacy systems will also take a good amount of work off of your IT team's plate. Because SaaS software necessitates that your data and requisite technological processes like maintenance and routine upgrades are managed offsite by the vendor, your own technology department will have the time to work on innovative new products and support for your crucial production lines rather than wading through repetitive support tickets all day.
Drive Innovation
Innovation is the latest word in the world of food and beverage manufacturing trends, and never has been more possible for your company than with SaaS ERP. As outlined in our above points, hopping on the SaaS ERP bandwagon will free up time, money, and employees to truly drive innovation within your company, providing new products to consumers, finding lower cost ingredients that don't sacrifice on quality, and pushing your distribution web into wider territories. Some food and beverage manufacturing trends are fleeting, and for good reason, but cloud software could be just the push your business needs.
However, it's crucial that you keep the food and beverage industry at the forefront of your mind when looking for the right SaaS system to support your business processes.
Food and beverage manufacturers have unique needs, such as batch processing, lot traceability, recipe and cost formulation and stringent labeling requirements. If you find a system that seems like it will require a good deal of customizations and specific developments in order to meet all your process needs, keep looking. The ease of use and speed of implementation are two of the main draws for emerging businesses; customizations will inherently get in the way of those features. You can't drive innovation and chase the latest food and beverage manufacturing trends when you're too busy trying to figure out how to label specific allergens on a product variation, after all.
Wrap Up
The food and beverage market is consistently competitive and growing more so day by day—products crowd grocery store shelves and consumers face a delicate balance of choices every time they head to the checkout: product quality, pricing, availability and brand loyalty.
SaaS ERP is quickly taking its place as a frontrunner in food and beverage manufacturing trends, and any company looking for a way to get their foot in the door should strongly consider switching to SaaS ERP. By moving from a fractured legacy system that has been cobbled together to support all the varying needs of a food and beverage business, manufacturers can instead implement a cloud-based solution
Although some businesses may be reluctant to stray from the long-utilized on premise enterprise software, the competitive and unique needs of an emerging food manufacturer is exactly what cloud systems were built for. While the cloud is not right for every business, the benefits it can provide insist that you research it thoroughly as an option in the run-up to your ERP implementation.
If you're wondering whether a cloud-based ERP system is right for your business, or you're simply looking for a way to leverage your current software to stay on top of current food and beverage manufacturing trends, contact an expert at Datix today!