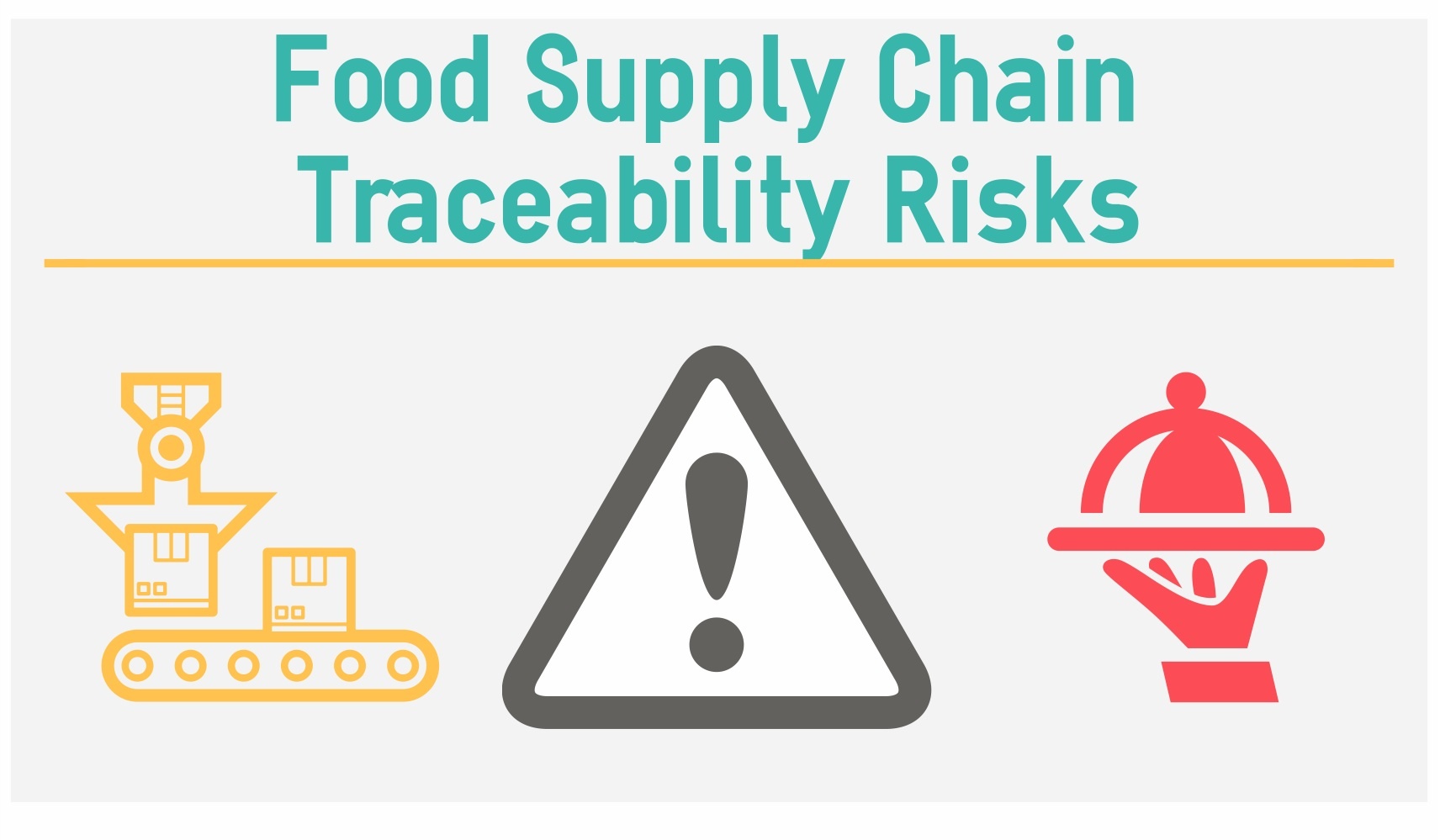 ---
It's no secret that food safety and regulations are becoming stricter than ever. The FDA has issued nearly 5,000 citations across food supply chains over the last two years. Descriptions included: contamination with chemicals, neglecting to write and implement an adequate HACCP plan, failure to manufacture a batch record, and improper storage to protect against contamination. As you can imagine, none of those infractions sound particularly appetizing, especially for consumers. Who can forget the disastrous Blue Bell recall and currently ongoing Chipotle food safety crisis that has caused the fast-casual Mexican chain's stock to plummet? What's more, all of this increasing publicity around food safety and new regulations could mean major risks for those in the food supply chain and packaging industries.
See our infographic for more information on the new risks presenting themselves in the modern food and beverage industry.
Bottom line: knowing where products are in the food supply chain does not improve traceability and transparency
Just knowing where products are in the food supply chain does not improve traceability and transparency. Unless proper manufacturing and distribution processes are paired with some other kind of strict inventory-control system, businesses will not be able to keep a firm grasp on their products and lot traceability. FDA nomenclature has recently spelled out why adopting an electronic traceability system is a must have in today's business climate, identification, resolution, and prevention of poor quality food products capabilities. This is to help outline the need for systems and processes that support a more dynamic and succinct view of the food supply chain. In 2013, 3,000 people died of food-borne illnesses – and on average –  individual food supply chain businesses reported losing $10 million to recalled product, refunds, and brand damage. Clearly, businesses can be doing more to fix their traceability issues. Is yours?
Finding software to fight the good fight for food traceability can become time consuming, expensive, and can require horizontal and vertical compliance, but it's non-negotiable. Now is the time. You have to ask yourself, "is my organization using the right technology to support the right processes?". If you're not, it's time to start figuring out how you can get the ball rolling in 2016.
Does your technology support the right processes, and visa versa…
One major problem businesses often face lies with antiquated systems and legacy software currently in place throughout food supply chain entities in North America. Systems implemented prior to 2013 are not agile enough to collect the in-depth product information in compliance with FDA audit criteria, and this is especially true since vendor management is increasingly global. We suggest finding an ERP with a traceability schema assessable to critical control points throughout the entire supply chain since government requirements rarely allow for variation in process and outcome, and you will be prepared to procure any information the FDA might request during on audit, no matter what part of your supply chain is affected.
To that end, food safety experts suggest drafting proposals for ERP systems with features agile enough to establish multiple critical control points inside of a single system. One functional hub of information should include major discrete manufacturing processes such as lot tracking, quality control, labor intensity, labeling, recipe management, sales, accounting, and more. In a simplified nut shell, the ERP you choose should avoid mistakes that cause or draw out food recalls and be able respond to emerging issues and challenges—an obvious statement that often gets overlooked when companies want the latest ERP software with the most complex customizations that might hinder a streamlined traceability strategy.
Determining the best software features for your food supply chain
Take for instance, the task of improving your company's inventory management systems. For that, you need to ind an ERP with an automated inventory management application. This tool regulates excess inventory with limited shelf-life and ensures ingredients are viable with surprising speed. These kinds of functionalities inside the ERP use unique pieces of data, like order dates, times, or serialized sequence numbers like RFID, and trace inventory through an entire supply chain in minutes.
An agile ERP is capable of implementing critical control points anywhere in your enterprise per regulatory metrics. Market this to your supply chain team as a continuous improvement model, retractable process, or prevention method if these created dashboards can reveal high level attention. The ERP should be able to record and archive product and date information, instantly, in the same system.
Should any recipe become compromised, an effective food supply chain ERP—like Epicor—will have a nimble on-the-fly configurator that allows users to manipulate recipes and continue production. This way business processes can evolve and provide answers for issues that were once very troublesome and risky in new ways. It will be a distinct competitive advantage for your business. Food supply chain systems like this are saving millions of lives, because there's no room for error in food production. Period. Recalls happen each week, devastating operations and causing a negative ripple effect in upstream and downstream industries. Ultimately, if this happens (the odds are good that it will, without proper attention or data tracking) a brand will lose credibility with consumers and income will further suffer in an already price-volatile market. Look no further than Chipotle.
Optimizing an approach
Supply-chain end users, like big-box retailers, are instrumental in food processers and packagers implementing enterprise software. Technological advances and e-marketing spur the development of integrated systems codes, track buying behaviors, and manage wholesale and retail transactions. For example, Walmart and Target have created proprietary supply-chain information systems their suppliers must adopt. However, it all is moot without the right processes in place. To appropriately and dynamically mitigate the risks associated with food recalls and supply chain traceability, manufacturers must implement proper practices to support the features listed above.
Processes that support the risk-mitigating features above must evolve quickly to adapt to changing environment and industry needs. With increased federal regulation and changing technology inside of the stakeholder environment, it's important for food supply chain entities to support agile software with business actions based in best practices and repeatable processes.
In short, processes support business practices and maximize the functionality of software all while making it easy for the end-user. Ultimately, the best software in the world cannot overcome cumbersome or antiquated processes. Businesses should evaluate their needs according to both software functionality and business processes, and find the experts who can help them understand how to build these proper processes around the goals they have for their business.
—
Interested in learning more about technical solutions to food supply chain traceability risks? Datix specializes in providing software solutions and services for food industry supply chain organizations. Contact one of our experts today!
—
Suggested reading:
– Learn more about software solutions for food supply chain traceability
– Change management matters during an implementation
– How the Internet of Things is changing food manufacturing