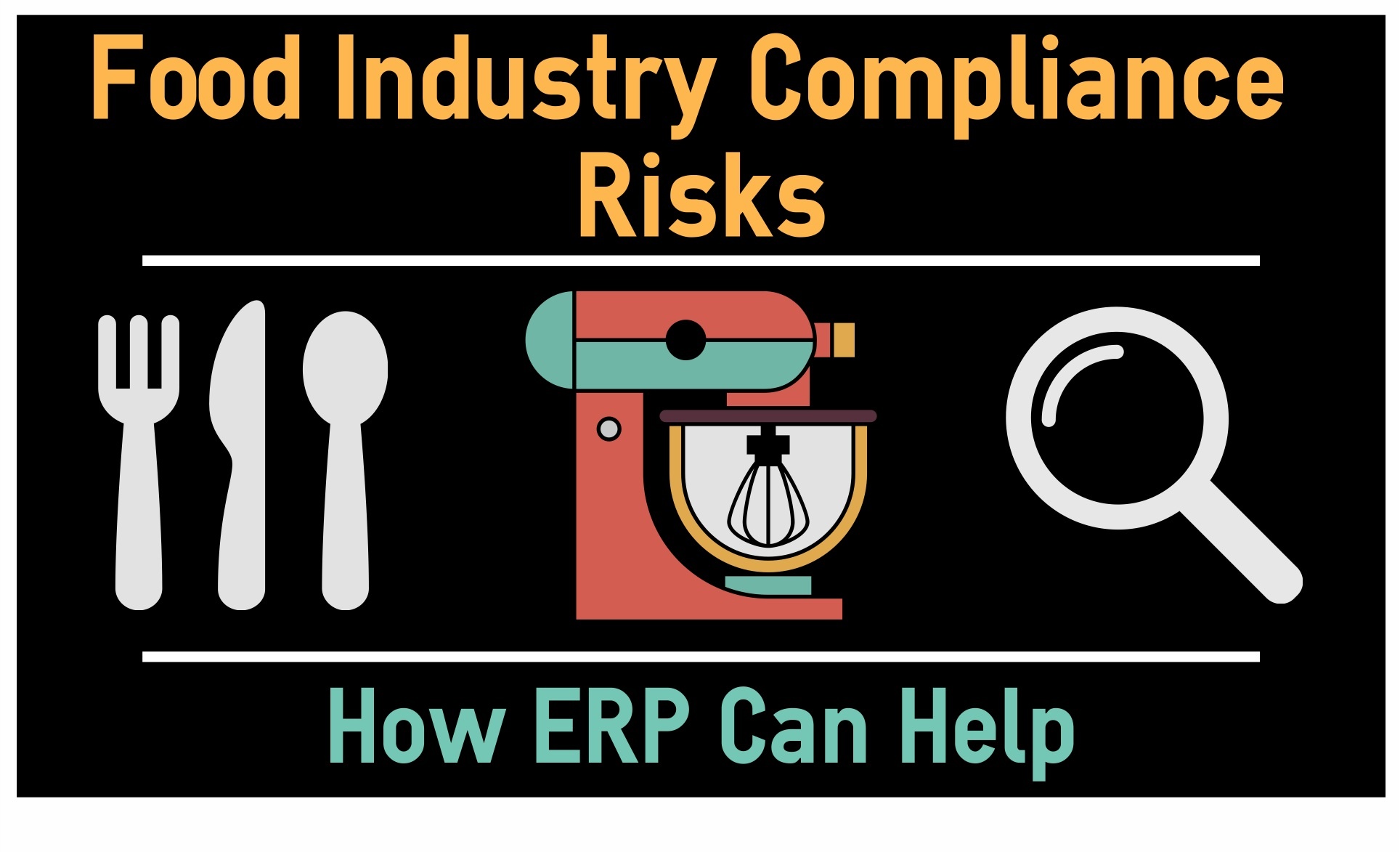 ---
Midmarket food industry players have certainly been in for some widespread, foundational changes when it comes to compliance and food safety this year. Thanks to new regulation that was enacted this year, if the FDA comes to your food or beverage manufacturing plant and your firm is unable to produce a flawless materials traceability document in less than 4 hours, the FDA could then deliver sweeping mandates to your business that may prove devastating if you don't have the complex safety network in place to handle them.
If you're unable to inspect a facility up to standard with your own staff, the FDA can kindly put their staff inside your building to do all of that for you… at a rate in excess of $250 an hour!
Food industry compliance efforts require capturing a wide range of information concerning your operations accurately, then organizing and retaining it quickly, and efficiently analyzing it all in ever-shortening periods of time. Then, as if that was not difficult enough, present it upon request to the FDA (at any time) with no questions asked. As of January 25th 2015, if you're unable to do so, the FDA can provide their own staff to make sure your food safety compliance is up to scratch: at an astonishing rate in excess of $250 an hour, per consultant (which will usually be 10-12 total). What's more, they can then put an embargo on all of your affected products; indefinitely in some cases. To make this potential horror story worse, the entire issue can be trigged due to an event that is not a direct fault of your own. Imagine if the issue you were being attacked for was the fault of a partner or supplier and not a member of your own business, and then visualize the comprehensive financial damage all of this could do to your own operations, simply due to a lack of your partners to keep up with food industry compliance as they should be doing.
Fortunately, this is not a lost cause, and you shouldn't have to be worried about the above disaster ever occurring within your business—if you are properly prepared. The food industry has been in need of traceability changes for a while, and these changes herald the beginning of a new generation of regulations and the need for companies to adapt to them swiftly. New food industry traceability documentation must illustrate current and historical data of each transaction within your facility at any given time, at any given point, and regulatory literature states it must now be made available in an electronic, easily analyzable format. FDA traceability requirements are the same for both mid-sized businesses as they are for large corporations, without considering that smaller players within the industry might be significantly resource constrained when it comes to keeping their operations running smoothly and in accordance with specifications. Mid-sized firms need compliance options that are both affordable and effective. So what options are available to mid-sized companies in the food industry that can aid them in this new era of food industry compliance? Read on for more information on ERP software and how it is becoming an indispensable tool in every successful food manufacturer's arsenal. For even more advice, download our free white paper using the form to the right to get a look into how cloud ERP vendors (like Plex) could be just what your business needs!
There may be light at the end of the tunnel
Truly, the main priority in modern food industry compliance processes is to provide tracking and tracing information to the regulatory authorities on demand. Right now, the most sustainable option  to achieve this kind of quality control is to implement or upgrade your enterprise resource planning (ERP) software. ERP systems are capable of integrating data from all sectors of the supply chain that remarkably warrant traceable measures in each transaction in a matter of minutes. You can achieve 'one-up, one-down' traceability whereby every single stage of the process will also be noted with the products and process that have already come before, and everything that is scheduled in the manufacturing timeline after. There's a strong chance that a properly configured ERP system combined with the right business processes and training can shoulder the weight of all of the aforementioned issues, effectively allowing you to 'close the loop' on quality control and truly harness the power of technology and data to meet the new food industry compliance standards.
An additional wrinkle for food industry agents is that large retailers, such a Wal-Mart and Costco, are implementing their own regulatory measures on suppliers. Once a year, the Walmart's of the world require their food suppliers to perform a mock recall in under four hours so that they can rest easy on the products they provide to consumers. Failure to do so can cause retailers to speculate on the credibility of the supplier and create further opportunities for an FDA audit. Documentation for both regulatory agencies and large retailers must include traceability data from harvest, to shipment, personnel in contact with materials, machine usage (weight, time, packaging), and shipping information. Overwhelming right? And, it is usually as expensive as it sounds for you to gather and report on all this data. The answer to the problem remains the same. Configuring your ERP software and business processes with functionality to dictate food industry traceability compliance can be a simple, more affordable, standardized solution over time. This covers the food industry supplier bases with the FDA and the large retailers. Yes, this isn't a no-cost solution; however it is affordable and executable—and much more preferable to the millions of dollars a recall may cost you when you can't locate that exact slip of paper that you need.
Software must combine functionality with best practices
We suggest that food industry companies find an ERP flexible enough out-of-the-box to yield improvements in forwards and backwards traceability, contract management, product data management, risk management, and change management. Process (or recipe-based) manufacturing is a hallmark of the food and beverage industry; make sure you find an ERP system that will be amenable to the batch processes, not just linear manufacturing principles where items are made one-by-one and not in variable batches and with differing recipes. Since mid market businesses in the food industry have constrained resources compared to large firms, the best solution may be a cloud-based ERP solution. This approach to resource software hosted on the web, and accessible to anyone with a device that can access the internet, provides the agility to adapt to changing regulation over time and in each location you do business.
Cloud ERP is affordable and provides easy upgrade options for the future that will allow your business the flexibility to adapt to any oncoming changes in food industry standards as well. Ultimately, there are several cloud ERP options that can provide your business the ability to track supplier lots, quality assurance, recipe changes and other necessary information required to meet new compliance laws—and even exceed their requirements!
Mobility could help as well
Businesses looking to improve their technology and data tracking in order to get into compliance with the upcoming FDA mandates should also consider ERP mobility options that forwards real-time information in minutes to any smart device. For example, if a batch producer of high-value oils and butters require truffles imported from overseas, food traceability initiatives require connectivity to this information. Data inputs could be serviced through this cloud-based interchange in real time. It's a very quick, very effective way for a sales team to forward job information onto buyers and for your clients to get real-time information on inventory levels and delivery times, and can assist in various elements of speedy supply chain tracking. Not only will you be streamlining your food safety processes, you will also be actively improving your business' customer service experience!
How it can work
Not all ERP solutions can perform the functions needed to comply with new FDA regulation. Functionality like advanced shipping notices (ASNs), drastically improves customer service. It allocates available data to customers, like Wal-Mart and Costco, to be input into their compliance systems. And this is half the battle anyway, right?
After the manufacturer has received ingredients for production, the chosen ERP system should then reduce cycle time between production and consumption. Since flavor, quality, and shelf life deteriorate immediately after production, an inventory management system can fortify the information essential to continuously improving data trends and standards within your inventory. Food businesses conscious of variations in food due to seasonal trends or consumer demand can utilize historical data to better manage stock and excess inventory in accordance with customer trends and demand. This way, if a recall is put in effect, cross-contamination resulting from expired overstock is a non-issue. What's more, your current inventory metrics are set based on previous trends analysis, and backed by solid data that will help to make your business more lean (and efficient) than ever.
Food industry entities have to look at their current business model and decide how much risk the company is willing to take—and reconsider the reasons you may be holding back from an ERP implementation. Too expensive, too risky, too much change? Non-compliance of electronic food traceability documentation results in fines, shutdowns, loss of business opportunities, and can shut the doors to a food plant for good. Is that truly worth the avoidance of short-term pain?
The ROI of it all
We get it; food industry compliance costs money, which can often be a significant investment when it comes to mid-size and growing food and beverage manufacturers.  However, the cost of an embargo or FDA intervention could quite honestly bankrupt your business. This has certainly happened, and it is expected to occur with frequency once these mandates take place. Could your company withstand a recall, either from human error or lack of capital? Most mid-sized food industry partners absolutely cannot, and that's why an ERP system implementation (or upgrade to a more modern instance) needs to seriously be on your radar.
But, there are benefits to adopting new software and business practices to comply with these new regulations. Adopting business practices that put you in compliance will also offer some cost-payback in the way of improved productivity and improved labor-methods. Margins are tight as they are; however improved traceability may take some of the variability out of your processes; thus increasing profit along the way. That's not to mention the huge improvement in customer service ERP can help you achieve.
The bottom line
We know finding the right solution to comply with these new food industry FDA regulations can be a challenge for your business. Adopting software and practices now is the best way to get ahead of the upcoming risks associated with these mandates. Partnering with the right team for your implementation is an effective way to get the most out of your investment. We recommend a strong evaluation of your current processes, ability to comply to upcoming recall standards, and an assessment of options that could improve both.
We hope this article has helped you sort through some of these options. If you need more, download the free white paper on Cloud ERP and the Food and Beverage Industry using the form above, or get in touch with one of our ERP experts at Datix today.