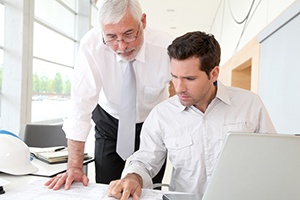 Datix has recently started using new software called XSOL, as part of the Epicor® 9 package. XSOL is Business Process Mapping (BPM) software that creates visual representations of business processes for the purposes of analysis and improvement.
Datix uses a signature technique called Enterprise-Process Improvement, which examines the various interlinked levels of a company and how they all work together to process and transmit information and to complete tasks. Our team works together to formulate a plan for how the company can make better use of its software system. Engaging staff this way invariably leads to the identification of things that need fixing – duplicated effort, delays, and conflicts – as well as suggestions for improvement. This technique helps a company make better use of its software system.
XSOL is designed to make the task of business process mapping simpler by creating visual representations that can be manipulated and analyzed. Using features in the program, Datix feeds in information about every tier of a company to create a visual map within Enterprise-Process Improvement. XSOL allows the user to digitally add notes and draw in the relationships between different business processes to show in detail how our proposed changes will improve the functionality of the company's software. That way, the business owner can get an overall look at how the business will run differently after Datix's software augmentation. Datix then helps the business implement the changes and provides ongoing support while the transition is completed.
About XSOL
XSOL is an abbreviation for the term "Exception Solutions." This reflects the principle that if a company's business and its objectives are well defined and its staff fully aware of how it operates, then exceptions become apparent and can be built into the process or eliminated.  XSOL helps business owners to better understand their own companies. Not only does XSOL make it easy to create an operational visual model of how a company works from the bottom up, but it allows a business owner to extend the functionality of their ERP system by automating business processes and quickly implementing improvements.

About Datix
Datix, a St. Louis-based ERP software services company, has been in business for 14 years. We employ a team of software specialists who can translate a business owner's goals into reality using customized software solutions. We have worked in several different industries, serving companies in North and South America. Unlike other software companies, we provide truly customized solutions for our clients. Sometimes that means augmenting existing software for increased functionality, and sometimes we implement entirely new systems. We consult directly with business owners to make recommendations not only on software packages, but on how to streamline business processes to ensure smooth operations, decrease costs, and maximize profits.
Suggested