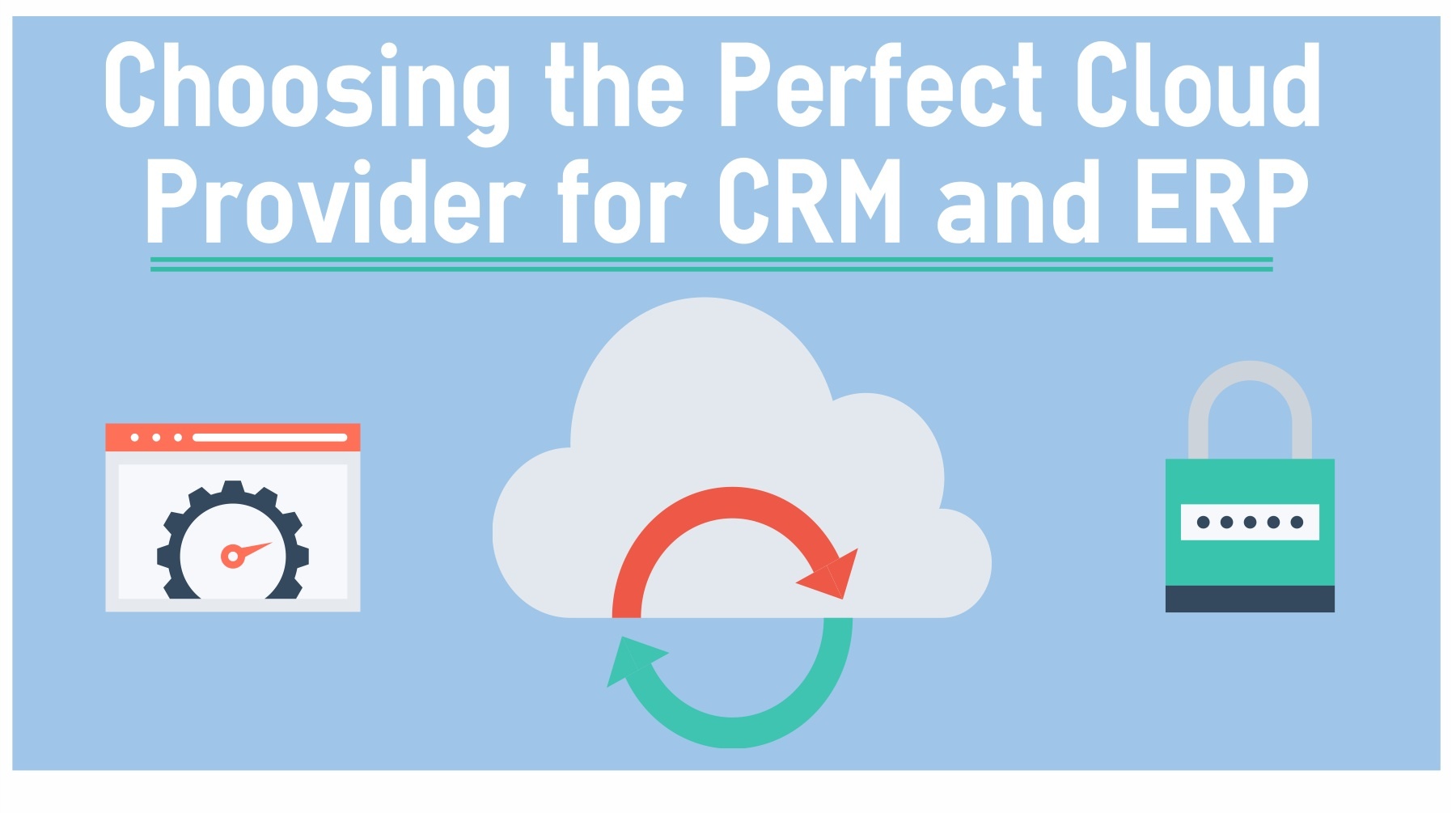 After weighing up all of the different hosting options for your enterprise software, you've decided to go for a cloud-based CRM or ERP for it's scalability, ease of implementation and lower total cost of ownership. Decision done—now just to move on with the implementation. Easy, right? Not so fast.
Although that might seem like it would the end of the decision making process; you still have to pick your cloud provider and what type of cloud you will be hosting your ERP on. There are several different types of cloud services that you can go for, and picking one vendor might be more complex than you think. Yes, all of the cloud-based options will allow you to save significant amounts of investment on the initial overhead of a CRM or ERP system, but they will have varying long-term results depending on your specific business processes and precisely what you are looking to gain by hosting your ERP or CRM in the cloud. In this post, we explain some of the key differences you'll be looking when choosing a cloud provider for CRM or ERP, and what you need to consider when it comes down to decision time.
SaaS vs. Privately Hosted
It's crucial that you understand all of the different kind of forms a cloud-based solution can take on when you decide to spring for web ERP. Some vendors provide true-cloud solutions, where they provide your system through web-based servers, whereas other companies may have repackaged their 'hosted' services as the cloud. In this case, the vendor merely hosts your services for on physical servers that aren't on your site—still technically provided over the web but not as innovative as a vendor might like you to think.
Your next question: Is the upkeep of the ERP given over to the vendor or value-added reseller (VAR) as a managed service? Some vendors may rely on partners for all the heavy lifting when it comes to the implementation, including custom development and maintenance after go-live. They may host their software through Amazon Web Service; one of the most popular cloud computing providers of choice for modern enterprise software companies, or they may go through their own stack. Do your research on the web services your provider will be using, including their history of reliability and security. Before jumping into bed with a partner, make sure you know the full details of how your specific system will look, where it will be hosted, and how you and your employees can access that system.
This is a crucial avenue that you need to explore before selecting a cloud provider; some companies may be able to provide all of the options for you (Microsoft has provided their Dynamics CRM through on-premise offerings and both the public and private cloud on Microsoft Azure for some time), while others may only have a single offering. It's all down to what your business needs to truly succeed when it comes to software.
Single vs. Multi-Tenancy
Providers like Salesforce run exclusively on a multi-tenant model; while other vendors may promote their use of a single-tenant model; a virtual 'private' cloud exclusively for your company to run the ERP on. You still don't need to purchase all of the expensive hardware needed to host the software on-site, but you benefit from the added feeling of security that a private cloud can provide. In essence, this results in a single 'stack' that must be maintained and implemented separately from each of the vendor's clients.
On the other hand, you shouldn't dismiss the multi-tenant model straight out of the gate for data security concerns. In fact, many multi-tenant vendors (like Salesforce for CRM or Plex for ERP) have been seeing phenomenal growth recently due to the scalability and flexibility of their model. Because they host all of their clients through the same services, they have a huge amount of overhead to invest in the security and maintenance of your system. Additionally, the multi-tenant model allows for much more flexibility and coding within your instance; it stands to reason that when you have many more people operating within a framework that you will have more brainpower on the task of improving and customizing the system. Just look to the Salesforce AppExchange, which hosts a never-ending amount of apps that can extend Salesforce's capability to just about task or industry you could think of.
Considerations for Your Cloud Provider for CRM or ERP
Now that we have gone through some of the main differences you may find between cloud providers of enterprise software, how do you know which one is going to the best for your business? Here are some of the key considerations you need to take into account when evaluating your options;
Responsibility: When you are operating in a complex framework between client, vendor and possibility a hosting partner or VAR, a clear layout of the duties and responsibilities of each party must be drawn out. Who will take on the role of customization or patch-testing, or ensuring that the routine upgrades that come along with SaaS software aren't impacting the operation of your system? You don't want to be relying on another team to complete something down the line only to be told that it's actually your responsibility to figure out. Understand all the customizations and development you will need ahead of your implementation and assign all of the administrative tasks to their proper roles so that you know your software can be maintained in the long-term during periods of change and upgrading.
Customization: Speaking of customizations, the amount of them that your company needs should play a big part in how you choose a cloud provider for CRM or ERP. Look at the options you have for your specific customizations and whether they will be more feasible on a pure SaaS or hosted service. Generally speaking, you may that a privately hosted cloud or on-site may be more amenable to configuring to complex business processes or manufacturing requirements, but you may be overpaying if you're business doesn't need the space or functionality for those customizations.
Cost: It goes without saying, but even though cloud-based enterprise software is usually cheaper than on-site instances, cost will still be a differentiator among your choice of providers. Obviously all your vendors will be offering different per-user subscription fees, but look deeper into the reasons for those differences—does one platform feature a smoother UI or wider-integration capabilities? Weigh more expensive packages with the benefits they offer; what features are non-negotiable for your company and which aren't justifying the extra cost.
Wrap Up
All this choice might seem incredibly overwhelming, and it is. However, the prevalence of choice is good for your business in the end,and will ensure that you come out with the best possible enterprise system if you go into the process well-informed and knowing every business process you need your software to support. Once you have a grasp on how each cloud-based solution differs and how those differences support varying needs, it shouldn't be so hard to select the perfect cloud provider for CRM or ERP for you.
If you need help demystifying the world of cloud-based enterprise software, or a hand with your next CRM or ERP implementation, contact an expert at Datix today.