---
Easily Integrate Salesforce CRM with Epicor® ERP
---
Salesforce Epicor® integration can provide powerful changes to your business almost instantly. Imagine your sales reps being able to access critical inventory info through their mobile, or being able to plan your manufacturing schedule around planned future demand. With our flagship product, Unity, you can have all of that! Unity for Salesforce is a managed application that allows direct communication and seamless integration between Salesforce and Epicor® (using web services!). What is the result? An affordable, rapidly deployable Salesforce and Epicor® integration solution. Now you can maximize your investments in Epicor® and Salesforce software by giving your management up-to-date, synced business data, accessible in new ways, and on new devices.
---
Why Unity — Salesforce Epicor® Integration?
Datix is a certified partner of Salesforce and has extensive experience working with Epicor®. We are also the only servicing consultant of both vendors that offer any form of a custom integration platform. Be sure to put your data in the right hands.
Our Unity solution is pre-built and managed by our expert team. It is both powerful and flexible, which means we've left plenty of room for you to fit the app into your business processes. Datix provides regular app updates and optimizations, and supplies expert-level support from real Datix ERP and CRM consulting experts at no additional charge.
Our app uses web services to ensure these two systems can communicate, both in real-time and on a schedule. Many other integration solutions use outdated methods to supply this functionality. Datix is the only solution on the market to use web services for this integration to occur. This allows your business to enter the world of the modern enterprise and stay competitive.
---
Seamless Salesforce Epicor® Integration
When your team needs access to accounts, contacts, call history, shipments, and invoices (paid and unpaid), you're covered. Is your team often on the road or not near a computer? Unity puts inventory information, product details, sales literature, and other critical data and content in the hands of your sales and customer service teams – wherever they are, whatever device they're using.
Datix takes Salesforce and Epicor® integration one step further by integrating your CRM with your marketing automation software with customization tools from our development experts. No maintenance or coding is required. Additional integration options and data fields are available to suit your business requirements. The average deployment of a total Salesforce Epicor® integration solution takes less than 3 weeks. You could be benefiting from total enterprise interconnectivity in under a month!
What Will It Cost?
Salesforce Epicor® integration is simple for us, and we try and make it the same for you. We've built the platform already, and left room for you to customize your own Salesforce Epicor® integration to suit your unique business processes. We've organized a method of purchase that allows organizations to create a completely custom experience, receive expert help and support, and only pay for what they need/use. Unity is the most cost-effective solution for this kind of integration on the market. Contact our team to receive information about standardized pricing for the app! Our experts can also discuss possible customizations you're looking for and give you price estimates tailored to your needs.
---
How Does It Work?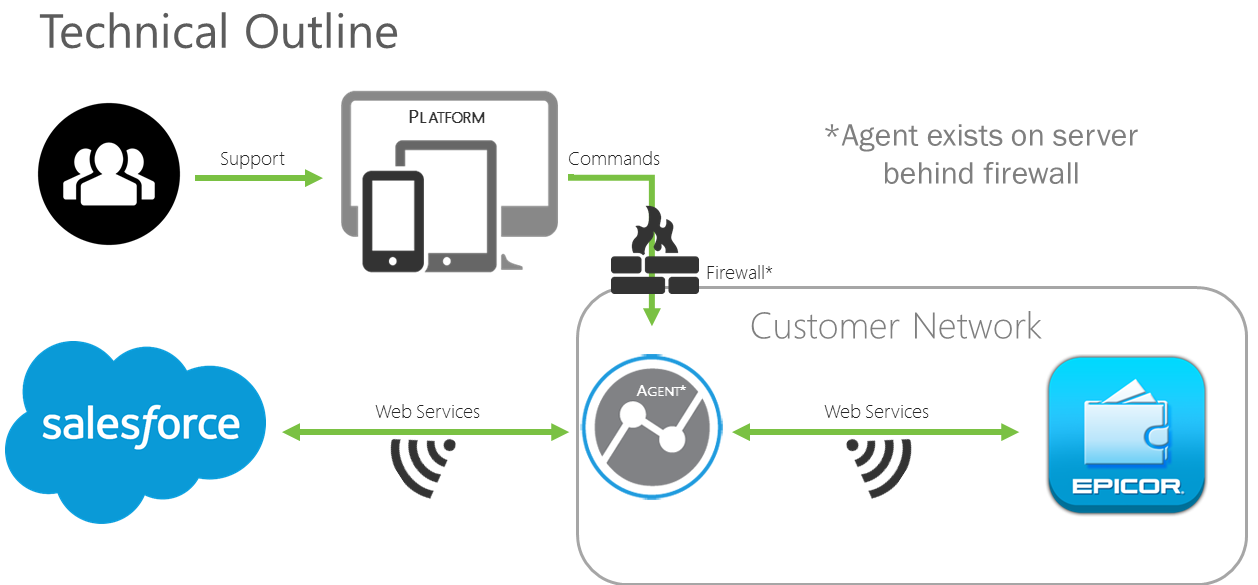 ---
Why Epicor® ERP?
Epicor® 9 and Epicor® 10 are premiere enterprise ERP systems ideal for manufacturers, distributors, and professional service providers. Epicor® software is tailored for industry-specific functions and has a full range of services including supply chain management, accounting, and invoices paid and received. Ideal for mid-market businesses or those poised get there soon, Epicor® ERP is your unified, integrated software solution.
Why Salesforce?
As the leading cloud-based CRM tool, Salesforce builds stronger customer relationships for manufacturers. Connecting with customers is more important than ever. Social tools and mobile increase chances to make a positive impression on customers. Salesforce is the platform that will allow you to get closer to customers and help drive sales and marketing drive demand.
---
Contact Datix
Want to learn more about Unity for Salesforce and Epicor®? Check out our video demo, and reach out to one of our software experts today!