Solutions for Automotive manufacturers
The automotive industry has faced an array of challenges since the start of the pandemic. Pressure to meet global demand, even as consumer needs evolved significantly from year to year, along with semiconductor and other supply shortages have put a huge strain on the industry. Now more than ever, inventory and supply chain management are critical to retain positive relationships with customers who are already struggling to handle inflation. At the same time, high raw materials and transportation costs mean that automotive manufactures need to establish strong business models to protect profit margins. 
Forward-thinking manufacturing organizations are attacking these challenges with ERP technologies for ways to capture data, analyze critical process efficiencies, and create an advantage with production and operational performance. 
With Datix, you can find the ERP solution that works best for your organization to strengthen profit margins and deliver tangible value to your customers.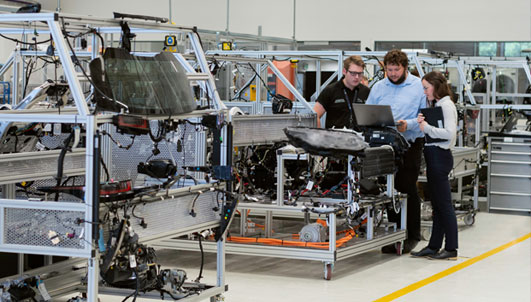 The automotive manufacturing industry must constantly readjust and adapt to the global pace of growth. From detailed inventories, demographic shifts, and in-vehicle component technological advancements, companies need to manage all their necessary processes from a single, robust ERP platform. 
Our goal is to extend the value of your software while guiding you through the entire implementation or upgrade process from start to finish.  
Automotive manufacturers can expect our solutions to offer tiered supply management, aftermarket insight and extensive capacity planning capability. At Datix, we can help you build a secure, flexible, and reliable enterprise software system that you can depend on. 
Key functionalities and modules our automotive ERP solutions include are:
Integrated automotive Systems
Shop-floor scheduling
Lean production tools
Original equipment manufacturer (OEM) and complex regulatory compliance
Advanced procurement tools
Raw materials sourcing for lower costs
Faster product delivery
Scheduling for all processes

Global

M

aterials

M

anagement

O

perations

G

uidelines (MMOG)

standards

integrated in

A 360° customer view with OEM profiles
Detailed transaction tracking tools
We credit our 25 years of success in building customized enterprise software solutions to our passion for transforming business through software. Our team of certified ERP, CRM, and eCommerce experts communicate closely with our clients and work with the best software vendors to provide the solutions that will take your business to the next level. That's the Datix difference: our commitment to innovation and end-to-end assistance. It's no wonder businesses seek our consultants for on-time, on-budget solutions. 
Delivering premium software solutions for Automobile manufacturers
Datix specializes in understanding automotive business processes and leveraging that knowledge towards software that can transform your organization.
Email us with any inquiries, we would be happy to answer your questions.