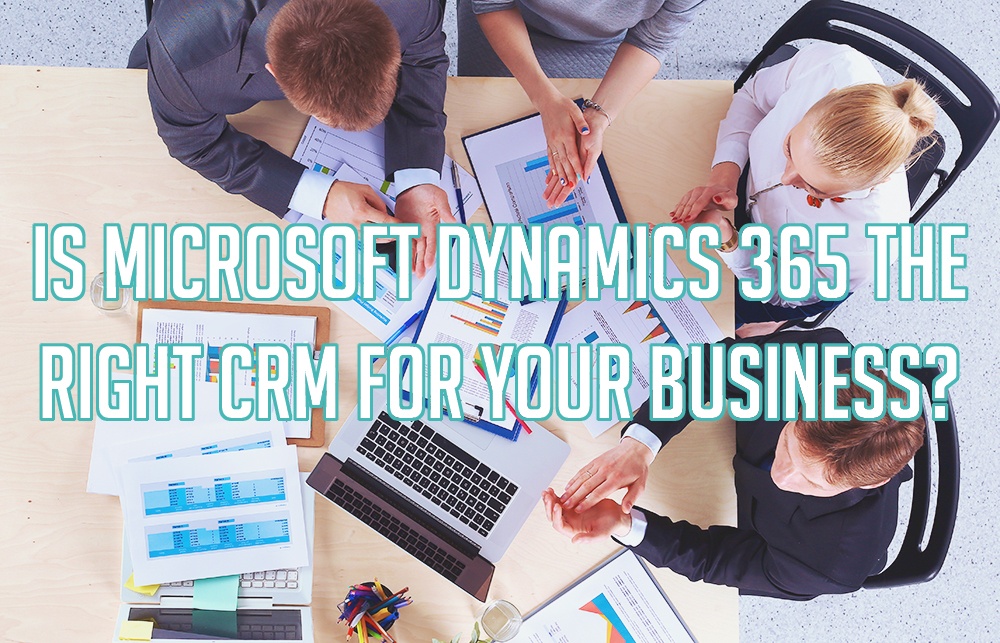 Selecting a new CRM platform can seem like a daunting task—there are so many options on the market at different price points. It can be hard to determine what's the right fit for your business and then merge that with what would fit within your budget. Depending on your company's needs—from a cloud-based solution, marketing functionality to advanced lead insights—you'll be looking at a different checklist and different system requirements. After all, just as no one business looks the same, there will be no one-size-fits-all tool to get a job done. Here at Datix we find that Microsoft Dynamics 365 is a great fit for a lot of our clients. It's a sophisticated, supportive CRM system that strikes a great balance between affordability and wide functionality. If you're looking for any of the below features, then Dynamics 365 will be the perfect CRM fit for your business.
You Want an Intuitive Tool
Most employees these days are familiar with Microsoft products and may already use them in their day-to-day tasks—Outlook, Office products and Sharepoint to name a few. Because Microsoft Dynamics 365 CRM is developed by the same team, it can slot right into that existing tool belt. The interface will already be recognizable and intuitive. That means you won't have to spend as much time during training getting users familiar with the interface. Your business will be able to jump into the software with a quicker return on investment time.
On top of a familiar interface, Microsoft Dynamics 365 is renowned for its well-designed and easily customizable dashboards. Each member of your sales team can choose the view and charts that best fuel their own work, and drill down on the sales pipeline to map their progress and zero on the leads that need more work. The easily navigable dashboards make organizing your sales goals and tracking your progress towards them easier than ever.
Easy Integration with Microsoft Products
Microsoft Dynamics 365 is often the easiest choice for businesses who are already heavily reliant on Microsoft products not just because of the intuitive interface. It also means that integrating your new CRM with the rest of your Office products will be a much smoother ride than if you were to go for a non-Microsoft product. Handy embedded features come along with the native platform. That means your sales team can send emails through Outlook without leaving the Dynamics 365 interface. Built-in Excel connection means your team can create instant, actionable reports from customer data in the blink of an eye. You'll be able to collect your lead information, past correspondence and sales reports into one consolidated and powerful central location.
You Need to Stay Under Budget
Cost is always a factor when it comes to selecting the perfect CRM software, and many of our clients report that Microsoft Dynamics 365 was their choice for CRM because of the platform's ability to check off all their needs in the most cost-effective way possible. Basically, Dynamics 365 is unique in that it can offer customers the most sales and service CRM functionality in the most affordable manner. This includes sales, service, marketing, and reporting functions that growing mid-market businesses sorely need to jump-start their sales. It may be tempting to try out a free CRM platform, but as we all know, there's no such thing as a free lunch. The lack of a price tag will usually come with a lack of power, essential CRM modules, a hard to use interface and platform that is totally resistant to any kind of customization. Dynamics 365 will give your business all the tools it needs to advance growth and profit—without the trade up on your wallet.
Microsoft Dynamics 365 Implementation with Datix
Here at Datix, we are certified Microsoft Dynamics 365 partners, which means that our team is full of experts that know the CRM platform inside and out. Just installing Dynamics CRM won't guarantee increased sales or help your business instantly start converting leads more quickly. The right CRM system must be mapped specifically to your unique business processes and built with the input of your own employees. Without the population of your business data, the platform is just empty software that isn't built to support your processes. Datix has worked with businesses around the globe implementing and mapping Dynamics 365 CRM to support their unique sales processes. Instead of just paying money for out-of-the-box software that can't really do anything your company needs it to, we can help make the investment worth it. We specialize in ensuring your Dynamics 365 CRM supports your sales processes, streamlines service protocols, and provides accurate, actionable dashboards and reports to executives. You need an experienced team to make sure you get the proper return on investment from Dynamics 365, and Datix provides the perfect solution!
Datix can also ensure that your new Microsoft Dynamics 365 instance is seamlessly integrated with the rest of your enterprise software suite with the help of our premier integration tool, Unity. Whether you already have an existing suite of Microsoft software, Epicor ERP or are running other tools like PandaDoc, Magento, Zendesk or Hubspot, Unity can interconnect all of your enterprise software into one powerful engine. Contact us today to learn more about Datix's Dynamics 365 implementation services and how we distinguish ourselves as the best Dynamics 365 consulting team in the industry!
{{cta('770c1544-d87d-4acb-9fc4-7a25e1385094')}}