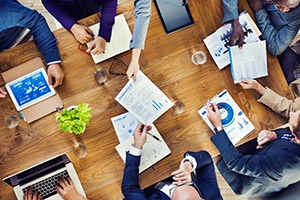 Over the past couple of weeks, I have discussed why business process modeling should not be skipped or undertaken without a consulting partner, despite some common misconceptions.
With this topic fresh on my mind, I wanted to share an interesting report I recently read by Anthony Cresswell called Return on Investment in Information Technology: A Guide for Managers. In his report, Cresswell states that "Failing to map and understand the enterprise invites a badly flawed understanding of how the IT investment will work, and can be a short cut to failure."
He goes on to highlight the following benefits of process modeling. Business process models:
make the implicit assumptions and mental models of individual managers and stakeholders more explicit and open for discussion;
provides a simulation of how the full system will operate within a full context of organizational and human factors;
inhibits premature jumping to a solution because of the way they structure thinking about a problem;
allow explicit exploration of costs and benefits of proposed solutions.
But why are these considered benefits? Because each represents ways the project can be de-risked. The key insights and iterative, transparent nature of process modeling (as Datix does it) ensure the organization gets it right — before committing to the heavy lifting. And getting it right leads to a smoother implementation and more post-launch value.
This week, I'll dive into each of these benefits and why Datix's philosophy and methodology ensure that our clients will experience these benefits.
Benefit 1: It makes implicit assumptions more explicit and open for discussion
Naturally, everyone in an organization has different assumptions, views, experience and information. Business process modeling, when performed with the right people and preparation, gets it all out onto the table for everyone to see, analyze and understand. Participants challenge conventional wisdom, break down silos and help paint an accurate, enterprise-wide view.
At Datix, we know that careful planning for process modeling sessions is important to ensure that our clients get the right users in the room and so we are able to extract the right information from those users. It's also crucial for the executive sponsors and project leader to identify a project team of power users who fairly represent their business and will bring all necessary information to the table.
One of the first steps in our process is to review the Project Charter which contains the project goals and expected benefits with the executive sponsors and project leader. During this process, the executives' vision is collected and translated into measurable goals. Once the Project Charter has been reviewed and signed off on, we begin planning the business process modeling sessions.
We provide the executive team with clear objectives for the process modeling sessions upfront to ensure they carefully select the power user team. Once the team has been selected, we provide power users with the questions that we will be asking prior to meeting, and use those questions to guide the sessions.
This preparation sets the stage for the heart of business process modeling.
Benefit 2: It inhibits premature jumping to a solution
It's always tempting to be the first in the room to have the solution. But jumping to solutions, as we all know, can be a dangerous thing. Carefully planning the process modeling sessions gives all client stakeholders adequate time to explain and discuss with us what it is … they do. The deliberate method of process modeling – as Datix does it – moves the organization toward a broader and more comprehensive understanding of all of the process factors involved.
Datix process modeling sessions follow the Discover, Document and Review (DDR) format. The Discover session allows Datix to extract key information from stakeholders, the Document session (Datix only) distills the information collected into initial process models, and a final Review meeting verifies the process models and use cases generated from the Document session.
Our approach is to work with each area of the business and move the independent silos of information toward an overall integrated business process flow. The DDR process is conducted for each relevant area of the company, and in time, gives Datix and management an integrated view.
The DDR methodology and process modeling allows a current pain to be discussed and considered in the context of its effects upstream, downstream and across the organization. Often when an issue exists within a business process, end users or management tend to deal with it by "putting out the fire" rather than addressing the root cause. This may be tempting in a myopic, short-term context, but business process modeling gives stakeholders the opportunity to see the bigger picture and determine whether a seemingly promising solution will have an adverse effect elsewhere in the value stream.
Benefit 3: It provides a simulation of how the full system will operate
Process modeling that simply captures "current state" is of little use. Implementation or upgrade of an enterprise system is a chance to look forward to the desired state of your business, and a well-mapped future state is a powerful thing. It not only provides the "picture" of what the system will look like, but is the documentation, transparency and process backbone of the implementation. It also identifies any integrations and outside systems as they relate to the day-to-day business activities. Finally, the model can be tested to detect gaps or deficiencies.
Says Cresswell: "Sensitivity analyses of models provide answers to "what if" questions about various types of system functionalities and possible organizational and human effects. This helps planners anticipate issues and problems before they are encountered in a real world system implementation."
To produce a testable, enterprise-wide business model, Datix business analysts translate information gathered during multiple Discover sessions into cross-functional flow charts to show all human and system actors that are part of the business process. We then link and combine the individual business process flows to create complete quote-to-cash and procure-to-pay cycles.
In addition to being able to be sensitivity-tested, the process models generated in DDR sessions remain true "living documents" throughout the project and post go-live. The idea is that anyone (e.g., an executive or new employee) can look at the process models and ask "What area of the business am in in?" (e.g., Accounts Payable) and "What point in the process am I currently in?" (e.g., I need to enter an invoice from a supplier) and then they can link through from the process model to the use case and associated end user documentation to complete the task at hand.
And post go-live? Rather than rely on tribal knowledge, future project teams can refer to the business process model. It serves as a detailed baseline document for future changes.
Benefit 4: It allows exploration of costs and benefits of proposed solutions
Business process modeling provides a powerful means to stress-test the financial impact of project timing and scope decisions.
During our Review sessions, Datix guides users in prioritizing the identified use cases with a priority/complexity matrix and ask questions such as "Is this go-live critical or a nice-to-have?"
Having Datix in the room provides an opportunity for executives and power users to ask how complex the solutions being discussed are and if they will require changes to the project scope and budget.
If use cases are identified that are outside of the original project scope, we provide estimates for them which helps executives make decisions about what is go-live critical and provide guidance about what might need to be added to or substituted within the constraints of the original project scope.
Process modeling, as Datix conducts it, helps your organization 'get it right' before moving into project execution. And having Datix as your partner in process modeling ensures the right discussions takes place with the right people, the right solutions are identified, the best future state of your processes is explored, and all financial and scope ramifications are explored and known prior to diving into execution.
What do you think?
Are there other key benefits we haven't explored here? What has been your experience –good or not-so-good– with business process modeling?
Let me know in the comments below.
Suggested: