Why Integrate Epicor and Salesforce?
Many businesses have investments in both Epicor ERP and Salesforce CRM, but they don't always establish sync points between their systems. Some firms are still on the fence about systems integrations and are apprehensive to start the project. What they may not know is that their competitors already exploit the two-way data artery as a competitive advantage.
An integration of Salesforce greatly augments the functionalities of Epicor and provides new opportunities for sales. Manufacturers and distributors gain numerous reporting, sales and service benefits when valuable front-end and back-end information flows from one system to the other. Additionally, companies that support markets in several geographical locations and employ remote staff are seizing the opportunity to streamline rich data between the two resource tools to better service customers, lean out extraneous tasks and realize ROI faster. After facilitating countless CRM-ERP integrations, Datix has developed a comprehensive understanding of the benefits that result from syncing Epicor and Salesforce data. Here are just three of those powerful advantages.
Watch our video demo to see how our Unity solution seamlessly connects Epicor and Salesforce.
Real-Time Access to Information
By syncing Epicor data with Salesforce, sales teams gain real-time information from any device to speed up the sales cycle and capitalize on more opportunities. Let's recall a common scenario we often see from our clients: Sales teams meet with a potential buyer. The buyer is in short need of a product since a primary supplier is unavailable to ship a critical material. Costs are a non-issue on the condition your firm can get the product shipped today. Your sales rep accesses Salesforce from a mobile device and reviews inventory. Instantly, the rep sees your firm has the material ready to ship and can share how many each location has in stock, when it could ship, when it will be delivered and exact costs. All of this can be performed inside of a Salesforce mobile app that includes data synced from your Epicor instance.
The integration instantly processes new order fulfillment, shipping receipts and accounts receivable. Salesforce pulls order history into its database and transfers compliance certifications to sales. Ultimately, this functionality creates new sales opportunities, streamlines tasks and supports your service and sales teams while they're on the field.
Elimination of Dual Entries
Dual entries can become a real pain—especially for your users. Dual entries weigh the system down, filling it with irrelevant and superfluous data. An Epicor or Salesforce upgrade could be doomed from the onset. Many times dual entries cause systems to "behave badly" with one another—a challenge only met with extra time and money, and who has that?
Integrating the two systems promotes a single source of truth, meaning once an entry is made it will sync with all other systems across the organization (like accounts, contacts, orders, etc.). Integration cuts process time by 50 percent, and accounts are better managed. Eliminating burdensome inputs empowers users to focus on carrying out more pressing tasks at hand. Additionally, integrating Salesforce with Epicor removes the risk of users entering redundant data and causing systems to digress. A connected interface strengthens the entire enterprise by increasing security and efficiency.
Insight Into Demand and Volume Levels
Have you ever needed to plan for demand and volume? Of course, and it could be a more effective process with a Salesforce and Epicor integration. Demand numbers are extracted out of Salesforce then automated into Epicor for procurement, production, and distribution planning and scheduling. It takes the hard part of data handling out of users' hands.
Salesforce also displays order history of accounts which can be integrated into Epicor for comparisons when managers run weekly reports. If demand fell this year, it could mean accounts were poorly managed or the market has become saturated. Either way, the comparison of demand and volume levels can be monitored from multiple touch points following an integration. The integration provides a leaner way to control inventory and resources while effectively using analytics to assess market profitability. Firms often struggle to determine which processes are holding them back. Integrating ERP and CRM systems provides immense visibility into front and back-office operations, enabling users to fix inefficiencies and eliminate waste.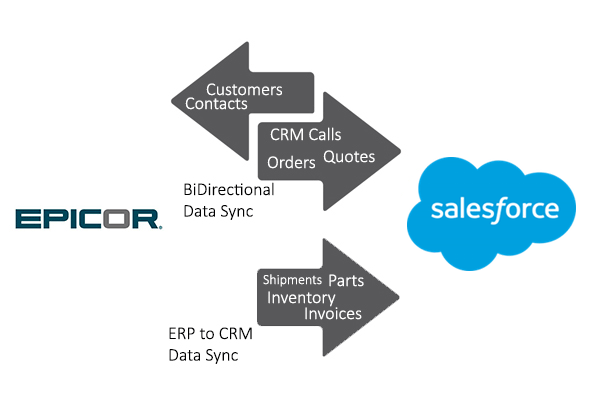 Wrap Up
Is your firm being held back because of disparate systems? Are their problems occurring for reasons unknown? Our integration experts have met a fair share of discrete manufacturers and distributors who have resolved hiccups in their processes by integrating Salesforce and Epicor. As an Epicor Platinum Partner and certified Salesforce partner, we have a robust understanding of both systems and how they can be joined to maximize our clients' ROI. Unity, our pre-built integration platform, connects Epicor ERP with a variety of software to form a single source of truth. Our experienced consultants can take the reins throughout your integration and handle errors, upgrades and other services over your software's lifetime.
Find out what makes Datix a one-stop shop for enterprise software. Reach out to us today!
{{cta('770c1544-d87d-4acb-9fc4-7a25e1385094′,'justifycenter')}}