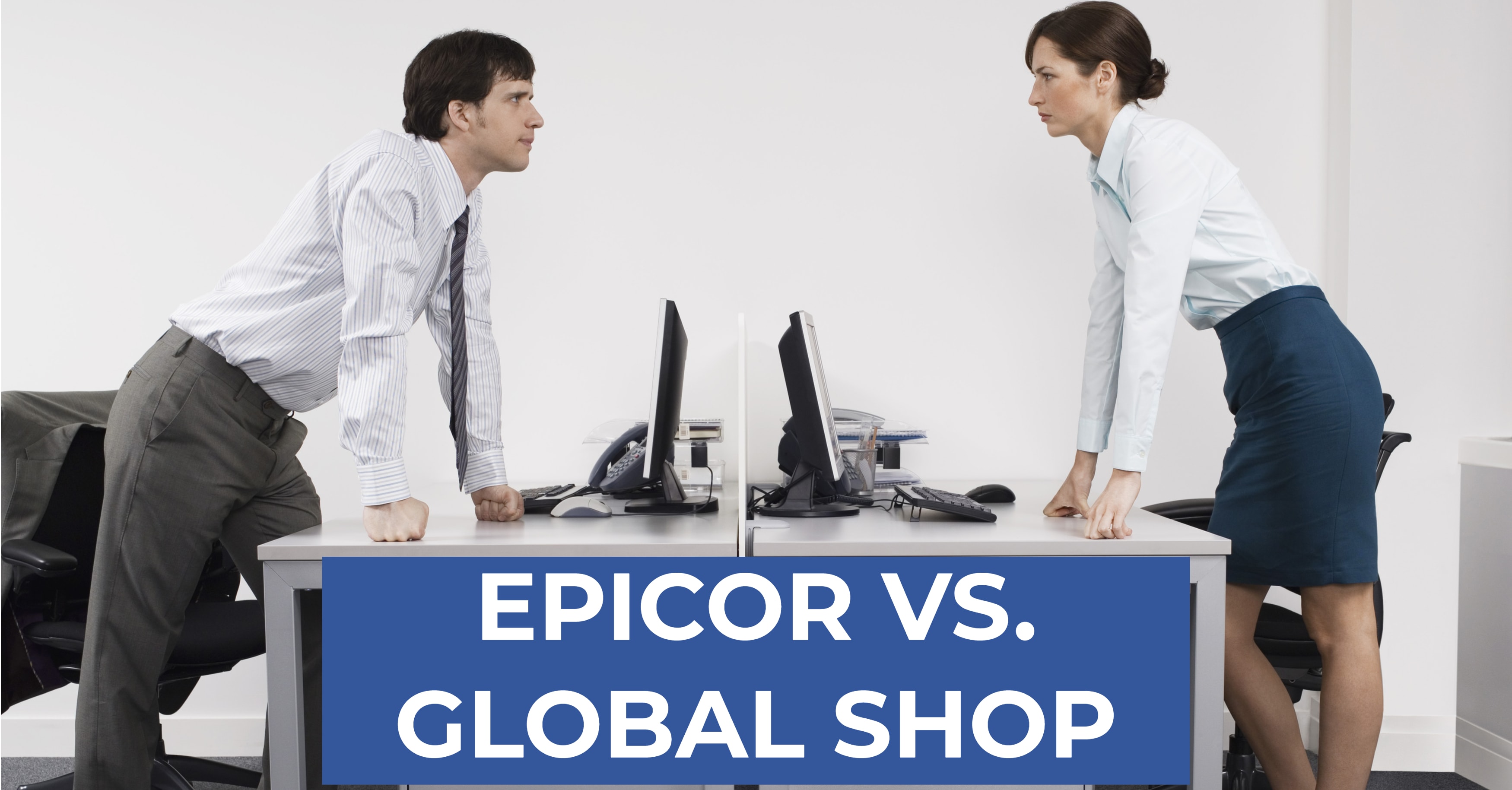 Epicor and Global Shop Comparison
When it comes to enterprise resource planning (ERP) software selection, small to midsize businesses (SMBs) have a particularly tough time making a decision. For an SMB, every dollar counts. They can't afford their implementation to be a bust, and each feature must contribute to substantial ROI.
Two of the ERP vendors that small and mid-market manufacturers and distributors often consider are Epicor ERP and Global Shop Solutions. To help SMBs make the best selection and avoid wasting their investment, we've pitted the two systems against each other. Find out which one comes out as the superior ERP solution.
User Experience
The user experience (UX) is critical to a worthwhile ERP implementation. After all, the point of ERP is to increase speed and responsiveness. Poor UX design can instead waste your users' time as they struggle to make sense of reports or navigate modules. This makes user-friendly features and intuitive tools essential for ERP success, no matter your industry or size.
When it comes to user experience, Global Shop tends to fall short. Several users have commented on the tricky user interface and steep learning curve. Since the system is counterintuitive, certain functions (such as editing or inputting fields) don't operate as users expect. Clients also express disappointment in the system's speed and inconsistent performance, particularly after updates.
Epicor continuously improves the UX design of its solutions with each new release. Epicor 10.2 introduced an active home page that can be fully personalized by each user to deliver instant insights from one screen. Users site sophisticated tracking and a robust product configurator as a couple of the tools that have helped them instantly locate critical functions and streamline workflows. With such advanced features, it's no wonder some Global Shop clients make the move to Epicor.
Reporting
Reports deliver the insights integral for enterprise optimization. Therefore, it's essential to work with an up-to-date reporting process. Global Shop clients often experience frustration with its Crystal Reports. Report generation can be critically slow, and it doesn't include the sophisticated technology to effectively filter out trends.
With version 10 of its ERP solutions, Epicor ditched Crystal Reports in favor of SSRS. SSRS includes greater flexibility and a responsive layout to align with your unique needs and adapt to various devices. Epicor 10 users enjoy fast, agile performance thanks to the modern SSRS reporting.
Training Resources
Robust training is the key to unlocking full user adoption. ERP vendors and partners should offer extensive materials and opportunities to foster a deep understanding of software best practices. Both Global Shop Solutions and Epicor include video training and tutorials, but Epicor leads the way in providing comprehensive training.
Global Shop offers classes and a user conference in Houston, but for people outside the area, making the trip could be costly and inconvenient. This limited training is particularly problematic considering Global Shop's UX issues. With 1000 international consultants, Epicor clients have multiple options for in-person training. Furthermore, users can take advantage of Epicor University, which includes on-demand training, documentation and the Epicor Learning Center for courses and tests.
Wrap Up
Usability and performance can't be compromised in your ERP selection and implementation. Therefore, it's wise to go with Epicor ERP. An acclaimed ERP vendor for over 45 years, Epicor includes the modern functionality and flexibility necessary for optimal manufacturing and distribution performance—no matter the size of your business.
A certified Epicor Gold Partner, Datix has offered premier ERP services and solutions to clients of all sizes. Our consultants ensure that SMBs have total support from start to finish. Unlike most consultants, we don't abandon you after the go-live date. Our experts stick with you as your business grows and changes, answering questions and providing support whenever you need it.
Make sure you're going with the right vendor and consulting team to maximize your business performance. Contact Datix today to learn more about Epicor ERP!
{{cta('770c1544-d87d-4acb-9fc4-7a25e1385094′,'justifycenter')}}